Raneem 2/0 Omneya
Raneem El Welily

"I'm very happy to be through into the semi-finals after three tough matches.

"I came here wanting to play my best and end the season on a positive note and so far it is going ok. It was a little bit difficult mentally today, especially because the match was against Omneya, but I managed to push myself to the end and I'm happy with that and I'm looking forward to the semi-finals now."
Cameron 2/0 Simon
Despite the pressure on his shoulders the tall Aussie opened up in relaxed fashion, hitting with great length and focus to punish any wayward play from Rösner who looked off the pace during the opening exchanges and struggled to hit his way out of difficulty as Pilley took the first game 11-2.

In the second Rösner stepped up the court, looking to assert his control on the T and power the ball to the back of court and command Pilley, and it paid dividends as he edged ahead in the early stages. But in the mid-way point it was Pilley who profited from a series of errors to move 7-5 ahead, the biggest cushion in the game, and from then on her done just enough to stay ahead of the German who cut a distraught figure on court as his hopes of progress were extinguished 11-2, 11-7.
Cameron Pilley
"It's an understatement to say I'm feeling pretty good – considering that I just scraped in to get here and it's my first World Series Finals, I am over the moon to reach the semis.

"The likes of Palmer and Ricketts have done well in this event and I'm thrilled to follow in their footsteps, to a certain extent, and I'd be one the moon to get a win tomorrow but considering I only just scrapped into this tournament I'm delighted with how I played so far.

"I felt a little flat yesterday but Greg was as sharp as I have ever seen him and I think that helped me and gave me a wake up call and made me realise you can't cruise in this tournament.

"I changed a few things in my game an training last year and since then, baring a few results, I've been very pleased with my form. I feel like I'm playing the best squash of my career and physically I feel good. mentally I'm still keen which is a big thing when you've been on tour as much as me so I'm just looking forward to enjoying the match tomorrow."
Nour 2-0 Camille
Nour El Sherbini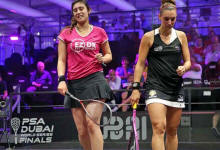 "It is a big relief to qualify because I really needed to win this match today.

"After the whole season to come here and lose was something I definitely did not want to do – I knew I had to be really focused and give it everything and I'm happy that I played well. My aim was just to qualify and we will see what happens next. The four of us (in the semi-finals) are all strong players and there are no easy matches so we will just see what happens now.

"I'm playing much better than in the first match. I wasn't relaxed and I didn't train much before coming here as I had a lot to do, other commitments, but I feel like I'm playing much better now and I feel more comfortable on court.

"Tomorrow will be tough but we will just see how it goes. I can't think about winning yet as it is a long way away. I have to just focus on the next match."
Greg 2-1 Omar
Greg was already assured of his place in the last four and looked like he was taking his foot off the gas as it was Mosaad who took the opening game 11-7.

But the feisty Frenchman cut an altogether different figure on court in the second as he increased the tempo and upped his intensity levels, taking the match to Mosaad and forcing the pace to dominate the court and level by taking it 11-8.He continued marching around court as he played winners from all angles to take the third 11-1.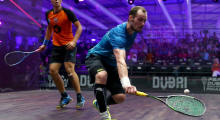 Gregory Gaultier
"I didn't have the same preparation today before my match- I didn't come to practice this morning, I just preferred to rest," said Gaultier.

"It was in my head a bit at the beginning, trying to figure out if I should relax or try and stay in my rhythm. He surprised me at the start as he was striking the ball well and covering the court much better than his first two matches.

"In the second I told myself I had to push myself because last time in this tournament the same thing happened. I didn't push myself in the last pool game and wasn't sharp in the semi-finals so I pushed myself and tried to give it 100 per cent and not give away an easy match in the end."
Laura 2/0 Amanda
A lot on the line and the opening game was a tense, nervy affair with momentum swinging back and forth as the duo vied for control of the court with Massaro dominating for the main part before a huge fightback from Sobhy saw her reel off a succession of points to level the game at 10-10. The tie-break went back and forth with Sobhy in particular feeling harshly done by a few referee decisions before Massaro eventually sealed in 13-11 after 19 entertaining minutes.

Massaro enjoyed the ascendancy in the early stages of the second as well before another Sobhy fightback saw her save three match balls before an aggressive attempted crosscourt drive handed the match to Massaro 11-9.
Laura Massaro

"I was a little bit results orientated instead of performance orientated tonight knowing that I needed a game but I don't want to sound like I have sour grapes about it – I'm really happy to be through and win three from three.

"That first game was one of the toughest that I have ever played because I knew that I needed one game to go through and Amanda knew she needed to beat me.

"But I think when it got to those big points I naturally back myself and up the intensity. So I was glad to get through that and play those big points well.

"Nour beat me a few weeks ago so it will be a tough match. Everyone in the semi-finals is playing well so I'll just try and recover as best I can and make sure I'm fully focused and try to play my best."
Nick 2/0 Mohamed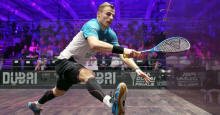 Nick Matthew
"I was playing for pride tonight and that's more important than any result really – I was proving a point to myself.

"I now Mohamed will sleep safe knowing he's already in the semis but no-one steps on court wanting to lose, so I had to play well to get him into those positions.

"I'm still maybe a month or so away from having that speed and confidence in my fitness so it's a double-edged sword for me winning tonight. I have to ask myself why I didn't play at that level last night.

"My goal this week was just to be here.Now it's about getting a good summer of fitness and come September being set up for another good season."
Nicol 2/0 Nouran
Nic required just one game to join group winner Laura Massaro in the semi-final and duly delivered as she played with intent from the opening exchanges, taking the first game 11-7 against the ferociously hard-hitting from Nouran.

The 18-year-old, who just last week completed her school exams on an engineering degree, continued her relentless attack in the second, and while there was very little between them in the end, it was David's experience and court coverage that made the difference as she squeezed it 11-9 to set up a semi-final with Raneem.
"This win meant a lot to me. If you want to make the semi-finals you have to beat everybody else so I wasn't thinking about winning one game, I was just focused on winning the match.

"Nouran is fast and furious so I had to try and impose my pace and was pleased to get the points when it mattered. She's feisty and kept coming back so I'm really pleased to win 2-0 as that second game could have gone ether way in the end.

"Now I need to be ready for a big battle tomorrow as I know Raneem will be another tough match. I'm just going to focus on my game. I know her style of play and what to expect so I just have to make sure I go out there and make it all count."