Laura 2/0 Nour
Today, Laura was playing with her "Qatar's energy", when she won that incredible match in the final there. From the first rally, she hit the ball as hard as.... Nouran Gohar really I felt! Her accuracy at the back put a nervous/pressure on her shoulder Nour on the back foot. Up 4/1, Nour couldn't stop Laura's waves of power deferling on the court, and although the Egyptian saved 2 game balls, Laura closed a 17m crucial first game 12/10.

Now completely relax, the English Lady was just dominating the rallies forcing a pace that kept Nour out of her comfort zone, preventing her from adjusting her shots and forcing her into many uncharacteristic errors, Laura taking the match on her first attempt.
Laura Massaro
"I'm feeling pretty good. It was a tough battle through the middle of both games, and after the World Championship, where I was 2-0 up, it was quite heartbreaking, but on the plus side in the best-of-three I knew I could go 2-0 up again. I'm happy with the way I played, I feel like I put some really good work in since the World Championship and it's always nice to turn the result over.

"I know what it's like to win a World Championship so I'm sure Nour hasn't been hitting many squash balls over the last couple of weeks, so I was just happy with the performance today.

"After the European Championships I had a couple of tough weeks of training to try and come here and do well and it's another final this season which is great. It's always good to be playing for a major title and I'm really pleased with my performance. I just tried to keep the intensity high and put some pressure on her and I think physically it paid dividends in the end.

"It's a truly world-class event and, for the women to have equal prize money to the men is phenomenal and really setting the bar for squash and the rest of the world to follow. It's a real privilege to play here."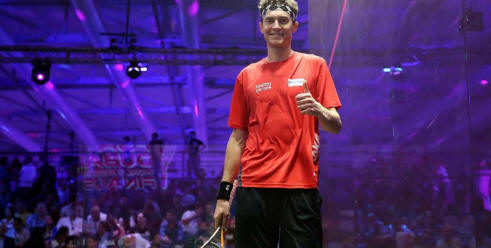 Cameron 2/0 Mohamed
Well, it had to happen. Mohamed has been in every final this year - but the World Champs. He has pushed and pushed and when he couldn't push anymore, he still pushed.

On the other hand, Cameron played the best squash he can play - we saw him at work in HK in December, when he beat the World Champion Greg Gaultier. From the first rally, he played his best "PistolPilley" squash. Fast, strong, relentless. He never gave a chance to Mohamed to get in the groove, 7/2. And if the Egyptian clawed back at the end of the opener, he just missed out, 11/9 in 22 long minutes.

Now completely relaxed and pressure free, Cameron just hit a lovely fluid and fresh squash, while we could see Mohamed's movement and shoulder body language getting more and more laboured. And it's 11/5 to Cameron, who arrived on the event as last qualified, and ends up in the final....
Cameron Pilley
I've played ElShorbagy so many times. When I can play like this I've got a few wins over him, but as soon as I miss my targets by a foot, half a foot, he just kills me. I had to make sure it was tight and my lengths were getting to the back, otherwise he just punishes you. I was pretty happy with how I did that today.

"One more to go and I can wrap thing thing up!!I It is without doubt one of the biggest wins of my career. I remember when Rickets won in 2006 it was just amazing to see a fellow Aussie win this tournament.

"To scrape into the top 8 and now be in the final is something I can be really happy about. I put in a good two-week block coming into this and to win, would be more than a dream because it is beyond all expectations."
Raneem 2-1 Nicol
Raneem El Welily
"The crowd were expecting a good match and I think we gave them that. I really had to push through at the end because I was feeling tired and stating to cramp so I just had to give it everything because playing Nicol is never easy.

"She was definitely keen today – I could feel the vibes coming from her but I wanted to win too so I wasn't intimidated by her and I'm really pleased to be in the final.


"There are zero expectations for tomorrow against Laura. We have played so many times and it is always close so hopefully we will play a match that the crowd enjoy.

"It's also best of five so I need to prepare as best I can now for tomorrow. I'm so happy to be part of such a big event and a tournament with equal prize money. It is such a great thing for the sport and for squash to take that step and show everyone else that it can be done is great."

Nicol David
"It's been a good week for me because this format brings out the best of your game and you have to be sharp from the beginning.

"In the first game today Raneem just took the initiative straight away and I had to find a way to come back at her in the second. I managed to do that and carried it into the third but she just found some of her best shots and I exposed myself too much and she took confidence from it."
Greg 2/0 Miguel
Greg Gaultier
"I felt good on the court, it's my first time playing at night so I had to adapt and change my routine today. I was playing patient and trying to be smooth and not go too hard because he likes the fast pace. He's a machine with a big engine compared to me, I just tried to stick the ball well to the side walls then create opening and go for my shots.

"I have played so many finals compared to Cameron, I played him in the pool but he seems to have improved his game since we played. He showed he can beat the world number one so he's going to be a real danger tomorrow. I'm going to prepare the best I can to get the win and close the season with a win."