Raneem 2/1 Camille
Another great women's match, first game very close, Camille up 10/7, but only taking the game 11/9 after two quick unforced errors.
With the moment, Cam went up 4/1 in the second, but the start of the come back for our SphynxRaneem, 4/4, 5/5, 6/6, 8/8, this time it's Raneem that gets the game balls at 10/8, but the French woman forces a decider, 10/10. She won't have a match ball though and loses the (crucial) second 12/10.
The Frenchwoman seems to have the match in hand 7/4 and 9/6 in the second but Raneem finds her magic and scores the next 5 points, 11/9.
Raneem El Welily
"She was playing really well and she was in front for 80 per cent of each game, I don't know how I won that!

"I had a very close win yesterday and an even closer win today but I'm pleased because I didn't want to go into tomorrow's match with the extra pressure of having to win to stay in the competition.

"I maybe wasn't as energised as I was yesterday and I stood back too much and played to her strengths. But I'm into the semis now.

"I still want to win tomorrow though. I still have to give it my all and be prepared for the match and the matches that follow and I have to prove a few things to myself that I can come here play well and win all my matches."
Nour 2/0 Omneya
Both Serme and El Sherbini have now won one match from two in the round robin format with tomorrow's victor assured of joining El Welily in the semi-finals of the lucrative tournament which has a prize pot of $160,000 up for grabs.
"Omneya is very hard to play against and she is very skilful, whenever she has time on her hands, she kills it, so I was trying to get the ball deep so she couldn't attack as much as usual. I'm happy with the way I played and I'm happy that I ended it 2-0.

"We've been travelling together a lot, training together and doing everything together. It's really hard to play against each other, but this is the game. I have to get on court, and whoever is the best player wins.

"Tomorrow is a very important match for me and also for Camille. Every time we play the matches are very tough and very long so I expect another tomorrow and I will just go out there and give it my all."
Laura 2-1 Nicol
Laura Massaro
"Anyone who thinks best of threes aren't hard should come out here and play with one of us because that was really tough! Because you know there only are three games I think the intensity is higher and every rally counts so mentally you are a little different.

'In the third game all I was thinking was that I didn't want to have to play tomorrow knowing that I needed to do something ridiculous to go through the pool so I'm really happy with the end result and to come through."
Amanda 2-1 Nouran
The 22-year-old Harvard graduate allowed the World Junior Champion too much time on the ball in the first but stepped up and attacked from all corners in the second, dominating it to level the match via an 11-5 win, before keeping her composure to take the decisive third 11-7.
Amanda Sobhy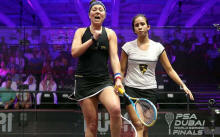 "I knew if I lost it tonight it would be near impossible to move past the group stage so I'm very happy to pull it off. I tried to slow it down and contain her and I'm happy with how I pulled myself together after the first. I stepped up my game in the second and pulled it out in the end so I'm really happy not be the one with an 0-2 record. I knew that I just had to be patient and stay mentally tough in that third and I'm happy with how I turned it around.

"Coming into the tournament I wasn't even thinking about the semis, noon expected much of me but anything can happen in this format and I'm happy to have survived and still be in with a chance going into tomorrow."
Simon 2/0 Omar
"I'm really happy with how I played. I think that Omar had an issue with his knee, but that's something that can get into your head, so you have to focus on your game and play all the way through.

"I think I managed to do that quite well today, and I'm glad to stay in the contest for the semi-finals.

"As you get older, you get a bit wiser. You play more solid and your physical abilities get stronger and better. Also, the mental strength had got better so I think that a mixture of everything makes you more consistent."
Greg 2/0 Cameron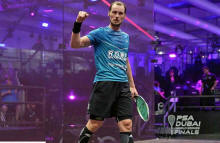 Greg Gaultier
"I was really pumped up today, I didn't have the best start to 2016 due to a bad injury, but I'm coming back strong now. "I can finally move smoothly, without pain, with a lot of flexibility in my foot, and a lot of power. It took a while, but now I'm back playing well and I'm really delighted to feel like I can play my shots, to move the way I want, and to see the ball like a big balloon.

"I knew it would be a big danger playing a best-of-three with Cameron, but I didn't give him any cheap points, I was covering the court well and trying to make him work hard.

"I'm happy with how I raised my game. I'm almost back to my peak now, and I'm full of confidence. I've got no pressure on me anymore, I've done everything I wanted in my career, so everything I do now is a bonus.

"I just enjoy life, I enjoy being on the court, and every win is a bonus for me. Of course, I am going to try as hard as possible to win this event, I worked really hard to come back and win events like this. Winning these kinds of events are highlights of your career, so I hope that I can have another title like this one."
Mohamed 2/0 Miguel
Mohamed El Shorbagy
"He's a great player and the progress he has made in the past two years is incredible, he has improved a lot and for him to beat Nick yesterday was a great result and today that second game could have gone either way – and a third would have been very tough.

"We pushed each other and either one of us could have won that game. At the end I was able to sneak it and I'm happy.

"Playing best of three changes the whole dynamic of the game because if you lose concentration for one game you are close to losing a match. We were both up and down a little today and it was very tough but it was a very enjoyable match as well and I'm pleased to still be playing well here."
Mathieu 2-0 Nick

A very close first game, with Nick looking very good in the second, up 6/2 but seems to lose his way (injury flairing up?) at the end.
"Nick is a legend of the sport so to be able to beat him is a great achievement for me.

"I was very confident with my game plan and I have to thank my coaches for that, Benoît Letourneau, who was my coach when I was a junior.

I had an injury a few weeks ago on my adductor but my coaches really helped me so much to trust my capacity today. Yesterday, I just didnt trust my leg at all. When you have been injured and step on court for the first time it is not easy to be at your best straight away but I had a good practice this morning which helped me a lot and I am enjoying every second of being here in this tournament.

"Just to qualify and be part of the top eight is amazing for me and I just want to try and play my best tomorrow and see what happens."