30-Jun-08:
Nicol David confirms entry for
Forexx Dutch Open


World Number one and two-time World Champion Nicol David has confirmed her entry for the Forexx Dutch Open Squash 2008.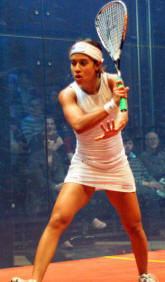 The 24-year old Malaysian, who also won the World Junior Championships twice, has held a strong grip on the WISPA Tour after moving to the top of the women's World Ranking in August 2006. Since then David has only been beaten in 3 official matches, one of them being a shock early defeat at the hands of Shelley Kitchen from New Zealand during the second round of the Women's World Open 2007 in Madrid. David, who bases herself in Amsterdam, was also clearly the best in last year's Forexx Dutch Open. In the final the petite Asian proved too strong for the current World Champion Rachael Grinham in straight games.


Tournament director and former Dutch champion Tommy Berden is naturally very upbeat about the participation of the world's best female player and the defending champion. "It is great news that Nicol has confirmed her entry this early. With her and Natalie Grinham we now have the two best players in the world entered in our event and it shows that the Forexx Dutch Open plays an important role within the international squash community."




On behalf of tournament organizers Next Events, 29-year old Berden also said that they are now focusing their attention to the men. "With the world numbers one and two in the women's event confirmed, we are now working hard to ensure a high quality field for the men as well. Hopefully we will be able to announce the first male top players shortly."

The Forexx Dutch Open Squash 2008 will be held in Amsterdam's Frans Otten Stadion from 2 - 7 September 2008. With an increase of 30 percent, and boasting a total prize fund of $83,500usd, the Forexx Dutch Open becomes mainland Europe's biggest tournament. It consists of a Women's International Squash Players Association (WISPA) World Tour Gold championship and a Professional Squash Association (PSA) Tour 3 star tournament.