20-Jul-08: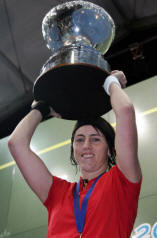 World champ confirmed
for Forexx Dutch Open

World Champion Rachael Grinham has informed tournament director Tommy Berden that she will compete in the Forexx Dutch Open Squash 2008.

The confirmation of the 31-year old Australian's entry means that the biggest Dutch professional squash event in years, which combines a WISPA Gold tournament and a PSA three star championship, is now assured of the presence of the three highest ranked female players in the world.

Earlier this month the world's number one and two, Nicol David (Malaysia) and Rachael's younger sister Natalie Grinham (Netherlands), announced their participation in the Forexx Dutch Open Squash 2008.


The elder half of the 'GrinhamSisters' is enjoying a blistering career in which she has won almost everything there is to be won. The current world number three clinched the world junior title at the age of sixteen and became one of the few women in history to achieve an amazing 'double' when she beat sister Natalie in last year's historic Women's World Open final in Madrid to become World Champion.

Grinham boasts 27 tournament titles - out of 159 tournaments - on the WISPA Tour circuit, including three British Open titles. In 2004 and 2005 the Aussie also headed the World Rankings for sixteen consecutive months. Rachael lost out to Nicol David in the final of last year's Forexx Dutch Open.

"It is clear that we are very upbeat about the news Rachael brought us regarding the Forexx Dutch Open," said former PSA player Tommy Berden on behalf of tournament organizers Next Events.

"Not only is she the reigning World Champion, but she is without doubt also one of the most attacking and spectacular players in the international women's game.

"Her participation is yet more great news for our event,"

With two more weeks to go before closing deadline world number seven Nick Matthew and three-time Dutch champion Laurens Jan Anjema are heading the men's entry list for the world class squash event in the Netherlands, which will take place from September 02-07 in the Frans Otten Stadion in Amsterdam.