Wed 1st, Semi-finalists shaping up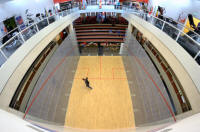 Day One of the Euro Teams, with 43 matches played in the three divisions, at the end of which most of the highly-fancied teams are already guaranteed places in the playoff stages, but elsewhere there's still all to play for.
You can keep up to date with the streaming from five courts and the live scoreboards, while we keep you up to date here and on the blog with a roundup of the action and, of course, lots of photos and plenty of updates on Twitter with the #ETCsquash tag.

Fourth seeds take a hit in opening session

All the teams in Division One played their first matches in the morning session of day one, with the top three seeds in each of the four divisions all winning comfortably.

For the men that was England, France and Germany winning their opening matches 4-0 - although Denmark's Kristian Frost extended Simon Rosner for 106 minutes, something the German would pay for in the afternoon - and in the women's matches England, Ireland and France all won 3-0.


The fourth seeds in both men's and women's divisions suffered setbacks to their nearest rivals though - in women's Pool B hosts Netherlands beat Germany 2-1, while in men's Pool A fourth seeds Scotland drew 2-2 draw with Italy, but the Italians' 8 games compared to the Scots' 7 may prove crucial when the dust settles and the semi-finals are decided.

That may not be until tomorrow though, as in the evening session Scotland have a must-win match against Switzerland while Italy face top seeds England.

Women's semis taking shape


The Dutch women came unstuck in their second match against hot favourites England, although Natalie Grinham took world number two to a deciding game in the opening match before the top seeds ran out 3-0 winners in a match that was a repeat of eight of the last ten finals.

Eighth seeds Belgium produced the biggest seeding upset so far as they beat Germany 3-0, setting up a crucial match against the Netherlands tomorrow to decide who goes into the semi-finals along with England.

Ireland and France made it two straight 3-0 wins each as they beat Wales and the Czech Republic respectively, but the French were made to sweat when Lucie Fialova pushed Camille Serme all the way to 9-all in the fifth before Serme took the opening match.

Ireland, runners-up last year, play France tomorrow to decide who tops the group thereby, in all probability, avoiding England in the semis.

Kim Hannes and her "babies"
England and France safely through
to men's semis


In the second round of men's division one matches top seeds England and France wasted no time in despatching Italy and Denmark 4-0 to all but assure themselves of winning their respective pools.

In Pool B Germany were held to a 2-all draw with Spain, Simon Rosner suffering from his morning marathon as he lost quickly to Spain's Borja Golan. That leaves it open for Spain or Germany to join France in the semis.

Pool A remains wide open too, Scotland's 3-1 win over Switzerland setting Italy a target when they meet the Swiss tomorrow. Scottish number one Alan Clyne 'avenged' his morning loss to Marcus Berrett with a fine win over Nicolas Mueller, but the Italian's two games that they won against England probably means that a 3-1 win would probably be enough for them to reach the semis.

In men's division two Netherlands, Finland and Sweden all assured themselves of top positions in their pools with two wins, and they will be joined by Wales or Ireland, who drew their opening match leaving their respective results against Ukraine to determine the Pool D winners.
The first day of the biggest ever European Team Championships kicked off with a ringing endorsement from the World Squash Federation.

Dutch Federation marks major milestone


Squash Bond Nederland celebrates its 75th anniversary this week by hosting the biggest ever European Team Squash Championships in the Netherlands capital Amsterdam.

The Dutch Squash Federation is the second oldest European member of the World Squash Federation (after England Squash) - and will be hosting the historic European Team Championships, the 41st edition of the event, for the tenth time since 1978.

More than 50 teams are competing in all three men's and women's divisions of the European Championships - including men's championship debutants Estonia and first-timers in the women's event Latvia and Slovenia.

The championships will take place at the 21-court Frans Otten Stadion in Amsterdam from 01-04 May.

"The Dutch federation is one of the most active WSF member nations in Europe as well as being a world leader and we congratulate them on this magnificent three-quarters-of-a-century milestone," said WSF President N Ramachandran, who will be attending the championships.

"Furthermore, our European Squash Federation is celebrating its 40th anniversary at a time when they are going from strength to strength," added Ramachandran.

"The fact that the celebrations will also include the staging of the biggest international team event in the world - bringing together nations such as Russia, Lithuania, Latvia and Slovenia with successful countries such as France, England and hosts Netherlands, joined by smaller ones such as Luxembourg and debuting Estonia - will make this week in Amsterdam an extremely special one for our sport."