The 40th European Team Championships, the biggest ever with a record number of competing nations, the first to feature all three divisions in the same event, and also celebrating 75 years since the inauguration of the host federation, Squashbond Netherlands, came to an end at Frans Otten Stadion with England retaining their titles in two dramatic finals.
England still the champions,
but both finals go the distance ...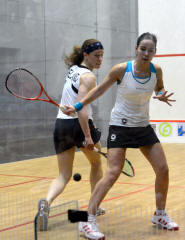 For the second day in a row England needed Jenny Duncalf to win the deciding match, but just as she had in the semi-final against France, Duncalf duly delivered to keep the women's European Team title in English hands.

Laura Massaro had given the English a good start as she beat a tired-looking Madeline Perry in straight games, but Irish number two Aisling Blake set up a decider when she beat Alison Waters in equally convincing fashion.

Duncalf was relentless in her pursuit of the title though, also winning in straight games to make it three titles in a row since their only defeat in the history of the event.

The men's final was an even more tense affair as France went two-nil up and looked to be on the verge of a stunning upset.

Thierry Lincou rolled back the years to beat James Willstrop 3-2 in the opening match. After Willstrop had taken the first comfortably, Lincou let three game balls slip as he lost the second 10/12 but stormed back to take the next three games to give France the lead.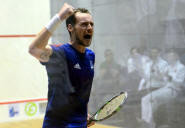 With passion running high on both sides Gregory Gaultier got the better of three desperately close and very intense three games against Nick Matthew - 82 minutes compared to Willstrop's 67 for five games - to put the French on the verge of the win they had been seeking for the last fourteen years.

Earlier in the day the ESF AGM voted to retain the four-man team system, rather than the three-man format which, had it been in effect today would have seen France take the title.

But England have always had strength in depth that is the envy of all the other European nations, and with Essex pair of Daryl Selby and Peter Barker to come, they knew that if both won without dropping more than one game they would retain the title.

Lucas Serme and Grégoire Marche fought all the way, but neither could quite take a game, and with 3-0 wins from Selby and then Barker, England were still the champions, their 21st in a row.
Women's Final: [1] England 2-1 [2] Ireland

Laura Massaro 3-0 Madeline Perry 11/7, 11/5, 11/2 (29m)
Alison Waters 0-3 Aisling Blake 5/11, 9/11, 6/11 (28m)
Jenny Duncalf 3-0 Laura Mylotte 11/4, 11/5, 11/2 (23m)




Men's Final: [1] England 2-2 [2] France

James Willstrop 2-3 Thierry Lincou 11/4, 12/10, 5/11, 9/11, 5/11 (67m)
Nick Matthew 0-3 Gregory Gaultier 11/13, 6/11, 12/14 (82m)
Daryl Selby 3-0 Lucas Serme 11/6, 11/4, 11/9 (48m)
Peter Barker 3-0 Gregoire Marche 11/5, 11/8, 11/9 (53m)

England win on games countback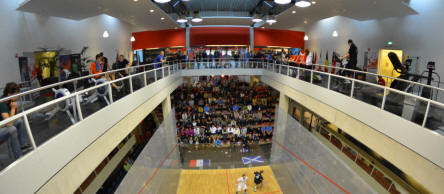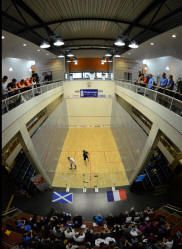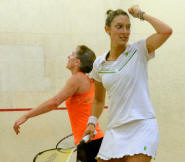 Serme sends France on the way to third place