Semis in Amsterdam set up repeat finals
on a sad day in Amsterdam ...


Reports, quotes, photos on the BLOG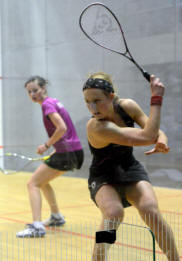 Men's top seeds England and France both comfortably secured their places in a sixth successive final in this, the 40th European Team Championships, but women's top seeds England and Ireland were both pushed to deciding matches before setting up a repeat final of their own.

Before the matches started though, everyone was informed of the sudden death of Peter Zobelein, one of the referees at the tournament. This naturally cast a shadow over the whole day's proceedings. More on the blog.

In the first match of the day England, who have won the title on every staging except one, met third seeds France, and while Alison Waters duly gave them the lead, she didn't have an easy time of it against Cyrielle Peltier.


World number two Laura Massaro had an even tougher time against Camille Serme, who bounced back from a nailbiting loss in yesterday's final pool match to take a two-game lead before finally levelling the match with an equally nailbiting 3-2 win.

That left it up to Jenny Duncalf to maintain England's grip on the title, which she duly did with a staight-games win over Maud Duplomb.

England's men would have been hot favourites to beat Germany in any event, but when the fourth seeds decided to rest their number one Simon Rosner the results was never in much doubt, and a 4-0 win duly put England into their 21st successive final.


Hosts Netherlands had appeared in nine finals in a row before losing out last year, but, seeded five, they bounced back to reach the semi-finals where they faced last year's runners-up Ireland, equally keen to return to the final.

Aisling Blake got the Irish off to a flying start with a 3-0 win over Orla Noom, but Natalie Grinham levelled the match, beating a tiring Madeline Perry in four games to set up a decider.


And what a decider it was as Laura Mylotte saw her two-game lead pegged back, and then saw her 8-3 lead in the fifth disappear as Milou Van Der Heijden levelled it at 8-all.

It went the Irish way in the end though, Laura taking it 11/9 much to the relief and delight of her team-mates.

In the second men's semi-final Scotland put up a typically determined challenge against France, bidding to reach a 13th final in 14 years, and Greg Marche, Greg Gaultier and Thierry Lincou all won in straight - but tough - games to set up a sixth successive England v France final.

Elsewhere there was plenty of excitement and drama as teams fought for survival or promotion in their respective divisions, with their final fates to be decided tomorrow.

Division One Semi-Finals, Glass Court:

W [1] England 2-1 [3] France
Alison Waters 3-1 Cyrielle Peltier 11/8, 11/7, 9/11, 11/4 (37m)
Laura Massaro 2-3 Camille Serme 14/16,6/11,11/6,11/9,11/13 (74m)
Jenny Duncalf 3-0 Maud Duplomb 11/6, 11/4, 11/4 (23m)

M [1] England 4-0 [3] Germany
Peter Barker 3-0 André Haschker 11/7, 11/7, 11/5 (46m)
Nick Matthew 3-0 Raphael Kandra 11/2, 11/6, 11/4 (35m)
James Willstrop 2-0 Jens Schoor 11/9, 11/5 (27m)
Daryl Selby 2-1 Rudi Rohrmueller 9/11, 11/6, 11/8 (33m)

W [2] Ireland 2-1 [5] Netherlands
Aisling Blake 3-0 Orla Noom 11/6, 11/8, 11/4 (27m)
Madeline Perry 1-3 Natalie Grinham 8/11, 11/9, 5/11, 5/11 (45m)
Laura Mylotte 3-2 Milou vd Heijden 11/8,11/4,6/11,9/11,11/9 (49m)

M [2] France 3-0 [4] Scotland
Greg Marche 3-0 Dougie Kempsall 11/9, 11/6, 11/9 (43m)
Gregory Gaultier 3-0 Alan Clyne 16/14, 11/8, 11/8 (54m)
Thierry Lincou 2-0 Greg Lobban 11/7, 11/4 (22m)

Reports, quotes, photos on the BLOG

Division One 5/8
W Belgium 0-2 Wales, W Germany 0-2 Czech Republic
M Denmark 2-2 Switzerland, Italy 2-2 Spain

Division Two Semi-Finals:
M Netherlands 4-0 Ireland, Finland 2-1 Wales

Division Two 9/12:
M Slovakia 3-1 Poland, Portugal 2-2 Ukraine

Division Three semi-finals:
M Norway 3-1 Malta, Israel 3-0 Gibraltar

Plus women's division 2 & 3 round robins and other men's division 2 & 3 playoff matches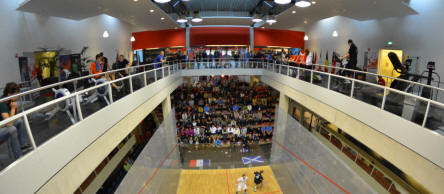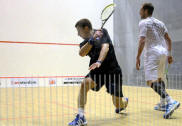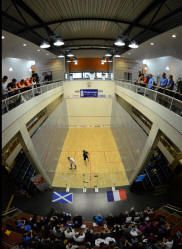 RIP Peter