Thu 2nd, down to the playoffs


After another full day of matches at Frans Otten Stadion - a few less than yesterday, but still 35 in all - we'll know the semi-finalists in most of the divisions (except for the women's Div 2 & 3 round robins).

Actually, we'll know the Division One semi-finalists well before that, as there are some crucial early morning matches, particularly for the women.

Division One Roundup

10am on Day Two and all the teams in Division One tool to the courts at Frans Otten, so it's been a bust three hours trying to keep up to date with what's been going on - here's a stab at it !


In Pool A England eased past Auld Enemy Scotland 4-0, with the Scots just as interested in how Italy, who held them to a draw yesterday, were getting on against Switzerland. An 4-0 Italian win was needed to put them through, but the Scots' nerves were quickly settled as Switzerland went on to win 3-1.

In Pool B Germany knew they needed to win one match against second seeds France, and although they needed to wait until the third match, Andre Haschker duly delivered, France going on to win 3-1 to top the group.

That rendered the later-starting Spain v Denmark irrelevant in semi-final terms, but it was still a tremendous match, with Rasmus Neilsen winning a marathon final five-setter to earn a draw for the delighted Danish camp.

So, the Men's semi-finals will be England v Germany and France v Scotland - the top four seeds.


In the Women's top division England duly completed a hat-trick of wins, this time against Germany, to put themselves through, while Netherlands and Belgium battled it out for the second spot.

A tremendous performance from young Tinne Gilis, beating Milou Van Der Heijden 3-2, put Blgium ahead, but the hosts' experienced pair of Natalie Grinham and Orla Noom both won 3-0 to put the Dutch through to yet another semi-final.


In Pool B Ireland and France met to decide who finished top, avoiding England in the process. Cyrielle Peltier delighted the French squad as she beat Laura Mylotte 3-1, but the French bench were distraught when a tiring Madeline Perry was awarded a stroke at 10-9 in the fifth to beat Camille Serme and level the match.

In the decider Coline Aumard had several game balls to level her match against Aisling Blake, but the Irish champion took that 14-12 and went on to win the third quickly.

The women's semi-finals will therefore be: England v France and Ireland v Netherlands.
Divisions Two and Three

The women's round robins continued, where it looks as though Denmark are the team to beat in Division Two, four wins out of four for them so far. The final two matches of the day both went to deciders as Spain beat Italy and Austria overcame Sweden to keep the pressure on the leaders.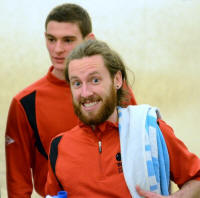 In division three Poland and Malta are both unbeaten after three matches, so their Saturday morning meeting could be decisive.

The men's Division Two semi-finals will be Netherlands v Ireland and Finland v Wales after all won today - reports on a lot of that on the blog.

In division three the final four are Norway v Malta - who had a great battle with fellow minnows Monaco - and Gibraltar v Israel
- who looked very good in their 4-0 win over the previously untroubled Russians.

That's all for tomorrow though ...