24-Aug, Day FOUR, Round One Concludes:
It's Double Double delight for HK

The first round concluded at Hong Kong Squash Centre with two more terrific wins for Hong Kong players, giving them two players in the last sixteen of both draws for the first time ever.
Today's home winners both came in the afternoon session. First, women's wildcard Ho Tze Lok produced a remarkable comeback to beat England's Jenny Duncalf in five games.

After losing the first ten points of the match and trailing 1-11, 4-11, a comeback looked unlikely. But turn it round the 20-year-old, playing in her 9th HK Open, did.


After taking the third she fell 10-5 behind in the fourth but saved seven match balls on her way to levelling the match 18-16 before pulling clear from the middle of the fifth to the delight of the HK crowd.

"The pace was too fast for me at the start," she said, "so I had to try to change the game, slow it down, and it worked. I can't believe I saved all those match balls though, but it's so good to win through to the second round for the first time." She joins Annie Au in the last sixteen.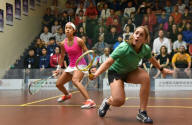 The other big story - almost - in the women's matches was how close Nicol David came to losing her record of 55 consecutive match wins - and 11 tournaments - in Hong Kong.


It was Tesni Evans, the Welsh qualifier, who pusher her so close, twice levelling the match and playing so well in the fourth that an upset seemed likely, not just possible.

But as she has done so many times, Nicol dug in, played her game that has served her so well, and closed out the match 11/5 much to her relief and Tesni's disappointment. Nicol's next opponent is Joelle King, who beat Nicolette Fernandes in straight games.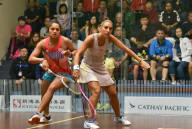 France's Camille Serme was also taken to five as Dipika Pallikal fell just short of coming back from two games down. The sixth seed now faces Ho for a place in the quarter-finals.


The Hong Kong quartet - both their top players and both wildcards - was completed when Max Lee overcame English namesake Joe in three games, ending a run of five straight first round losses to reach the last sixteen for the first time in 13 attempts.

"It feels good to finally get there," said a relieved Max, "and for Hong Kong to have done some well in both draws is really great.


"There's pressure no, of course, but it's good pressure, playing with the home crowd behind you. Hopefully we can go further, but we'll just have to see tomorrow."
Max now meets Egypt's seventh seed Ali Farag, who needed four games to get past German qualifier Raphael Kandra.

At the bottom of the draw France's second seed Gregory Gaultier meets Egyptian Fares Dessouki, both beating compatriots in straight games.

Morning Session:
Massaro survives to reach round two


The second day of round one matches started with relatively comfortable wins for double world junior champion Nouran Gohar and the English pair of Alison Waters and Emily Whitlock, all winning in straight games in around half an hour's play, but second seed Laura Massaro needed all her renowned determination to fend off a challenge from 15-year-old Hania El Hammamy.

Taking the first game comfortably, Massaro was pegged back to one-all, then had to save eight game balls from 5-10 down in the third before taking it 15-13 on her first opportunity.


Undeterred, Hania was on top again in the fourth, taking it on her first game ball this time, but Massaro moved ahead early in the decider an never looked like relinquishing her grip.

Massaro now meets Whitlock in an all-English match while Waters faces Gohar.


The men's matches followed a similar pattern straight-game wins for Ramy Ashour, Simon Rosner and Mathieu Castagnet - although Castagnet in particular had to work extremely hard to shake off Egypt's Zahed Mohamed - while fourth seed Marwan Elshorbagy saw a two-game lead disappear against Swiss birthday boy Nicolas Mueller before regaining control in the decider.

Marwan now meets Ramy while Rosner and Castagnet meet in an all-European matchup.

Reports : Massaro v Hammamy | Marwan v Mueller