26-Aug, Say SIX, Quarter-Finals:
Max does it again !!!

Action moved down the corridor to Hong Kong Sports Park, where the glass court was ready for eight quarter-final matches.

The day got off to a slow start with quick wins in the first two matches, but built and built, with the last match producing one of the best results in Hong Kong's history - read on ...

Quarter-Finals:

[7] Amanda Sobhy (Usa) 3-0 Nour El Tayeb (Egy)
11/6, 11/4, 11/8 (27m)
[1] Nour El Sherbini (Egy) 3-0 [8] Omneya Abdel Kawy (Egy)
11/6, 11/7, 11/5 (20m)

[5] Nouran Gohar (Egy) 3-2 [2] Laura Massaro (Eng)
11/8, 11/9, 8/11, 8/11, 14/12 (80m)
[4] Nicol David (Mas) 3-1 [6] Camille Serme (Fra)
11/8, 13/11, 7/11, 11/2 (49m)


[6] Karim Abdel Gawad (Egy) 3-1 Cameron Pilley (Aus)
11/3, 7/11, 11/6, 11/7 (52m)
Ryan Cuskelly (Aus) 3-1 James Willstrop (Eng)
11/9, 11/8, 9/11, 11/7 (74m)

Ramy Ashour (Egy) 3-1 Simon Rösner (Ger)
12/10, 7/11, 11/4, 11/9 (52m)
Max Lee (Hkg) 3-1 Fares Dessouky (Egy)
11/6, 8/11, 11/9, 11/8 (64m)

Sobhy and Sherbini sail into semis


The first quarter-final was over in under half an hour as Amanda Sobhy overpowered Nour El Tayeb for two games, then held firm in a tough third game as the Egyptian tried her mightiest to recover.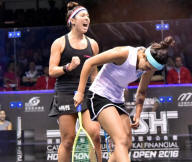 It wasn't to be though and Sobhy advanced to her second HK semi-final.

"I knew that if she'd taken the third she'd have the momentum for another comeback, like she did in Malaysia," said Sobhy.


"I knew I had to stay strong, and I was very happy to close out that third!"

The second match was even quicker as top seed Nour El Sherbini despatched compatriot Omneya Abdel Kawy in just twenty minutes of play - the rallies were, as you can imaging, sharp and short.

Gawad and Cuskelly through


The first pair of men's matches both featured Australians, but last year's runner-up Cameron Pilley couldn't reproduce his heroics of last night as he lost in four games to Karim Abdel Gawad, the only remaining seed.

The Egyptian was on top in the early stages, and although Pilley took the second game to level, Gawad continued his run of impressive form to take the next two and move through to his first HK semi in five appearances.


Ryan Cuskelly fared better, getting the better of two close opening games against former HK champion James Willstrop, who led in the middle part of both games.


Cuskelly took five points in a row from 6-8 down to open up a two game advantage, and although Willstrop edged a close third, Cuskelly took an early lead in the fourth and, despite Willstrop's best efforts and frustration with some Cuskelly appeals, held on, taking the match by slamming a service return into the nick.


"Delighted to make another WS semi - I have enough trouble making the quarters, so this is a bonus," said Cuskelly. "He made some mistakes at crucial times but I thought I dug in well."
HK Blog - match reports and more
Gohar win a thriller,
David notches up #58

The second set of ladies' quarters were quite a contrast to the first, both well contested, both tough and long - especially the first of them.


Nouran Gohar started strongly as she dominated the first game against Laura Massaro and then recovered from 1-5 down in the second to double her lead. Massaro rallied strongly to take the third, and then came from 1-7 down to take the fourth and force a decider.


Again the young Egyptian started well, leading 6-2, but again Massaro came back. 7-all, 8-all, 9-all then Gohar had match ball but tinned at the end of a long rally. Massaro had two match balls but couldn't take them, then on Gohar's second she put in a drop that Massaro couldn't reach to finish a gruelling 80 minutes on court.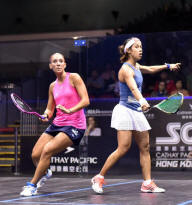 Nicol David continued her run of HK victories, pulling away at the end of the first two games against Camille Serme - although a 10-7 lead wasn't enough in the second, needing extra points.

Serme fought back well to take the third but David dominated the fourth 11/2 to move into yet another HK semi.
Ramy pulls through
as Max does it again


After the exit of James Willstrop, Ramy Ashour was the last former champion left in the men's draw, and although he was pushed all the way for three of his four game against Germany's Simon Rosner, the Egyptian maestro found enough of his wizadry to finish the match off at the end of a fourth game which Rosner looked to have every chance of taking.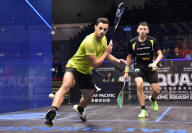 That set the stage for the last quarter-final, and with the crowd willing him on Max Lee delivered once again.

The first two games were relatively quiet, Max taking the first, Fares Dessouki looking controlled as he levelled.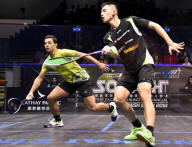 But in the third Max took a big lead 8-2 - onlt for Fares to strike back, levelling at 9-all before Max got the better of a tense finish to retake the lead.

The Egyptian led the fourth too, but just when a decider looked likely, Max found an extra gear in winning some breathtaking fast-paced rallies - Fares was left applauding his opponent after one of them.

Levelling at 8-all, Max took the next three points and as Fares' last shot hit the tin the place erupted, again!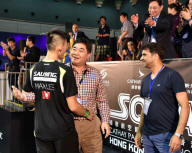 "Incredible," said Max. "I was so, so nervous, and he kept changing his game so I couldn't settle into a rhythm. But to come through that, in front of a crowd like this, it's just fantastic!!"

"We've been waiting 31 years for one of our men to reach the semis." said Tony Choi, tournament director ad HK coaching director, "it's a dream come true!"

HK Blog - match reports and more