27-Aug, Day SEVEN, Semi-Finals:

[7] Amanda Sobhy (Usa) 3-0 [1] Nour El Sherbini (Egy)
12/10, 11/5, 11/6 (33m)
[5] Nouran Gohar (Egy) 3-1 [4] Nicol David (Mas)
11/9, 11/7, 11/13, 11/9 (57m)

[6] Karim Abdel Gawad (Egy) 3-1 Ryan Cuskelly (Aus)
11/7, 11/6, 6/11, 12/10 (61m)
Ramy Ashour (Egy) 3-0 Max Lee (Hkg)
11/8, 11/9, 11/6 (39m)
End of a run and end of an era in Hong Kong

Today's semi-finals in Hong Kong saw three Egyptian winners, the end of local hero Max Lee's run, but probably more importantly, the end of Nicol David's long run of success in Hong Kong.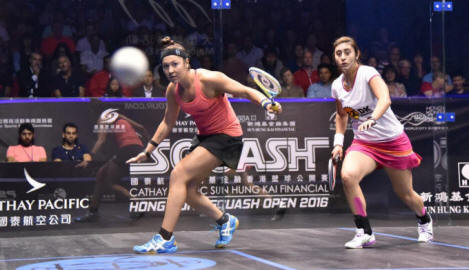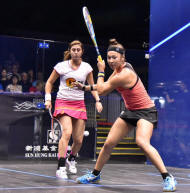 First up was world number one Nour El Sherbini, playing in her first HK Open, against long-time junior rival Amanda Sobhy.

When Sherbini went 5-0 up in the first game the signs looked ominous for the American, playing her second consecutive HK semi. Sherbini advanced to 10-5, but Sobhy fought back to take the next seven points and the lead 12-10.

She was always on top in the next two games, delightedly punching the final ball away for an ultimately emphatic three-nil win.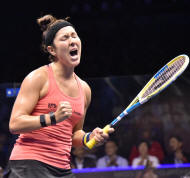 "It took me a little whie to get used to her pace," explained Sobhy, "she's not world number one for nothing! I knew I needed to stick in, get the ball deep, and I'm pleased with how I managed to come back.

"Winning the first was crucial, if she'd taken that she would have had good momentum. It's amazing to make my second World Series final, especially here in Hong Kong, I always enjoy it."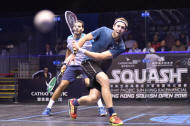 The first Egyptian success came as Karim Abdel Gawad, who has been in impressive form all week, beat surprise package (there have been plenty of those) Ryan Cuskelly in four games.

Gawad was on top for the most of the early part of the match, but Cuskelly pulled a game back and had the lead in the fourth before Gawad finished with a flourish.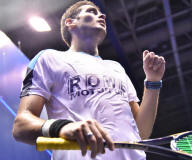 "I'm so happy," he said,

"It's a really tough event and I never even made the quarters here before, so to get through to my first World Series final is amazing.

"All credit to Ryan, he made me work very hard, but I'm delighted to win."






The second Egyptian winner, was Nouran Gohar. Having just claimed her second world junior title - just as Nicol David did over a decade ago - you might think she would be nervous or overawed at the prospect of taking on the 11-time Hong Kong champion, with 58 consecutive wins under her belt.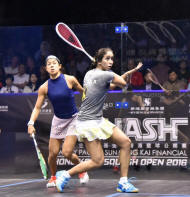 Not a bit of it. Gohar attacked from the outset, and effectively overpowered David for two and a half games as she took a two game lead and 5-2 and 7-4 leads in the third with the Malaysian seemingly unable to do anything about it.

But you underestimate Nicol at your peril, and she dug in, dug deep, levelled at 7-all, edged ahead and had a game ball at 10-9. Gohar saved that, earned a match ball of her own then tinned an attempted power drive that had been bringing her so much success.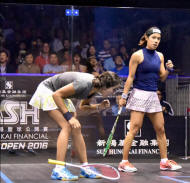 Nicol earned another game ball, and there ensue probably the longest rally of the tournament, with the error finally coming from Gohar as David took a game back.

David started the fourth well, but Gohar resumed her attacks and advanced to 10-7 for three more match balls. A tin, a dropshot too tight saved two, but after a few lets Gohar finally took her biggest scalp as David finally found a ball she couldn't get to.

Gohar was ecstatic, David gracious in defeat.


"I canít believe it. Itís like a dream," she said. "I came here with no expectations, I just came here to play well and see how it goes, so Iím really pleased to be in the final now.

"Even when I was 2/0 up, it was very very tough, the first two games could have gone either way, she is a true fighter, I didnít believe I could finish it so thank God, all credit to her, she is a Legend."


The final match saw two-time champion Ramy Ashour end the tremendous run of Hong Kong's Max Lee in straight games.

Max pushed Ramy hard for two games, the three-time world champion relieved to escape from 9-all in the second, but the pressure of the Egyptian's shots, and a hard week, finally took their toll as Ashour dominated the third against a tiring Max.

"I'm very happy with how it's all gone this week," said Max, "but I'm very tired now!"


Ramy was gracious in victory: "It took a lot out of me beating a good player like Max," he said, "all credit to him for his performances this week.

"I'm pleased to make the final, I wen out in the quarters last time here. My body is feeling good, everything's holding up so hopefully we can have a great all-Egyptian final tomorrow."