17-Nov, Day Six, QUARTER-FINALS:
Afternoon (top half):

[1] Nour El Sherbini (Egy) 3-0 [7] Nouran Gohar (Egy)
11/7, 11/5, 11/6 (27m)
[4] Laura Massaro (Eng) 3-1 [14] Tesni Evans (Wal)
4/11, 11/8, 13/11, 11/6 (47m)
[5] Marwan ElShorbagy (Egy) 3-1 [1] Gregory Gaultier (Fra)
11/8, 11/8, 7/11, 11/6 (51m)
[3] Mohamed ElShorbagy (Egy) 3-1 Mohamed Abouelghar (Egy)
11/7, 11/7, 5/11, 11/9 (46m)

Evening (bottom half):

[2] Raneem El Welily (Egy) 3-2 [10] Joelle King (Nzl)
11/8, 17/15, 7/11, 8/11, 14/12 (66m)
[3] Camille Serme (Fra) 3-1 [5] Nicol David (Mas)
11/9, 8/11, 11/9, 11/6 (45m)
[4] Ali Farag (Egy) 3-1 [Q] Declan James (Eng)
11/7, 6/11, 11/6, 11/6 (43m)
[2] Karim Abdel Gawad (Egy) 3-1 [7] Tarek Momen (Egy)
12/10, 11/7, 12/14, 11/7 (70m)
Marwan topples top seed in Hong Kong Quarters as Sherbini dethrones Gohar

The afternoon session of the Hong Kong Open quarterfinals, on the glass court at Hong Kong Sports Centre, produced a massive upset as Marwan Elshorbagy brushed aside a run of poor recent results to beat top seed and world #1 Gregory Gaultier in four games to reach his first Hong Kong semi-final.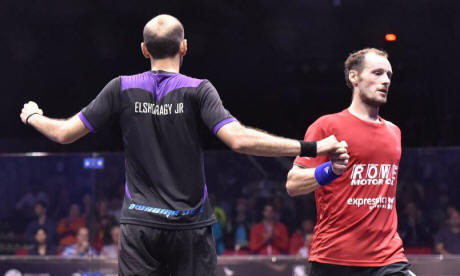 Marwan took the first two games, then came from 1-7 down to 7-all in the third before the Frenchman pulled a game back. It was Marwan on top again in the fourth though as he advanced to the last four, where he'll meet his elder brother Mohamed.

Third seeded Mohamed took a two game lead over compatriot Mohamed Abouelghar, who took the third and held a 7-1 lead in the fourth. Like Marwan, Mohamed powered back, levelling at 9-all and taking the game 11-9 with an emphatic roar.

In the women's matches top seed and world #1 Nour El Sherbini despatched fellow-Egyptian Nouran Gohar in straight games to relieve her of the title she won last year, and in the semis she'll face England's Laura Massaro, who fought back from a game down to beat Wales' Tesni Evans.
Camille breaks the spell as Egypt dominate men's semis

The evening session saw two terrific women's matches, both with long winning streaks attached to them, and confirmation that there will be an Egyptian men's champion.

Raneem El Welily had beaten Joelle King the first ten times they played, but the Kiwi broke that spell in the last match just this month. And she nearly did it again as the pair engaged in a match of the highest quality, Raneem going two games up only for Joelle to peg it back and force a fifth. The decider was nip and tuck, and it was the Egyptian who got to match ball 10-9, but she needed four attempts before finally clinching her place in the semis.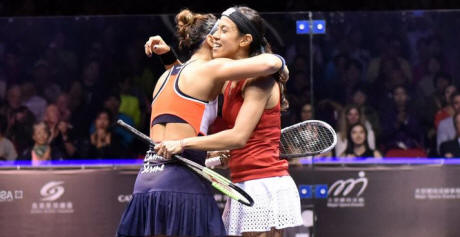 Camille Serme is seeded #3, two places higher than 11-time HK champion Nicol David, but the French world #3 went into the match 0-19 down in the head-to-heads. Camille took the lead, and although Nicol levelled at one-all, there was no denying this time as Camille took the next two games to end what was for her a most unwelcome spell.

An Egyptian men's Champion was guaranteed when Ali Farag beat English qualifier Declan James in four games. James fought well, bringing the crowd into play at times as he took the second game, but U.S. Open champion Farag had a little too much in the end as he took the next two games.

Farag will face world champion Karim Abdel Gawad for a place in the final after the #2 seed came through a tough four game encounter with Tarek Momen, who saved a match ball in the third game but couldn't stop Gawad from taking the fourth to complete the all-Egyptian men's semi-final lineup.