18-Nov, Day Seven, SEMI-FINALS:
[1] Nour El Sherbini (Egy) 3-2 [4] Laura Massaro (Eng)
11/7, 5/11, 5/11, 11/8, 11/3 (56m)

[3] Mohamed Elshorbagy 3-0 [5] Marwan Elshorbagy
13/11, 11/5, 12/10 (47m

[2] Raneem El Welily (Egy) 3-2 [3] Camille Serme (Fra)
5/11, 11/7, 11/6, 6/11, 11/6 (56m)

[4] Ali Farag (Egy) 3-1 [2] Karim Abdel Gawad (Egy)
11/8, 11/9, 6/11, 11/7 (55m)

SEMI Facts & Figures WHAT THEY SAID
It's two all-Egyptian finals in Hong Kong

Double title success for Egypt is guaranteed after today's semi-finals at Hong Kong Park Sports Centre, which saw Mohamed Elshorbagy, Ali Farag, Nour El Sherbini and Raneem El Welily win through to tomorrow's finals.
First up was world #1 Sherbini against England's Laura Massaro. The pair have contested two World Championship finals, each winning one of them 3-2 so it was no surprise that this match went the distance too.

Sherbini started strongly but Massaro fought back to take the lead and was close to the finishing line in the fourth before Sherbini accelerated away to level. The fifth was over quickly as Sherbini, in just her second appearance here, reached a first final.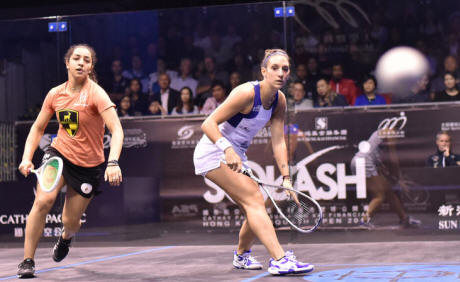 Welily, aiming to reach a third HK final, faced France's Camille Serme, and this too went the distance as Serme took the lead as Welily found the tin too many times, but the Egyptian found her range to take the next two games and the lead.

Serme stepped up again to level, but it was El Welily who found the necessary extra from the middle of the fifth to reach that third final.
The men's semi-finals were both all-Egyptian, starting with the latest match between the Elshorbagy brothers. Marwan took the early lead in the first, but Mohamed determinedly fought back, saved a couple of game balls and took the lead 13-11.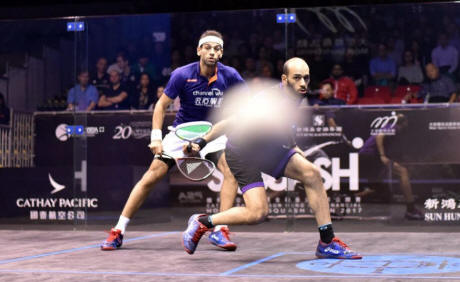 The elder brother doubled his advantage 11-5, then again recovered from a deficit in the third, saved a game ball before taking the match on his first match ball 12-10 with a roar of delight.

Not only is that a third Hong Kong final for the two-time champion here, it's also a remarkable sixth PSA final in a row!
In that final he'll face Ali Farag for the fourth time in as many weeks after the in-form world #4 got the better of world champion and second seed Karim Abdel Gawad in four fast, entertaining games. Farag is in the final in just his second appearance in Hong Kong.