14-Nov, Day Three: Round One, Part One at HKSC

Max makes Elshorbagy work for it as Abouelghar downs Willstrop, Lobban and Serme qualify for last sixteen.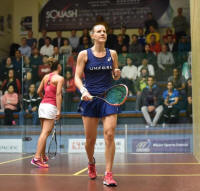 The first session of Round One play at Hong Kong Squash Centre started with four relatively straightforward wins for the women's seeded players - Tesni Evans, Olivia Blatchford, Alison Waters and Laura Massaro all winning in straight games on or around the half hour mark - Massaro avoiding a repeat of last year's five-game nailbiter against teenage Egyptian qualifier Hania El Hammamy.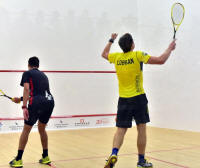 There was an upset in the the first set of men's matches though, as Scottish qualifier Greg Lobban beat Zahed Mohamed in four games.

Top seed Gregory Gaultier was a straight game winner over compatriot Gregoire Marche, while Marwan Elshorbagy and Paul Coll - in his first appearance in HK - both came from a game down to secure second round places.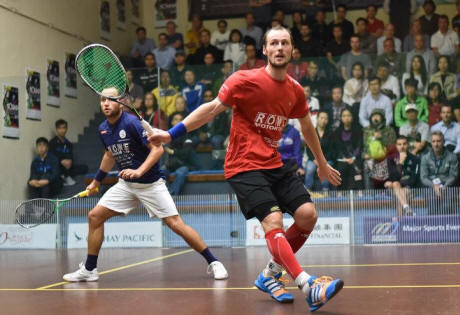 The evening's women's matches all went to form, if not quite to seeding. Egyptians top seed Nour El Sherbini and defending champion Nouran Gohar eased through to the last sixteen.


Sherbini now faces Donna Urquhart, who kept up her winning record against 15th seed Victoria Lust, while Gohar meets Joshna Chinappa, who needed five games to see off Canadian qualifier Hollie Naughton.

The biggest upset of the day came in the opening evening men's match as Mohamed Abouelghar beat sixth seed and former HK champion James Willstrop in straight games. Abouelghar now meets Germany's Simon Rosner, who came through a tough four game encounter with Mathieu Castagnet.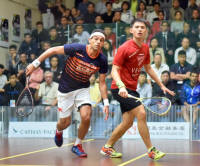 Another Egyptian win came as Mohamed Elshorbagy joined younger brother Marwan in the last sixteen, but home favourite Max Lee made the third seeded two-time HK champion work to the very end for his win.
Twice Elshorbagy led and twice Max levelled, roared on by the packed HKFC crowd. But the effort in the fourth told as Elshorbagy pulled away, Max left cramping on the floor at the end of the match unable to repeat his heroics of last year.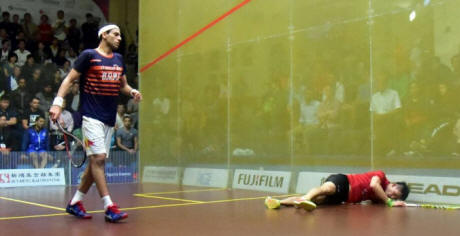 Elshorbagy will face a qualifier in the next round after France's Lucas Serme pulled off one of his best wins in the last match of the day, finally finishing off Omar Mosaad in five games and 77 minutes to the delight of the French entourage.