TODAY in Manchester: 2014 Previews
30-Jan:
Same again Nationals finals -
according to the seedings, at least ...

If the seedings prove to be correct then fans at the Nationals Squash Centre on Sunday 18th Feb will see British Nationals finals which are repeats of last year's climaxes.

In the men's draw top seed Nick Matthew will be looking for a fifth successive final, a third successive title , and a record-increasing sixth victory in all. Should he meet second seed and two-time champion James Willstrop in the final it will be their third final in a row.

Looking at the top seeds' prospective paths to the finals, there are a few potential pitfalls along the way:

Matthew would meet a qualifier, followed by Scottish #2 Greg Lobban, then two tough matches against his England team-mates Adrian Grant and Daryl Selby, the 2011 champion who famously beat Matthew in that final and recorded a first-ever win over Willstrop at the back end of last year.

Willstrop's route would be all-English, starting against Declan James, then Charles Sharpes (again), a quarter against upcoming Adrian Waller and a semi against long-time rival Peter Barker, who looks to be in good form after his injury in the World Champs in Manchester put him out of action for a couple of months..

Women's top seed Laura Massaro, should she reach the final, will be there for the fourth year in a row, and should she meet second seed Alison Waters it would be the defending champion's eight final in the ten years since she gatecrashed the 2005 final unseeded.

In 2012 Massaro beat Waters in four games, then last year's final was a classic which Waters won 13-11 in the fifth, but both top seeds face challenges along the way to setting up a repeat.

Massaro's route starts off against Welsh champion Tesni Evans, then a prospective quarter-final against the fit again and in-form Sarah-Jane Perry, and a semi against Ireland's Madeline Perry (whose birthday once again falls during the event), surely the best player never to have reached a Nationals final.

Waters' path would entail a first match against a qualifier, a quarter-final against the in-form Emma Beddoes, and a semi against two-time champion and four-time finalist Jenny Duncalf.

Nothing's cast in stone there, then, and with 14 Masters events taking place too the National Squash Centre is the only place to be mid-February. You have got your tickets, haven't you ???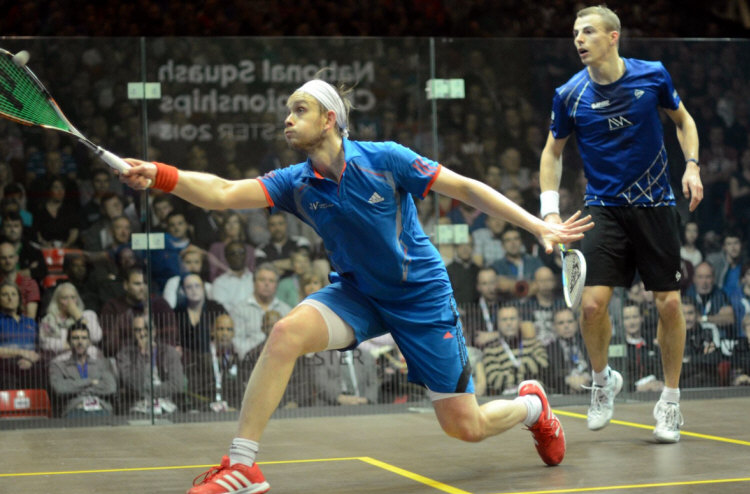 17-Jan-14:
Top Man Matthew set to
make UK debut in Manchester

The 2014 British National Squash Championships will be staged at National Squash Centre in Manchester from the 10th to 16th February, which will be the first opportunity to see the three time World Champion & newly crowned World No.1 Nick Matthew compete in the UK in 2014.

Matthew will renew his great rivalry with James Willstrop in his bid to win a record sixth national title - a feat only achieved by Cassie Jackman - but also hoping to cause an upset will be World No.8 Peter Barker, former British National Champion Daryl Selby, and Londoners Adrian Grant and Tom Richards.

"I can't wait to compete in Manchester again," said Matthew.

"Obviously I have very special memories of playing in the city after winning the World title there last year. The atmosphere in Manchester is always electric and hopefully we'll give them plenty to cheer about.

"Of course I'm aiming for a sixth Nationals title but I'll have to be at the very top of my game because there's great depth in English squash at the moment with four guys in the world top 10. It won't be easy," he added.

In the women's competition, British Open Champion Laura Massaro will be hoping to add a third National title to her collection but will face stiff competition from defending champion Alison Waters as well as Jenny Duncalf and Ireland's Madeline Perry.

The championships will also feature a full programme of Masters competitions, with UK's best age group players competing over fifteen age-group categories from Over-35 to Over-75.

Manchester also boasts the country's largest legacy programme with over 2,000 local school children expected to attend during the week.

Tickets are on sale now