06-Feb:
Equal prize money for female squash stars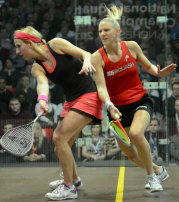 England Squash & Racketball have today announced that they will award equal prize money to both men and women at the 2014 National Squash Championship.

The step shows the commitment of the National Governing Body in helping to drive women's squash forwards and recognising the important part the women's game has to play in the tournament.

Jim Lord, Operation's Director at England Squash & Racketball says:

"We are delighted to announce that the prize money for the 2014 National Squash Championships in Manchester will be equal for both men and women.

"We are determined to play our part in raising the profile of the women's tour, and if at all possible contribute to a longer term commercial strategy that will influence increases to women's prize money."

The move follows that of the US Open squash tournament in Philadelphia who recently increased the women's prize money to match the men's draw.

Total prize money for the National Squash Championships now stands at £22,800.
What do you think ?
NATIONALS CHAT