09-Feb, Day ONE:
Qualifying Begins as Brothers of... progress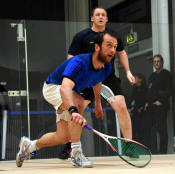 Fourteen matches tonight in the first round of qualifying for the men's event, and a few tense results too.

The first winner of this year's event was Lancashire's Daniel Turner, recording his first win on his second Nationals appearance.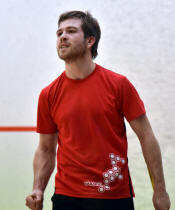 The longest match of the night saw Sam Ellis squeeze past Chris Leiper in four, helped by two 13/11 games.

"It was pretty brutal, it seemed like neither of us wanted to win at times," said Sam. "I came out flying to take the first but from 7/2 up in the second I had to fight back from8-10 down, and it was the same in the fourth!"


Elliot Selby won the only five-setter of the day, coming from 5-9 down in the decider against Tom Bamford to win it 11/9 on a conduct stroke.

"I don't know how I won that," admitted Elliot, who was proudly wearing his new "are you Daryl's brother?" top.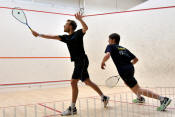 The final winner of the night also has a famous sibling, but Manchester's coach Chris Lengthorn, who beat Matthew Broadberry in four games, reckons it's Laura who should be wearing the t-shirt.

Tomorrow sees two more rounds of men's qualifying with eight main draw places up for grabs.