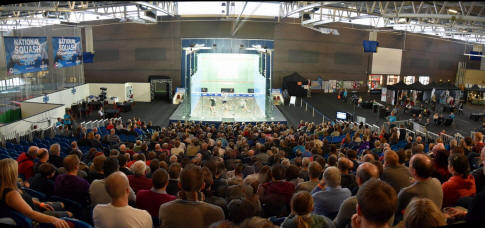 Sat 14th, Day SIX:
Semi-Finals Day

There are only four left in each of the draws now, and today will see the finalists decided in the Man's, Women's and Masters events.
Glass court matches: Masters semi-finals

[1] Laura Massaro 3-0 [5/8] Victoria Lust 11/4, 11/7, 11/8 (30m)
[3/4] Sarah-Jane Perry 3-2 [2] Alison Waters 8/11,11/7,13/11,6/11,12/10 (65m)

[3/4] Daryl Selby 3-2 [5/8] Adrian Waller 8/11, 5/11, 11/5, 11/2, 11/6 (60m)
[1] Nick Matthew 3-0 [3/4] Chris Simpson 11/9, 11/8, 11/6 (51m)

Full Draws & Schedules
It's a fifth final for Laura as SJ dethrones Waters


Top seed Laura Massaro advanced to a fifth Nationals final with a straight games win over Victoria Lust in the first of the day's semi-finals.


Massaro took early charge and never relinquished the grip she had on the match, with Lust unable to repeat her heroics of yesterday, falling behind early in the first two games and never quite able to catch up to Massaro in the third.

"I'm really happy to be back in the final of course," said Massaro. "I don't think Vicky played as well as she did yesterday, but I think I played well and I was happy with my length and how I managed to control the play.

"Naturally I wanted to win it last year but it didn't work out, so I'll be doing my best in the final and hope to get my hands back on the trophy."


In a sensational second semi-final defending champion Alison Waters lost out 12-10 in the fifth to Sarah-Jane Perry.


Neither player could establish a clear advantage as the first two games were shared, Perry recovered from 4-1, 7-4 and 9-7down to take the third on extra points, but Waters regrouped to lead throughout the fourth setting up the decider.

There was nothing in it all the way to 9-all, when Waters hit a short winner to earn match ball. A loose return from Waters was powered away by Perry to set up extra points, and in the next rally her drive to the back dribbled into the nick to give her a match ball.


Waters hit a loose backhand which Perry advanced towards, and after an anxious delay the decision came, "stroke to Perry" and SJ was in the final.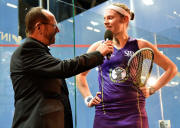 "I'm ecstatic! It was a bit of a weird match, and maybe a little harsh at the end, but to make the final for the first time feels fabulous.

"I said yesterday that I'd have to step it up a gear and I certainly did that. I'd never beaten Ali before, and I've never beaten Laura but I'll certainly be giving it a go tomorrow!"
Selby back from the brink, seven up for Matthew


"At two-nil down it wasn't looking good," said Daryl Selby after completing a remarkable comeback against Adrian Waller to reach a second Nationals final.

It really wasn't looking good - Waller dominated the opening games, leading 10-3 in the first and 10-1 in the second before taking them 11-8, 11-3.


Selby needed a good start in the third, and he duly got one, leading 4-1 and 5-3. Waller started to come back, levelled at 5-all but Selby was now into his rhythm and Waller contributed a few unforced errors to the cause as Selby pulled a game back 11-5.

The 2011 champion remained in charge for the last two games, taking them 11-2, 11-6 to reach the final again.


"I didn't really want to be there," admitted Selby afterwards, "I was thinking about being at home with my son and family, but my dad told me that Noah wouldn't want me to lose three-nil so I though 'fair enough then, better get going'.

"Adrian played really well in those two games, he's had some great performances recently, but I was giving him too many cheap points.

"I was really pleased with how I played in the last three games, looking forward to the final now!"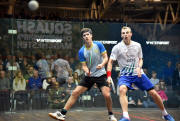 Nick Matthew made it through to another Nationals final with a typically hard earned win over Chris Simpson. The match was reminiscent of many of the pair's matches, with Simpson matching Matthew all the way in the first couple of games, but the six-time champion edging through those tough games and finishing strongly.


Simpson led 8-9 before Matthew closed out the first, and by the middle of the second Matthew had started to assert some authority at 7-3, but a trio of unforced errors kept Simpson in the hunt before a stroke at the end of a long rally gave Matthew a two-nil lead 11-8.

Matthew led early in the third and never looked like relinquishing the lead this time.


"Playing Chris feels a bit like playing a faster version of myself," admitted Matthew. "He likes to volley and digs in well, every time I managed to get a couple of points ahead he kept pegging it back.

"It maybe should have been one-all, but once I got that two game lead I was able to step it up a bit in the third.

"It's obviously a miss not to have James, Peter and Adrian here, but it's great to see the youngsters coming through, SJ had a great win today and Adrian played very well against Daryl."

Congrats to the ESR Nationals Coach & Volunteer award winners