Fri 13th, Day FIVE:
Quarters Day

The main events were entirely on the glass court from today, with eight matches from noon, while the Masters continued all day as the draws reached the semi-final stages ..
Quarter-Finals:

[5/8] Victoria Lust 3-1 [3/4] Madeline Perry 8/11, 11/8, 11/7, 11/9 (39m)
[3/4] Daryl Selby 3-0 [5/8] Tom Richards 16/14, 11/8, 11/6 (66m)
[1] Laura Massaro 3-2 [5/8] Emily Whitlock 11/13, 12/10, 9/11, 11/2, 11/4 (68m)
[5/8] Adrian Waller 3-0 Charles Sharpes 11/3, 11/3, 11/6 (38m)

[2] Alison Waters 3-0 [5/8] Jenny Duncalf 12/10, 11/5, 11/9 (35m)
[3/4] Chris Simpson 3-0 [5/8] Joe Lee 11/8, 11/3, 11/5 (44m)
[3/4] Sarah-Jane Perry 3-2 Fiona Moverley 11/9, 7/11, 11/8, 9/11, 11/8 (51m)
[1] Nick Matthew 3-0 [5/8] Alan Clyne 11/4, 11/6, 11/4 (38m)

Full Draws & Schedules
Lust through to semis, Massaro still on track


The first match of the day produced a big upset as Victoria Lust, now resident in Canada, ended Madeline Perry's run of successive semi-finals, beating last year's runner-up in four close games.

Perry made the better start, but towards the end of the first Lust started to close down the Irish woman's lead, 9-4 became 9-7 and Perry took the lead 11-8.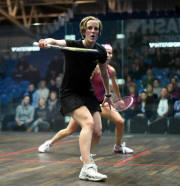 Lust was on the front foot and ahead on the scoreboard for the next three games though, and although Perry saved a couple of match balls at the end of the fourth, a volley into the tin spelt the end of her run and a big win for Lust.

"Very happy," said Lust, "that's a great result for me. It's tough playing someone as experienced as Madeline, she knows how to close out games and I could feel myself getting edgy as she was coming back in the fourth. I just managed to stick in and got through in the end!"



Lust faces illustrious opposition in the semis after top seed Laura Massaro survived a five-game encounter with Emily Whitlock.

For three games there was nothing to choose between them, Whitlock recovering from 8-10 to take the first 13-11, and almost doing the same in the second but this time Massaro won the extra-points to level 12-10.

Whitlock held on to a slight lead to take the third 11-9, but Massaro seemed to up the pace from the outset of the fourth and took charge of the match, winning those 11-2, 11-4 to keep alive her hopes of a third National title.


"Emily played really well," said Massaro, her backhand was clinical and just didn't give me any chances. At 2-1 down I decided that even if it was glued to the wall I was going to have to volley it, I was losing anyway so it was worth the risk. Phil [Whitlock] used to coach me, and added a lot to my game, so he's clearly working the same with Emily.

"At times like that I just have to remember that I've got my name on the Nationals, the Worlds and the British Open trophies, and use that to make sure I perform well."

Selby to face Waller


The first men's match was a marathon - 66 minutes for three games, although 44 of those were for the first game alone!

There was nothing to split Daryl Selby and Tom Richards in that first game, neither could get ahead, but both had chances to take the game at the end. It was Selby, the 2011 champion here, who finally took the lead though, and although the next two games were far from easy, Selby always had his nose in front with Richards contributing a few errors - much to his own disgust - to the cause.


"I'm delighted to win that, it felt longer than 3-0 though," said Selby. "We don't usually play three-nils, but taking that first was crucial, it gave me a bit of an edge going into the rest of the match.

"It's great to see Tom coming back to his true level after the time he's had with injuries though. It's a pity James [Willstop] is missing, but that doesn't make it easier for me, there's plenty of hungry young players gunning for the title, and I'll have to be 100% focussed tomorrow whoever I play."


Selby will play Adrian Waller for a place in the final after the 5/8 seed eased past Charles Sharpes in fairly quick time. Waller was totally in control for the first two games, taking them both 11/3. Sharpes hit back to lead 6-4 in the third but Waller resumed control as he took the next seven points to progress to his first semi-final.

"Charles and I play and train a lot, so we know each other's games and sometimes it's hard to find something new to do," admitted Waller. "But I had the advantage of playing on this court twice already, and it worked for me in the first two games especially. He came back well but I managed to close it out."

Waters wins the reprise


Strange to see Alison Waters and Jenny Duncalf playing in the quarter-finals, after all they contested the finals in 2007, 2009 and 2010, Duncalf winning the first two of those.

But while Duncalf's ranking has dropped, Waters' has risen, not that you'd have realised that on the basis of a very even first game - Duncalf led 7-4, Waters hit three volleys to level but Duncalf edged ahead again 10-8. A couple of inopportune tins cost Duncalf though as Waters took four points in a row to lead 12-10.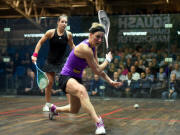 The defending champion was mostly in charge thereafter, taking the second 11/5 and, after a 3-0 start, always keeping ahead in the third despite Duncalf's pressing. It would take Waters three match balls to clinch it 11/9, but clinch it she did with a dying drive to the back.

"It felt weird to play Jenny in the quarters," admitted Waters, "and I felt a little tense on there for a lot of the match. That was hard work for a three-nil win but I'm pleased with how I played and glad to be back in the semi-finals."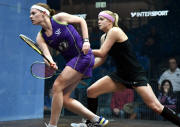 Waters will meet Sarah-Jane Perry, who just about got the better of a very tight five setter against Fiona Moverley, all five of the games close but Perry taking the first, third and fifth much to her own relief.

"She's ranked what in the world?" [the answer is 94] said a relieved Perry. "That was really tough, we were both fighting for the middle, and if I put anything loose I didn't have a chance.


"It's great to get through to my first semi-final - Al wiped the floor with me last time so I've got nothing to lose ..."

Moverley, returning to action after a four-year break and winner of two WSA titles this year, said: "I'm proud of my performance, I was so excited to be out there, my first time on the glass court and my first time in the quarter finals.

"I was just looking to go out there and enjoy it. It was a great win yesterday and I was hoping to have a similar performance as I did in the first round, which I thought I did by pushing her right to the very end.

"After four years away from the tour basically I'm looking to challenge again, my highest ranking was 43 so I want to better that. Hopefully get into the top 20, top 10, I want to go all the way if I can."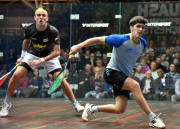 In the top half of the men's draw there were straight game wins for Chris Simpson and Nick Matthew.

Simson's win over Joe Lee was reminiscent of the earlier Selby/Richards match, a really tough first game but with the higher seed taking the initiative in the next two as Simpson won 11/8, 11/3, 11/5.


Top seed and defending champion Matthew was always on top against Alan Clyne, the Scot managing to keep the scoreline level at the start of the first and third games, but Matthew's customary pressure proving too much to contain as he pulled clear in each game.

"They've got a good setup in Scotland and Alan's leading the pack," said Matthew. "The scoreline was a little misleading as it was tight at the start of each game but I managed to pull away.

"For tomorrow Chris is one of the upcoming players, he's pushing hard for that spot on the England team and I know he won't be satisfied with just the semi-final so it will be another tough match.