Thursday 11th, Day THREE - Round One

After two days of qualifying the Nationals moved into top gear today as the men's and women's Main Draws got under way on two glass courts, while the Masters events move into full swing with most of the top seeds in action in the various categories.

Moverley stops defending Champ Perry

One major and two minor upsets on Day Three as Fiona Moverley beats defending champion Sarah-Jane Perry and qualifiers Joel Makin and George Parker reach the men's quarters ...




Two qualifiers through to Men's quarters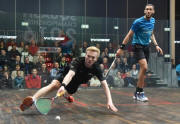 The men's matches started with an upset as Wales' Joel Makin, making his first appearance in the main draw, continued his impressive from in qualifying to beat seventh seed Declan James in three tough games. "I was behind in all three games so I'm very happy to win that one in three," said Makin.


Makin now meets fourth seed Chris Simpson in the quarters after the Guernsey man survived a strong comeback attempt from Ben Coleman, winning in four games. "I played really well for two and a half games, then took my foot off the pedal for a couple of points and he really took advantage," said Simpson. "His shots were really going in, and the end of the third and fourth games were tense, I was dreading having to play a fifth."


There was another upset, another qualifier making progress in his first main draw appearance, as George Parker came through a tough five-setter with Joe Lee. "I played well for the most part," said Parker, "I got dragged into his medium paced game and lost my length in parts, but when I managed to up the pace I got the time I needed to capitalise on any opportunities. My short game needs to be better to worry the top guys but I'm really pleased to make the quarters."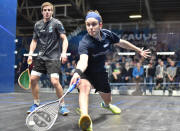 Parker's opponent will be two-time champion and second seed James Willstrop, who ended the run of local favourite Adam Murrills in four games. "All credit to him in the third," said Willstrop, "he played well and really took it to me, but I managed to get back in control in the fourth. It's been a funny year," added Willstrop, who missed last year's event with injury," a few steps forward then a few back, but the Nationals are always a great event, we all want to do well here."

There were no upsets in the evening session as Nick Matthew, Adrian Waller, Daryl Selby and Greg Lobban progressed as expected.


Matthew beat Chris Ryder - who injured himself halfway through the third but completed the match - in straight games, the seven-time champion expressing a desire to extend his record: "Chris a very clever player, he's so fluid with his movement, I hope his injury isn't bad. "It's such an honour to hold the record of titles, but 8 sounds a nicer number than 7!"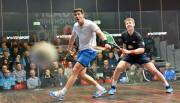 Waller came from a game down to beat Nathan Lake. "He started well and it took me a while to get into it," admitted the fifth seeded left-hander. "I almost came back in the first but after that I was more comfortable, although he made it tough all the way."

Lobban became the sole Scottish representative in the last eights as he beat Tom Ford in three, and Selby won his all-Essex match with qualifier and U21 finalist Richie Fallows in straight games.

Moverley knocks out defending champ


Two-time champion Jenny Duncalf kicked off women's proceedings on the new show court with a straight-games win over Leonie Holt. "I've played here so many times so I'm very relaxed here, but it's always good to get a tournament started with a win," said Duncalf, starting her 16th straight Nationals campaign. "The venue looks great and having two glass courts for a Nationals is special.


Another familiar Nationals face made a welcome return as Sarah Campion (formerly Kippax) made it through to the quarters for an eight time as she beat qualifier Rachael Chadwick in three. "It feels GREAT to be back," said Campion, who missed last year's event through pregnancy. "I'm absolutely loving being back on court, it's so refreshing."


Four-time champion Alison Waters recovered from a slow start in which she was a game and 8-4 down to Wales' Deon Saffery, to win in four games. "She came out firing," admitted Waters, "she's a skilful player and was putting me under a lot of pressure. I was a bit nervous, it took me a while to settle but I was pleased with how I came back."


Waters will now meet Emily Whitlock, the fifth seed who beat qualifier Julianne Courtice in straight games. "We hadn't played each other for ages," said Whitlock, "not since junior times, so when I saw the draw I was pleased to have the chance to play her again. I'm looking forward to playing Alison, we have different styles and it makes for an interesting game."

The evening session started with what turned out to be the only upset of the day, but it was a massive one as unseeded Fiona Moverley took down defending champion Sarah-Jane Perry, the third seed, in four games.


Perry started well enough taking the first, but Moverley struck back to take the lead and had two match balls at 10-8 in the fourth. Perry dug in to save those in long rallies, but on Moverley's third chance Perry hit the tin and her reign was over.

"I'd forgotten she was defending champion, but we had a tough five setter here last year," said Moverley," so I wanted to see if I could get my revenge. I tried to play safe on match ball but she played them well, I've never been so glad to see a tin as on that last point!"


The final three matches saw comfortable wins for Laura Massaro, Tesni Evans and Victoria Lust as the quarter-finals were settled.

Massaro beat rising junior Gina Kennedy, who struggled with her accuracy but earned praise from the world #1: "She has real talent, runs everything down and fights hard," said Massaro. "That got me a long way towards the top so she's halfway there already!"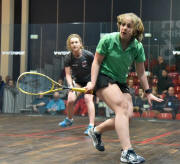 Evans made it two Welsh in the quarters for possibly the first time ever (to be checked) as she beat Millie Tomlinson in straight games. "I'm happy with how I played and really pleased to be in the quarters for the first time," said Evans, "Joel's win earlier gave me a boost."

Lust completed the round with a three-game win over another English junior qualifier, Alison Thomson.