Friday 12th, Day FOUR - Quarter-Finals

We're down to the last eight in the Men's and Women's draws, all matches on the Arena Glass Court from now on. Most of the Masters events are also down to the quarter-finals too, and they have the seven 'inside' courts at their disposal.
Quarter-Finals:

[1] Nick Matthew 3-0 [5] Adrian Waller 11/6, 11/6, 11/4 (31m)
[3] Daryl Selby (Eng) 3-2 [6] Greg Lobban 9/11, 11/7, 11/13, 11/4, 11/8 (82m)
[4] Chris Simpson 3-1 [Q] Joel Makin ) 11/7, 7/11, 11/5, 11/5 (61m)
[2] James Willstrop 3-1 [Q] George Parker 7/11, 11/6, 11/9, 11/7 (59m)

[1] Laura Massaro 3-0 [6] Victoria Lust 11/5, 11/4, 11/3 (30m)
[7] Tesni Evans 3-2 Fiona Moverley 11/8, 9/11, 11/6, 5/11, 12/10 (58m)
[4] Jenny Duncalf 3-1 [8] Sarah Campion 9/11, 11/4, 11/4, 11/7 (37m)
[2] Alison Waters 3-0 [5] Emily Whitlock 11/4, 11/6, 11/4 (33m)
Tesni wins a thriller as top seeds secure semi-final places

The afternoon quarter-final session saw three former champions book their places in the semi-finals.


First up was Jenny Duncalf against Sarah Campion (formerly Kippax), both playing their 16th Nationals and meeting for the fifth time. Campion started the better, but once Duncalf found her stride she recovered to win in four games, making it five wins over Campion and reaching the semi-finals for a 10th time.

"We seem to play each other every year," said Duncalf, "but when I first saw the draw I did think 'who is that'! She came out really well and made it hard work for me. It's great to see her back on court but I'm happy to make it through to another semi."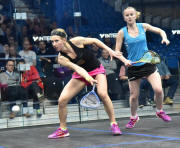 Her opponent in the semis will be another familiar face after second seed Alison Waters saw off the challenge of Emily Whitlock in straight games, dominating the second half of each game to reach an 11th semi-final.

"I wasn't taking anything lightly, we have different styles of play which always makes it interesting," said Waters., "we could both maybe do with taking some of each other's game! I felt I played well and I'm happy to get off in three."

Duncalf and Waters have met seven times in the Nationals, Waters winning five with Duncalf's two both coming in the only finals they've contested.


The fourth and fourth seeds also made it through in the men's matches, Chris Simpson and James Willstrop both winning in four games in just on the hour mark. Simpson ended the run of Welsh qualifier Joel Makin while Willstrop recovered from a game down to beat U21 finalist George Parker.


"Joel's had some great wins and when I saw his results I knew it would be tough," said Simpson, "he was reading my shots better than I was reading his for the first two games, it took me a while to get into it."

Willstrop, and the large crowd, were impressed by Parker's skill and determination. "He made me work really hard for that," admitted the two time champion. "The atmosphere is building here already, it's going to be buzzing at the weekend," predicted Willstrop.

In the evening quarter-final session top seeds Nick Matthew and Laura Massaro eased through to the semis with straight game wins over Adrian Waller and Victoria Lust, both matches taking half an hour.


Matthew, looking to extend his record haul of titles to eight, is taking it a step at a time: "There's two matches to go and I'm not thinking past tomorrow - ten years ago I wouldn't have believed I could win seven times, and I'm not as quick as I was but I do have more of a brain in me to make up for that!"


Massaro was happy with her match: "I thought I played well, getting stronger as the match went on. Vicky's improved a lot so to win in three is never easy. I was disappointed not to win last year as top seed, SJ played so well, but having done so well on the PSA tour I'd really like to get my name on the trophy again," said Massaro, champion in 2011 and 2012.


Massaro will meet Wales' Tesni Evans, who saved a match ball in the final game of a tremendous five-setter against Fiona Moverley to reach the semis for the first time.

"I'd never played her before and I never want to play her again!" joked Tesni. "It was a really good match, but I was so nervous in the fourth and fifth I don't know how I won it," added Evans, "I just stuck in and thankfully it came off in the end."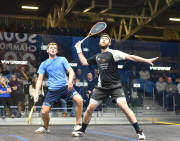 Matthew will face Daryl Selby, who survived a long, but thoroughly entertaining encounter with Scotland's Greg Lobban, twice coming back from a game behind to finally secure the win with Lobban running on fumes at the end of the decider.

"Matches like that are the reason I started to play squash," said Selby. "It was great fun, there was some really good quality headless stuff in there, it makes for a good match. The battle was good, it was fair and Greg did himself and Scotland proud.

"Playing Nick again will be tough, he's obviously playing well, but I played pretty well there so hopefully it will be another good battle."