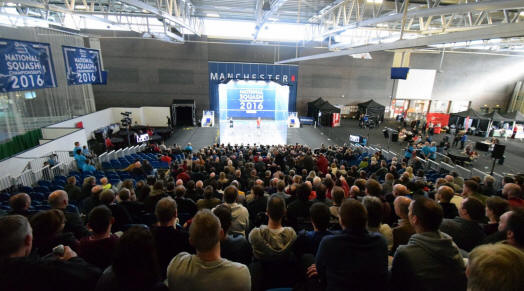 Saturday 13th, Day FIVE - Semi-Finals
It was the top seeds who won through to the 2016 Nationals Finals, but while favourites Nick Matthew and Laura Massaro eased through in straight games, second seeds James Willstrop and Alison Waters were taken to five.
[1] Nick Matthew (Eng) 3-0 [3] Daryl Selby (Eng)
11-4, 11-4, 11-7 (40m)
[2] James Willstrop (Eng) 3-2 [4] Chris Simpson (Eng)
11-5, 8-11, 8-11, 11-7, 11-8 (82m)

[1] Laura Massaro (Eng) 3-0 [7] Tesni Evans (Wal)
11-4, 11-2, 11-3 (30m)
[2] Alison Waters (Eng) 3-2 [4] Jenny Duncalf (Eng)
13-11, 11-7, 8-11, 5-11, 11-9 (56m)
Waters stops Duncalf comeback
Alison Waters reached a ninth Nationals final as she came through a five-setter with familiar adversary Jenny Duncalf in the first semi-final - it was their 8th Nationals meeting with Waters 5-2 up.

Duncalf led throughout the first but Waters nicked it on extra points and then dominated the second to open up a two game lead.


Duncalf fought back well though, taking the next two game to force a decider but it was Waters, the four-time champion compared to Duncalf's two, who was quicker off the mark taking a 4-0 and 6-1 lead.

Duncalf fought back again but couldn't quite close the gap as Waters took the match with a deep crosscourt volley.

"It's a funny old game," said the winner. "Jen played really well and came back well from two nil down. I knew I had to start the fifth well or I wouldn't win, so I'm happy I managed to do that."

Willstrop weathers Simpson storm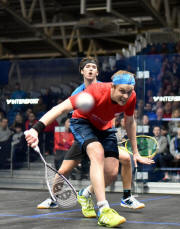 Two time champion and second seed James Willstrop made it through to an eighth Nationals final after coming through a hugely entertaining five game battle with Chris Simpson.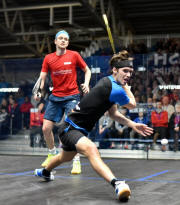 Willstrop dominated the opening game, but Simpson struck back to take the lead 11/8, 11/8.

The fourth and fifth games were close, but it was Willstrop who managed to find the extra at the end of both, taking the fourth - after a short injury break for a 'dead leg' from 7-all and the decider from 8-all.


"What a really enjoyable way to play squash," said Willstrop. "Really enjoyable if a bit uncomfortable at times, all credit to Chris for making it a really good match.

"It's great to be playing well and winning, I can't wait for tomorrow now ..."

Massaro masterclass topples Tesni


"Tesni beat me in the last World Teams, I hate losing and I've been waiting a long time for revenge," said top seed Laura Massaro after demolishing Tesni Evans in the second women's semi.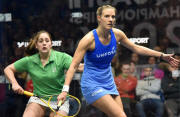 Dominant from the start, Evans could never get on terms as Massaro kept a firm hold on the match and the scoreline throughout.

"Alison and I have grown up together playing National finals, from Under 12 right through to this final a few times. I think we're both better players for it, so it should be a good match ..."

Matthew storms into ninth final


Nick Matthew's performance against Daryl Selby was almost as dominant as Massaro's.


You can never class it as easy against a competitor such as Selby, but the top seed and seven-time champion dominated the first two games and led 9-3 in the third before Selby mounted a serious challenge.

It was too late by then as Matthew closed out the match 11-7 in 40 minutes.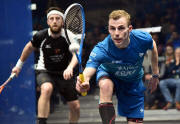 "I knew Daryl's good patch was coming," said Matthew, "I'm just glad I'd got to 9 in the third before it came!

"It's a nice feeling for James and I to get to another final, there's a lot of competition from the younger players now who think it's their time, hopefully I can hold them off for another year or two."