Tuesday 9th, Day ONE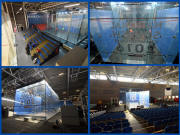 It's the opening day in Manchester, qualifying started at noon, and the National Squash Centre - including the two glass courts - is ready for a week of intense squash action.

Split Qualifying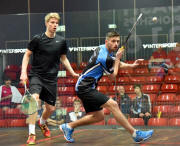 For the first time qualifying is split into two sections, Under and Over 21, with two places in the main draw available from each - the Under-21 draw is played out in full, with a final at the end of the week.

Most of the men's top seeds in both sections received byes in the first round, and were in action this evening against the afternoon winners.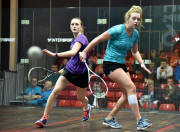 There were no major upsets - in fact no upsets at all as all the seeded players won through to Wednesday's third round.

In the women's qualifying there were just three preliminary matches today, finalising the last eight in each section who will play two rounds tomorrow.

Wednesday sees the start of the Masters events, and both glass courts will be in use for the qualifying competitions.

Men's Qualifying Day One Results