Internationaux EN BREF, Issue #3
Histoire de... (French)
everything you never knew you needed to know about the Internationaux de France ...
WHO'S WHO IN PARIS…



You may wonder who was behind the whole organisation of this Internationaux de France that will stay I suspect as one of the great successes, both match wise and audience wise, on the circuit.

Behind the scenes a lot of people, Dominique Amar, Tournament director, who's in charge of more or less anything that's got to do with IT in the Federation, who is most laid back person I've ever met…. Working with Dom is always a stunning pleasure…

Also, if elsewhere, you've got volunteers who are very young, or sometimes lovely retired people who come round to help - here the Federation rounded up a few League Presidents, Yves Malzoppi (Poitou Charente, as in Royan, la Rochelle), Dominique Fontanon (Languedoc-Roussillon, as in Nîmes Montpellier), Alain Young (Midi-Pyrénées, as in Toulouse), who you can actually see on that picture working away to put up scaffolding on the glass court…

They've been working hard all week, along with many federation staff and volunteers, like Natacha, Philippe Signoret, French national coach, Mehdi Renaï (brother of Soraya), Ludovic Le Breton, Emmanuel Husson, Gilles Rondeau, Nicolas Sajat, and many more who I forgot and who are going to hate me forever…



And of course, the Refs, you may ask? Well, we have Nicolas, Regis, Bernie, and Bill, who have been officiating since the qualifications. Good effort, people…

Let's come to the "plat de résistance"….

First, you have Paul Biggio, who you never heard of, but who does an enormous amount of work as the Ligue de Paris President, he likes to stay in the wings, but like President Fontaine, has a strong personality, which there again, attracts detractors, of course.

And the main man, Jacques Fontaine, famous in the Squash World for his "not that subtle" positions and speeches, bless him, but who has been doing some fantastic work for French Squash over the years, a man who in many ways I can relate to, our diplomacy and patience being renowned worldwide…

Overall, a bunch of bloody good people who I personally get on particularly well with, who I respect, admire, and most of all, love, because we have the same passion, and we work hard to make it shine worldwide…


Internationaux EN BREF, Issue #3
Histoire de... (French)
everything you never knew you needed to know about the Internationaux de France ...
Girls, Girls, Girls ...

PRESS



Of course, we've got many many many photographers, including Steve Line, and trust me when I tell you that our Legend Cubbins has got to fight for every inch of that glass window to offer you his great photos..




Pascal GB, Philippe Signoret, Francois Peisson



But here, we've also got the best that French sports writers has got to offer, Pascal Grégoire Boutreau, and François Peisson, both reporters from l'Equipe, and also the presence of the Sport+ Channel, which is specialised in racquet sports, and who'll be showing the final semi-live, as in, starting with a slight delay.

And it's so nice to work/chat in FRENCH for once…!!!!



The Presidents

Former FFSquash president, Xavier Chilloux (right), and Jacques Fontaine, FFSquash President. In the middle, Fred Roualen, Veterans Commission



BRANDS ARE HERE…

Like in all tournaments, the brands are presenting squash fans the
best products available on the market.



This year, we had Asics (Thierry, Julien Balbo, Greg Marche), Dunlop
(Greg Gaultier) and Wilson (Renan), and their stand have attracted
quite a lot of attention.



Besides them, the FFsquash of course, has got a stand, with the Ligue de Paris, major in organising the event, and le PUC, the club at the end of the corridor where the qualifiers were held …

And if you were looking for somebody, bet your racquet that's where you'd find them, it was the meeting place, as ever…



GUESS WHO CAME TO PARIS...



Oh yes, they couldn't miss that, could they. And although they won't enjoy seeing Nick in the final, I'm sure they'll find something else to do here in Paris...!!!


Parking ' à la Parisienne' ...
par Steve Cubbins
| | | |
| --- | --- | --- |
| NON : far too big a gap | OUI : just right | OUPS : try again |
Internationaux EN BREF, Issue #2
Histoires De (French)
everything you never knew you needed to know about the Internationaux de France ...
WHAT IS GOING ON????


That is definitely without a doubt one of the images of the tournament… Davide, our Davide, yes… in the side Refereeing position!!!!!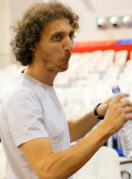 As part of the three refs system, the players are asked to help with the refereeing, and all of them have accepted to do their duty on this first round. And it worked well, really. Much less arguing around.

And while Davide was in action? Pffff, very very little arguing, barely one or two questions for the players.

So, Davide, a new career prospect…? (PS: you do realise he'll never forgive me for that one, don't you…)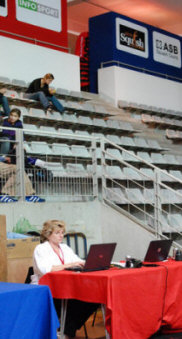 IT'S OFFICIAL


Well, sorry guys, but I can't help being very proud, as the French Site, Sitesquash.com, has been recognised on the French Sport place, and has now a little place between two sport information giants, as in Sport+ (dedicated Canal+ channel to racquet sports), and Infosport, sports news media, and is figuring on the walls of the venue…


As this site was born on a August rainy day in England, five years ago, all because Daniel Lincou, father of, was tanning me to start writing in French, as he "was tired to have to use a dictionary
to understand what his son was saying in the news", and that we thought we'd have maybe 40, 50 readers, this recognition/success is like honey on the toast. Not compulsory, but bloody sweet…

THE GIRAFFE PROJECT

www.giraffeproject.org



This is one of the causes you can't help wanting to help. Very often,
during the tournaments around the world, charities are using the
exposure to do good all over our planet.

In this case, it's all about helping children in Nairobi, Kenya, to
build a better future through education. Of course, it may appear like
a drop in the ocean of despair, but we all need to start somewhere,
don't we?



That Charity, founded in 2005, proposes several programs, including
Feeding, Development, Sponsorship programs and Small businesses. You
can help them with very little, £12 (18€) can offer primary schooling
for a month for example. How much did your last visit to the pub cost
you?....

I know, we are always asked to help for this and that. But hey, 'til
the world's put right, that ain't going to stop, is it…


Busy day for Aaron: Stretchting, proposing to Tom, more stretching...
PRESENT, PAST…



'm a big fan of Squash History, and I'm glad to say that on the French Site, we've got a column, "Mémoire du Squash", which is filling day after day with our readers' squash memorabilia, old photos from way back when, results, little stories…

Like these two documents for example. One sent by Dominique Amar, from the FFsquash, which happens to be the draw of the last Internationaux de France, back in 2002. Have a look at the names, I'm sure you'll know a few…

Or another one, sent by Philippe Signoret, our National Coach, the program of the second ever "Guy Laroche", dated 1984, with words from Jacques Chirac, Guy Laroche of course, photos of the victory of Jahangir in the first ever Guy Laroche, the draw, the junior event, Drakar Noir, and so on …


Internationaux de France 2002