TODAY in Paris..... NOUVELLES FRAÎCHES....
Sat 27 Sep, Final:

[1] Gregory Gaultier (Fra) bt [6] Borja Golan (Esp) 11/4, 9/11, 11/3, 11/5 (64m)

Greg does it again


Just as he did in Antibes in 2002 at the last major PSA event in France, Gregory Gaultier tonight proudly lifted the Guy Laroche trophy, this time in front of an ecstatic full house at Stade Charlety.

In truth it looked like one match too far for Borja Golan, who had beaten the second and third seeds, both in five games, to reach the final.

The first two games were shared, but Gaultier was dominant in the second part of the final two games, but it still took him over an hour to subdue the plucky Golan, who has just had the best week of his career - his Paderborn team even won the European Club Championships in his enforced absence!
GRINDING BORJA…
Framboise reports

If the match was not as intense and breathtaking as some of the matches we've seen this week, it was still a very good performance from both players, who really gave every inch of energy and determination they had left to win each and every point.

Greg just wore the Spaniard down, in particular in the first game, by making the rallies as long as possible. And even if Borja's great pride and spirit allowed him to clinch the second game, Greg collected the reward of his efforts in the third and fourth, as Borja was less and less able to have an impact on the match, and was reduced to returning and defending…



The fourth game was still very much in the air actually, until 5/5, but a succession of decisions took a lot of mental energy from Borja, and Greg, maybe that much fresher, that much hungrier, was able to score the next six points, to finally, very calmly, shake the hand of his opponent. He was so tired the Frenchman, that he never got excited, jumping up and down…

Still, he got out of court, went straight to his camp, then to Thierry, who was side court, commentating the final "live" on Sport+, spoke briefly to the TV spectators, and replied to journalists before going and receive his trophy from a quite logically rather contented French President Jacques Fontaine…

Like he stated after his match, "this was a long day, but it's nice to win at home". You bet…

"I didn't expect to play Borja, I prepared myself for Thierry or James, so I had to stay vigilant at all times, and never to relax, as he was seizing all the opportunities…

"I was dead from my match with Nick yesterday, the efforts I had to produced to beat him emptied me of most of my resources, and I just couldn't put any pace on the ball. Flat I was…

"Borja was tired as well, but we both gave it everything we had. Wasn't my best ever squash, by far, but I did what I could with what I had left. It was more a mental battle than a physical one…

"I'm so happy that the Federation had put so many efforts into this event, and I hope that we'll play again here next year, and I hope that we'll have more of the top 10. This year, we were lucky enough to have 4 out of 10, but it would be nice to have all the best players next time…

"I'm so happy that so many people came here, and supported me during my matches, it was a great motivator, and felicitations to Borja, who made an extraordinary journey here…

"Also, thanks to my staff, Nico, Dédé, Mathieu et Pierrot, ma family, my girlfriend, my mates, my training partners from Aix, and from Marseille, Thierry and Greg, Galifi et Jean-Mi de mon club le Set Aix, my sponsors, Dunlop and Adidas, and of course, the media, as without you, nobody would hear about us!!!

"I'm dead, this has been a long day, but it's nice to win at home."


"On court, my legs felt the same as they did yesterday, the same as they did the day before, there was nothing wrong with my legs. Before my warm up today, yes, they were aching like hell, and now, right now, they are very painful too, but on the court, they were fine…

"You know, sometimes, you play squash with your head, and sometimes with your heart. I think that today, I played too much with my heart, and not enough with my head! And Greg played just too well today, he played at a different level, I tried my best, but he was faster than I was, he was more accurate, and that made the difference…

"For the past weeks of training, I've decided to use my speed not only to counterattack, but to attack too. That maybe made a difference this week. But also, they always say that you get better match after match, but as I was losing in the first round every tournament, I really never had a chance to find out!!!!! And even this week, I could have lost 11/9 to Kempy in five, instead of winning , and my week would have been over…

"I just want to thank all the people back in Spain, my supporters who have been believing in me for years now, and also my friends who came here this week, including of course the team from Ornano in Bordeaux…

"This week has been just incredible, even in my dreams I didn't imagine such a tournament for me. I guess it must the reward for years of hard training, but beating Thierry and James, two idols of mine, is just a dream… And the atmosphere here, it was just incredible for a squash player, I'm so happy, so proud to be here…"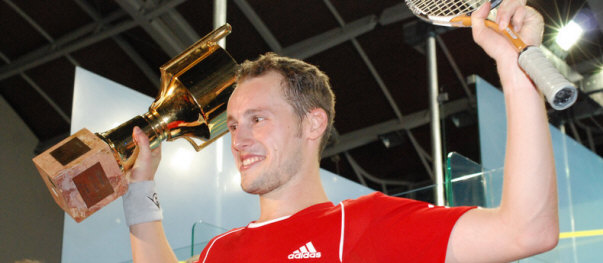 Je ne m'attendais pas du tout à jouer Borja, je m'étais préparé à rencontrer Thierry ou James, alors, il fallait rester vigilant, et surtout ne pas se relâcher, parce qu'il saisissait la moindre occasion…

J'étais complètement mort aujourd'hui, les efforts que j'ai produits hier contre Nick m'ont complètement vidé, et j'avais vraiment du mal à mettre de la vitesse dans mon jeu. Je n'avais pas de jus…

Lui aussi, il était bien fatigué, mais tous les deux, on a donné tout ce qu'on a pu. Alors, ce n'était pas mon meilleur squash, mais j'ai fait de mon mieux avec les moyens du bord… C'était plus une bataille mentale que physique…

Je suis tellement content que la fédération ait mis tant d'efforts pour nous monter cet évènement, et j'espère qu'on rejouera ici l'année prochaine, et qu'on aura aussi plus de grands joueurs, même si cette année, on avait quatre dans les top 10, ce serait bien d'avoir tous les meilleurs joueurs du monde.


Content aussi que tant de monde se soient déplacé, et m'aient soutenu durant mes matches, cela m'a motivé durant tout le tournoi… Et félicitations à Borja, qui a fait un parcours extraordinaire.

Merci à mon staff, Nico, Dédé, Mathieu et Pierrot, qui vient de décrocher son diplôme d'osthéo aujourd'hui, ma famille, ma copine, mes amis, mes camarades d'entraînement du Pôle d'Aix et du Set Marseille, Thierry et Renan, Galifi et Jean-Mi de mon club le Set Aix, bien sûr mes sponsors, Dunlop et Adidas, et aussi merci aux Medias, sans vous, personne ne parlerait de nous…

Je suis fatigué, la journée a été longue, mais ça fait plaisir de gagner à la maison…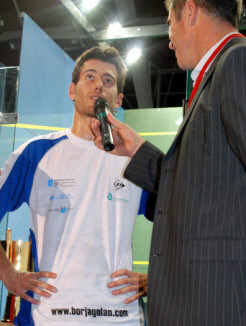 Sur le court, mes jambes, elles allaient bien ! Pas de différence avec hier, avant-hier. Par contre, avant le match, avant l'échauffement, un mal de chien, et maintenant là, pareil !!! Mais sur le court, non, ça allait bien…

Tu sais, des fois, tu peux jouer au squash avec ta tête, ou avec ton coeur. Aujourd'hui, j'ai trop joué avec mon cœur, et pas assez avec la tête… Et Greg, il a joué à un autre niveau, j'ai tout essayé, mais il était plus rapide et plus précis que moi, et c'est ça qui a fait tout la différence…

Depuis quelques semaines, j'ai décidé d'utiliser ma vélocité non seulement pour contre-attaquer, mais aussi pour attaquer. Cela m'a sans doute aidé sur ce tournoi. Mais aussi, on dit toujours qu'on s'améliore match après match sur un tournoi. Moi, je perdais systématiquement au premier tour, alors je ne pouvais pas m'améliorer…. ! Et j'aurais pu tout aussi bien perdre contre Kemp 11/9 au 5ème…

J'aimerais remercier tous mes supporters en Espagne, qui croient en moi et me soutiennent depuis des années, ainsi que mes amis qui sont venus ici, et mon équipe du Club d'Ornano, à Bordeaux…

Cette semaine, jamais, même pas dans mes rêves, je l'aurais imaginée… Alors, c'est sans doute la récompense de nombreuses années de travail, mais battre Thierry et James, deux de mes idoles… C'est vraiment un rêve… Et l'atmosphère est tout bonnement incroyable pour un joueur de squash…