29-May, Quarter-Finals

[Q] Lyell Fuller (Eng) 3-0 [Q] Jonas Daehler (Sui)
11-8, 12-10, 11-7
[4] Tom Ford (Eng) 3-0 Tim Weber (Ger)
11-9, 11-4, 14-12
[3] Kristian Frost (Den) 3-1 [Q] Ashley Davies (Eng)
11-5, 11-8, 9-11, 11-7
Chris Fuller (Eng) 3-0 Benjamin Fischer (Sui)
11-7, 11-3, 11-4

Swiss bow out as three English and a Dane
make the Sekisui semis ...


First match of the day was up and coming Englishman Lyell Fuller against another qualifier and Swiss hope Jonas Dähler.

First game was a close one until the very end of the game.

After a short blood-injury break, where Dähler put on his long shorts to prevent from bleeding again - for sure not the easiest thing to handle with as the court was once again very hot, Lyell closed the game pretty fast.

The second and third game were close as well, but in the end Dähler made too much errors. Dähler gave away some points to easy and Fuller of course took this advantage and closed the match.


Lyell Fuller:
Really happy to win today especially in 3 which leads me as fresh as possible going into my first semifinal of a 10k event.

Really looking forward to tomorrow and would like to take this time to thank my new travelling tour coach Ash Davies for his wisdom in between games.

Jonas Dahler:
Today I never felt comfortable. Far to many unforced errors. But all credit to him. He never gave me the chance to get more confidence. I want to thank the sponsors and organizer for this great event.


The encounter between Tom Ford and Tim Weber was a more a less clear one. Although Weber came very close in game one and three, you never really doubted that Ford would lose the match. And as predicted Ford took the match in three games.


Tim Weber:
I played well but he was better in the end. For me it was a good performance. And I hope next week I can do the same. See ya later :-)

Tom Ford:
I played a lot better today. I knew how dangerous Tim can be so I was pretty wary. My straight game was a lot better and I was finding the corners more frequently. At 9-2 or 7 I was already in the showers so I?m glad I managed to get off in 3 !! :-)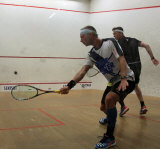 Next qualifier, Ashley Davies, was up against number four seed Kristian Frost. This match was an open battle but Frost showed at the important stages why he was the seeded player. Frost brought home the match with a 3-1.


Ashley Davies:
Fair play to Kristian he played great and really did out play me in the first two games. Then I played some of my best squash to take a tight 3rd. in 4th he was just a little too tough for me. So I wish him the best of luck he deserved to win today.

Kristian Frost:
I'm very pleased with the win. It was not an easy match and in 4 games. I'm happy. Tomorrow is a new day, new battles to be played.


In the last quarterfinal Swiss hope was lost in a very short time. Benjamin Fischer, who seemed to have some problems with moving today, had no chance against Chris Fuller. Fuller won the match in three very clear games.


Chris Fuller:
Good win today. I don?t think he played his best but I was very happy. I think tomorrow will be different but I am looking forward to it.

Benjamin Fischer:
Wasn?t feeling good out there today, couldn?t find my width and started becoming negative. All credit to Chris, he played very steady and made me work hard in every rally.



So tomorrow for the semis there is one all-english battle as Lyell Fuller and Tom Ford get on court at 4pm.

The bottom half will be decided between Kristian Frost (most successful player in Kriens) and Chris Fuller.

Will there be an all-english final on Sunday? Or is Kristian Frost able to overcome his seeding and get into a final in Kriens for the sixth time?

We will see tomorrow...