28-May, Round One:
First Round – Seeds 1, 2, 5, 6, 7 and 8 fall!!!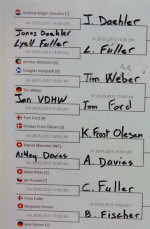 What a first round spectacle for the crowd at the PSA Sekisui Open in Kriens. Six out of Eight – yes you heard that correctly – six out of eight seeded players lost their matches against the underdog.

Seed number 1, 2, 5, 6, 7 and 8 lost their first round matches – most of them without even getting into a decider. But let's start from the beginning:

First two matches on court were Andrew Wagih v Jonas Dähler and Ammar Altamimi v Lyell Fuller. Two qualifiers up against number one and six seed.

Dähler started good and already took the first game off Wagih with a thight 12-10. The next one was all Wagih's. In the third you started seeing that not everything was ok with him. Dähler continued to push very hard and saw himself winning the third game before Wagih had to retire in the fourth at 2-0 for Dähler. First seed taken out by a Swiss player was even though a delightful results for the home crowd.


Jonas Daehler :
Feeling bad to win like this. Andrew is a nice guy and I hope he recovers fast. Looking forward for tomorrow to do my best.

Simultaneously on the court next door, Fuller kicked Altamimi out of the tournament with a solid performance in a 3-0. You could see in both matches that it could have been even an advantage to play the qualification as those players were much more used to the hot and bouncy conditions as the sun came out today and brought beautiful weather.

Lyell Fuller:
I played Ammar a month ago in France so knew the way to play him and just kept to my tactics throughout. Happy to be in the quarterfinal feeling fresh and looking forward to it.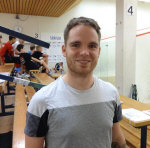 The next match was Dougie Kempsell v Tim Weber. Weber, who lost against Parker in the quarterfinal last Saturday, was all in for a better ending at this Challenger 10 event. And he succeed in doing so in four - more a less plain - games.

Tim Weber:
I am happy to be back. Today was a big win for me vs douglas. It?s my first win and I hope tomorrow it's the same. See ya ?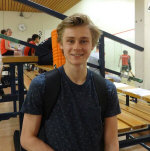 Tom Ford and Jan van den Herrewegen, two players who already had some good fights in their junior days, showed a decent battle. After being one-nil down, Ford came back and won the match with an 11-8 in the fourth. He was the first player able to proof his seeding and getting through to the quarters.

Tom Ford:
It was very hot on there! I think because Jan had played qualifying he was a lot more used to the court and was finding his targets better than I was. But for me that was a perfect first round because I spent a lot of time on the court and and feeling good for tomorrow.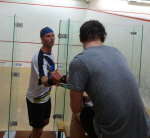 The bottom half of the draw started with Kristian Frost against local-hero Patrick Miescher. After Frost took the first two games pretty easily, he seemed to be not to present in the third but came back in the fourth and closed the match with an 11-6. He should be the second and last seeded player to make the second round.

Kristian Frost:
So happy to win in 4 games. I tend to play 5 games only in tournaments. Hopefully this is a turning point for me ?

Reiko Peter, fifth seed and winner of last week's Challenger 5 event in Kriens, took a very bad day today. For this time, he did not seem to feel very comfortable in his second living room (court 4 of the Sportpark Pilatus) and Ashley Davies, clever as he is, sniffed his chance and also used it. Davies overcame the fifth seed in four close games and was so the third of four qualifiers to march on.


Ashley Davies:
Wow! I never thought I would win! I think I stuck to my plan very well and most of all kept my head! I have a lot of respect for Reiko and he plays a great game. Just want to say a huge thanks to my travelling coach Lyell Fuller ?

Also in the last two matches of the day, the crowd was not to be disappointed by the players. Benjamin Fischer, one of the four "Krienser"-boys, was the last of them to get on court against number two seed Jens Schoor.

Schoor, last weekend in action at the German nationals, seemed to have a very heavy legs from these battles. He did not move very well and Fischer took his chance against the better seeded player - as Davies did it the match before him. He defeated the german number two in three games.

Beni Fischer:
I am delighted with how I played, my best win yet. Thanks a lot to my coach Pilz and the rest of the organization crew. I love playing these events at my home club!

The last match between Jan Koukal and Chris Fuller was the longest of the day. Both of them almost fought until they were not able to move anymore - both must have sore legs after this nail-biting tie. In the end the third Englishman made it to the last eight by catching up a 1-2 deficit and finishing off the match with an 11-8 in the decider.


Chris Fuller :
Really happy to win today. It has been a long week since a disappointing result on Saturday so it feels good to play better today and get the result. Looking forward to tomorrow now.


So tomorrow will see very different quarters as imagined before the tournament. Two seeded players, three unseeded players and three qualifiers will battle for a spot in the semis. As Dähler and Lyell Fuller face each other – one qualifier in the semifinal is guaranteed. But let's see how it goes on tomorrow and let's hope that at least Frost and Ford can uphold the flag of the seeded guys.