30-May, Semi-Finals

[4] Tom Ford (Eng) 3-0 [Q] Lyell Fuller (Eng) 11-7, 11-5, 11-4 (34m)

[3] Kristian Frost 3-0 Chris Fuller (Eng) 11-4, 11-9, 11-6 (66m)

Fullers lose out in Sekusi semis

Today's semifinals were just two matches, but from 10am on also the national Swiss Squash tournament was taking place at the Sportpark Pilatus in Kriens.

So the day was quiet busy for the organising team and the crew behind the bar/grill. But let's start now with the two PSA semis: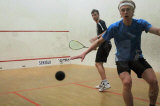 First on was Tom Ford against Lyell Fuller, two players that showed a very good and solid performance in their first round matches.

This time, Ford was again able to let his opponent looking old.

He proceeded to his first ever "Kriens final" in three clear games. It took him just 34 minutes to overcome his fellow englishman.

The second semifinal saw the next Fuller, Chris, coming on court (for all who don't know that - no they are not brothers) against Kristian Frost.


Frost who seems to feel like home in Kriens won this match in just three games - still the two players spent over an hour on court.

As the courts were warm and bouncy as always the rallies were very long, but Frost was the one who managed to finish the rallies with a cleverer shot selection than his opponent.

After the semifinals there was also a very tasty Paella dinner, where participants, parents, coaches and visitors came together to fade away the long day.

Tomorrow's final will see Tom Ford in his first PSA final in Kriens, where Kristian Frost will be making his sixth apperance.


Let's see if Ford will be able to prevent Frost of getting his name inscribed on the trophy next to the names of Mohamed Abouelghar and Julian Illingworth for the second time...