CASE Swedish Open - Final: info & H2H

[3] Nick Matthew (Eng) 3-2 [1] Ramy Ashour (Egy)
11/13, 11/6, 11/8, 6/11 11/4 (90m)
Nick too strong in the end...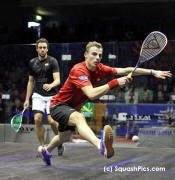 What a match people, what a match. To be honest, Ramy Ashour's camp was overwhelmed he managed to play his matches until the end! I don't think many people expected the Egyptian to reach the final after having been seriously injured since the end of October really. I don't even think that Ramy himself expected such a result. My bet is that he would have signed for just playing squash, pain free, after the worry he's been going through for the past three months.

On that front, he will be delighted. A few worried in the first match against Simon - "there was so many things I needed to think about before hitting every single shot" - he realised that it was all going to be ok during his second match against Mosaad. Body was fine. Pfew.


The Egyptian Battle of the semis against Shabana was a splendid test for both players. The "rejuvenated" Shabana, against the "Been to Hell and Back" Ashour. Huge, Huge battle, but Fair as it comes, fast, furious, inventive, brilliant. As Squash should be played I guess... Did it take a lot of Ramy? Probably more mentally than anything else.

Today, Nick Matthew was at the top of his game. Confidence? Check - just beat the World number 1, 11/1 in the 3rd. Form? Check, 33? What 33? Feeling like a 24 years old more like. Squash Technique? Touch the best he's ever played. Resilience? Check. Nobody I think at the moment can beat him there.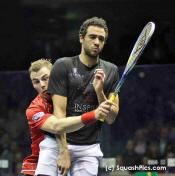 28m of astonishing squash with Nick taking a better start in that first game. Slowly, the Egyptian found his marks, putting Matthew under more and more heavy hitting, scintillating game from one, amazing recovery for the other one. But it's Nick that gets two game ball, 10/9, 11/10, with 7 lets being played at 10/10, not that it was tense/important or anything of the sort. Still Ramy closes the game, 13/11...

But Nick doesn't panic. Not for a second. He knows that it would have taken a heck of a lot out of Ramy to clinch that first one. And he is right. In 8m, Nick responds brilliantly, wrong footing Ramy a few times - very rare that, Ramy is one of the best readers of the game. "Easy" for Nick, 11/6...


The third will give the Ashour camp a few cold sweat as Ramy shows clear sign of physical distress from 0/3 down. We all hold our breath. But not, it's only a muscle spasm it seems - he has had a few during training as well.

Ramy will come back in that third, 6/6 from 3/6, but Nick seems too strong. A few unforced errors from Ramy, and Nick seems unbeatable, 11/8, leading now 2/1 and looking very good.

Well, as I say it soooo many times, that shows that we know squat about squash. In the fourth, we see the Triple World Champion wobbling a bit, making 5 unforced errors, and Ramy looking extremely strong and determined.

After 73m of intense and brilliant squash, we were in a decider. But if Nick looked a bit jetted in the 4th, he sure found his 2nd wind in the 5th, giving no chance at all to Ramy, running away with the score and great rally construction, 5/1, 9/3, taking the game in 13m, and match in 90.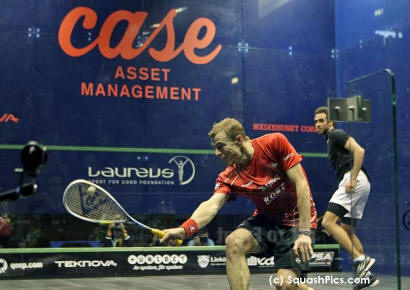 Nick will be DELIGHTED with his tournament. He has been imperial from start to finish. And although Ramy will be disappointed with his 5th game, after reflexion, he'll realise how amazing journey he's had.

From thinking he would never play squash again, banging his head against the wall, to reaching the final of his first tournament back, taking the current number 1 to 5 games.

Not a bad week for all parties concerned I would say, wouldn't you?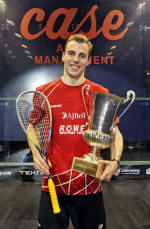 "I need that extra few years of experience while playing against Ramy, because when Ramy is my age he's going to have one leg.. haha.

"I just need to rely on that good combination both mentally and physically.

"When Ramy started to feel pain in his leg in the third game I first went to wild cookie land for a short while.

"But then I was glad that he came back and was able to keep the match going."

Nick Matthew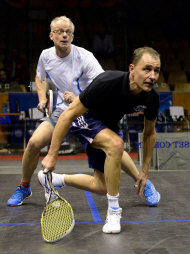 Tournament Organiser Fredrik on court...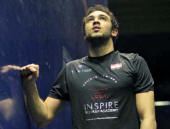 "Thanks to Freddie and his whole team, it's been a great week here.

"I would like to thank my body and I am that my hips did not let me down.

"No promises coming back next year because promises are meant to be broken!"

"Thanks to Peter at Peter Lindahl Health care for all massage during the week, and without it there would have been a harder week!"


Preview:
Too close to call

Today's final in Linkoping sees three-time Swedish Open champion Nick Matthew, the reigning world champion and joint world number one, take on Swedish first-timer Ramy Ashour.

That Matthew is seeded three is due to the draw being done before the Englishman had completed a sensation run at the end of last year, while Ashour's top seeding doesn't take into account the Egyptian's absence through much of that period due to injury.

The head to head suggests an Ashour win, Ramy having won 15 of their 23 PSA meetings, and 8 of the last 10. The Unibet bookmakers concur, pricing Ramy at 1.55 (bet £1 to win £1.55) while Matthew's odds are 2.35.

For us it's a much more even contest than that, with Matthew in the form of his life and Ashour in his first tournament back.

The only way to find out is to, as they say in Sweden, Stanna kvar ...