Extras #5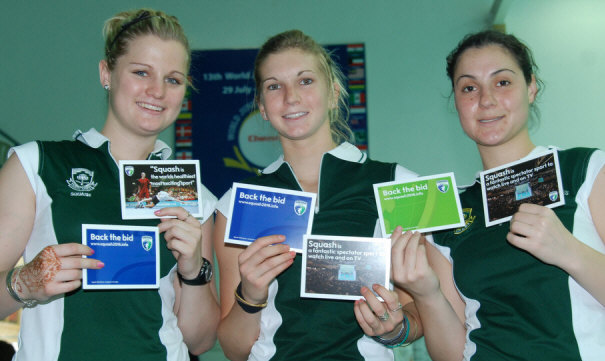 Dreaming of the
Olympics in Chennai ..

With just days to go before squash learns whether it will be successful in its bid for inclusion in the 2016 Olympics, the world's best juniors are assembled in Chennai for the Women's World Team Championships.

Aged from 13 to 18, they will be in their prime come 2016, and the prospect of competing in the world's greatest sports festival, and the possibility of taking home an Olympic medal, in on many of their minds ...

Here's a selection of comments from the girls :

"Dream of a lifetime"

"Awesome, it'll be the best experience ever"

"Cool to play with other sports and not just squash"

"It has to be GOLD"

"All our friends say we can win the Olympics, and we have to tell them we're not in - it would be so great to just say 'yes, we can'"

"Amazing, not only for the sport, but for the athletes and coaches"

"We'll be in our prime"

"The ultimate experience"

"Squash is so deserving of an Olympic place"
"What an honour it would be"

"Out of this world"

"The best thing in the world"

"I'll be too old :-(((" Dame Susan Devoy





ISA keeps growing in Chennai

The championships are being held at the Indian Squash Academy in Chennai. Which makes it sound like it's a one-off, purpose-built venue.

In a way it is - purpose-built, and ideal for hosting an event such as this, and it has a proven track record, previously hosting Asian Junior Championships, World Junior Championships, World Doubles Championships, Men's World Team Championships among many others.

But you can forget the one-off bit, it's grown, and is still growing. It seems that pretty much every two years something hew is added ...

2000: Original complex opened. This comprised the three courts in the 'other' venue, courts 6, 7 and 8 in this event.

2002: The new complex, comprising the main showcourt and four glassbacks.

2004: Swimming pool added, with adjacent accommodation for players in training here. There are usually around eight players based here, plus others visiting for camps.

2008: The new Gymnasium added.

The complex is built on government-owned land, and the original development was financed by ICL (Indian Cements Limited)and the Tamil Nadu Squash Rackets Association. Subsequent updates have been made with by the TNSRA with the support of the Tamil Nadu government. The SRFI is obviously very grateful for the free usage oof this facility to host their international events.

"Our aim is to ultimately build a multi-sport stadium which can be used by the public and professional sportspeople alike, free of cost.

"This will help us to fulfil our aim of generating more Indian world champions in different sports.

"Eventually we'd like to see it as a club, which can provide for all the needs of its members while still being open to the public for sports development."


WSF President and brainchild of the ISA

So there you have it - there's a lot here, and a lot more to come. There's a running track and a couple of basketball courts adjacent to the academy, and plenty of room for expansion, so let's see what 2010 brings !

Extras #3
Steve Cubbins in Chennai
Worst Nightmare ...

Talk about coincidences ... we were chatting about squash photography in the tournament office on quarter-finals day, and I mentioned that my worst nightmare was to turn up for a match to hear the fateful words, "...match ball". Cue frantic dash to the court to grab any shots you can.

So I then went out to grab some shots of Shorbagy's quarter-final, the second game had just started. We were playing two matches at a time, so after staying for a few rallies I went to the side courts to catch Andrew Wagih.

And yes, the magic words "7-10, match ball" greeted me.

Cue mad dash to the camera pit (aka the black hole of Chennai, it's so hot in there), and keep finger pressed on shutter to grab what I could of what really was the last rally ... and I actually did get a couple of usable shots!

That match gave an insight into Egyptian squash mentality - Andrew knew his opponent had had a long hard match the day before, so he decided to go for winners as quickly as he could .... result, 56 points in 28 minutes, no wonder I missed it !


Guess who ...
CLUE: Their combined highest world rankings add up to seven ...


Click this to reveal
Gridlock ... not on Sunday

The traffic in Chennai is typically Indian, very very busy with a mixture of cars, buses, motorcycles, pedal cycles, handcarts, and the yellow tuc-tuc taxis in roughly equal measure. There's no lane discipline at all, but it seems to work ... just don't ask me to ever drive anything other than a tank through it.

But on finals day morning we had a pleasant surprise - virtually no traffic (by Indian standards, at least). I even looked out of the hotel window for five whole seconds, and nothing, absolutely nothing, went past. Now that's quiet ...


The usual ...
Central & South Americans
all on their own ...

You know about poor Harriet Ingham, who left the rest of the England team stranded at Heathrow, well it's not just Ms Ingham who came here alone ...

All the way from Brazil came Guilherme Melo and Pedro Mometo, no coaches, managers, support staff at all, just them. And from Mexico, Alfredo Avila and Miled Zarazua all on their own too.

"We took a 12-hour flight from Brazil to Germany, then another 12-hour flight to here," said Pedro (the tall one). "It was tough, but coming here in one flight would have been like 18 hours!!



Sadly both lost their first round matches, but both are enjoying the Chennai experience immensely. "It's an amazing place," said Guilherme, "so much going on and so much to see. And to be here with all the best squash players in the world is such an experience for us."

The boys from Brazil are heading back on Aug 2nd - via Germany again - but they'll definitely not forget their trip to these championships.

For the Mexicans it's just as unforgettable a trip, and both are doing well on court here in Chennai. Alfredo burst onto the scene in January, reaching the semi-finals of the British Junior Open unseeded, and is fifth seed here. Like Alfredo in January, Miled is a new name but has similarly created a big impact, becoming the only unseeded player to reach the last sixteen.



It's not the just the boys either - Colombia's Catalina Paez is here on her lonesome too. Her case is a little different as she's been away from home for a while now, playing a couple of WISPA events and the ATCO Junior Open in Cairo - which probably makes it even more impressive, to show such commitment to the cause of squash.


Children at the sports festival on the running track at the complex on day two

#1: A Grand Opening

The Minister of State for Youth Affairs & Sport, Mr Patel, summed it up in an off-the-cuff speech that went down really well with the 300 or so people assembled in the Taj Hotel for the opening ceremony ...

"We've had so many problems in the world recently, with people from different countries fighting each other, but here, in Chennai tonight, we have young sportspeople from all over the world assembled in harmony and about to embark on a great sporting occasion. Why can't we settle all our differences with sporting contests ..."



And it's true, there was a great feeling tonight of people from all over the world excited to be here, excited to get started, getting along great and having fun.

After being bussed to the Taj (we're staying in the Marriott but the Taj's meeting room is bigger) everyone assembled in the foyer, with lots of photos being taken, before Major Maniam (he should have been a comic, he really should), called the teams into the hall in alphabetical order (starting with Denmark, don't ask ...)

Assuming his master of ceremonies role Maniam presided over the speeches with great humour, WSF President N Ramachandran highlighted some of the stars in attendance, the Minister put it all in context, and KS Sripathy, the Chief Secretary of the Tamil Nadu government made everyone feel so welcome in Chennai before officially declaring the championships - the first ever combined Boys' and Girls' World Junior Championships - open.

There's a lot going on in Chennai, we'll cover some of it in later issues, but for tonight let's just get ready for the action and enjoy the photos ...




the Minister


Major Manian


N Ramachandran


Chief Secretary


Lots more photos in the Gallery