TODAY in Chennai: Sat 8th, Team Finals
11.00
9/10: FRA 2-0 GER
11/12: AUS 2-0 RSA
13/14: NED 2-0 DEN
15/16: SWE 2-1 ESP

13.00
3/4: IND 2-1 USA
5/6: ENG 0-2 CAN
7/8: MAS 2-0 NZL

16.00
Final: EGY 2-0 HKG
The Last Day ...

It wasn't a final many would have predicted - top seeds and defending champions Egypt were there, of course, but hands up anyone who thought sixth seeds Hong Kong would be their final opponents ?

The HK girls broke Indian hearts yesterday with a battling performance that consigned the hosts to the 3rd/4th playoff, while Egypt were given a scare by the USA.

But Egypt were not to be denied this time as their top two swept them to victory, while India have the consolation of third place, their best-ever finish ...
Final:
Egypt 2-0 Hong Kong

Heba El Torky 3-1 Tsz Ling Liu
11/6, 2/11, 11/5, 11/6 (27m)
Nour El Sherbini 3-0 Tsz Wing Tong
11/8, 11/6, 11/6 (20m)
Nour El Tayeb v Carmen Lee
not played

3rd/4th:
India 2-1 USA

Dipika Pallikal 3-0 Olivia Blatchford
11/6, 11/7, 11/5 (25m)
Surbhi Misra 1-3 Amanda Sobhy
3/11, 6/11, 12/10, 4/11 (24m)
Anaka Alankamony 3-2 Julie Cerullo
3/11, 11/5, 11/8, 10/12, 11/8 (42m)
The Dream Team retains the title

It must be a nice feeling when you go into the three-girl team final with the individual champion and the player who held match balls against said champion opening the batting for you.

Hong Kong had done well to reach the final, and had stunned Egypt in 2005 when they triumphed over the then defending champions ... but it wasn't to be this time.

Heba El Torky took the first point for Egypt, imposing her style of play on Tsz Ling Liu - it was all short, sharp rallies, lots of attempted winners and a few errors along the way.

Liu hung in as well as she could, profited from some early Egyptian errors to take the second, and threatened to force a decider when she led 4-0 in the fourth.

But Heba was in no mood for that, upped the pace once more and forced her opponent into some desperate retrieving, and put the ball away as she advanced to the target.

On the second match ball Heba's arms were raised aloft in triumph, and Egypt had the lead.

"I was going for winners today, even when I was leading. I don't know what happened in the second, it just wasn't working, and when I was 4-0 down in the fourth I just kept telling myself I had to push through this time.

"It was important to put the team into the lead. It's nice when it's finished and you've done your job ... now it's up to the others!"



Next up was individual champion Nour El Sherbini. All the talk beforehand was whether yesterday's surprising setback would affect her confidence or her play ... not a bit of it.

True, her short game wasn't as precise as it sometimes is in the early stages, giving Tsz Wing Tong something to chase down - which she just loves doing. But as the match progressed Sherbini's shots became tighter and tighter, and from 5-all in the third she sprinted to the line to keep the title in joyous Egyptian hands.

"I was disappointed to lose yesterday, but I got over it by the end of the day.

"I was nervous at the start, yes, but from the beginning I always thought I would win. Yesterday I had so much pressure, and I'd played ten matches, but today it was the final, the last one.

"I thought I played nice, and it was so good to win it for the team ..."



"Obviously I didn't want any of our players to lose, and it's great to win the title without too much drama, but I would have preferred to have played, and to go on and win the decider, like yesterday !"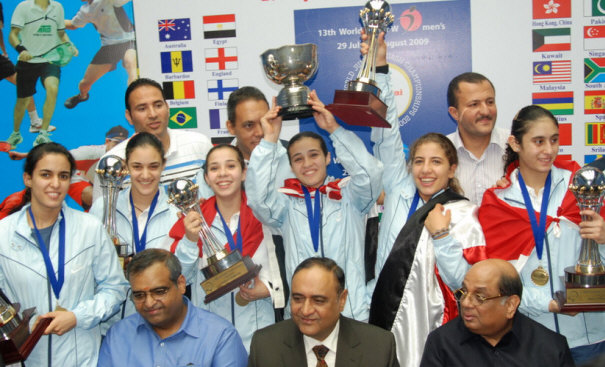 India claim historic third

The third/fourth playoff was a real nailbiter, with both USA and India aiming for their highest-ever finish.

Dipika Pallikal got India off to the customary good start with a straight-games win over Olivia Blatchford, but Amanda Sobhy, still on a high after her win over the individual champion yesterday, levelled matters against Surbhi Misra (playing her last match as a junior, it's her 19th birthday tomorrow).

That left it to the number threes, and a seesaw match saw the first four games shared as first Julie Curello then Anaka Alankamony gained the advantage.



At 8-3 in the decider it was looking good for India, but Anaka seemed to hit the wall as Julie pulled back, point by point. Anaka received a couple of warnings for slow play, but she managed to scramble her way to match ball, and the Indian bench erupted in delight (video to follow) as her final shot drifted into the back corner and the referee finally confirmed "no let".

"It's a great achievement for India and a really good performance from the girls.

"Dipika put in a sterling performance, as she has all week, but I thought we might be in trouble against Amanda Sobhy, who had such a good win yesterday. Surbhi has had a couple of hard matches but still played well.

"I needed some fresh legs for the decider, which was why we played Anaka today. She came back well after losing the first game, but seemed to hit the wall when she was ahead in the fifth. The girls kept telling her "no pressure, no pressure", and she finally pulled through.

"Absolutely overjoyed with the best ever performance from an Indian team in the world junior championships."



Phew, what a relief ...

Cyrielle Peltier was 2-0 up, and 10-3 up in the fifth against Caroline Sayegh.
Cyrielle eventually won 12-10 to give France 9th place. Phew ...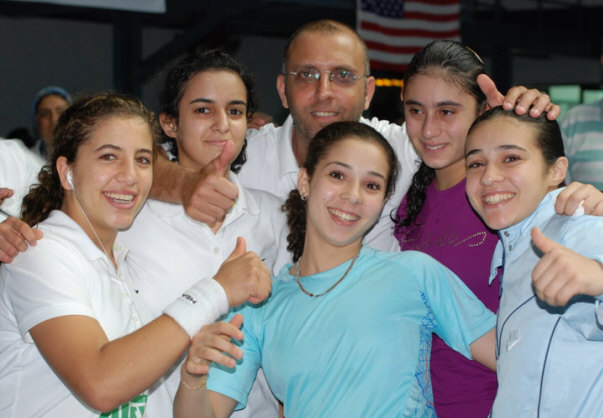 Egyptians one match away from retaining title
Egypt 2-1 USA
Heba El Torky 3-1 Olivia Blatchford
11/5, 11/6, 13/15, 11/7 (34m)
Nour El Sherbini 0-3 Amanda Sobhy
6/11, 6/11, 8/11 (22m)
Nour El Tayeb 3-0 Julie Cerullo
11/6, 11/5, 11/4 (17m)

India 1-2 Hong Kong
Dipika Pallikal 3-1 Tsz Ling Liu
11/4, 10/12, 11/8, 11/6 (31m)
Anwesha Reddy 0-3 Tsz Wing Tong
10/12, 6/11, 8/11 (29m)
Surbhi Misra 1-3 Carmen Lee
9/11, 11/8, 9/11, 9/11 (40m)

5/8:



Malaysia 1-2 England
Hay comes from 0-2 down to seal win
Canada 3-0 New Zealand
Gemmell grinds out opener to set up win

9/12:

Australia 1-2 France
Germany 2-1 South Africa

13/16

Netherlands 3-0 Spain
Denmark 2-1 Sweden


60 Seconds:
Meet Spain and the USA
Egypt 2 - 1 USA
Dream Team shaken by the States

So, the top seeds and defending champions are through to the final, but no-one expected their match against the USA to be like this - not even the USA!

First up was Heba El Torky against Olivia Blatchford at top string. The Egyptian was well on top in the first two games, and when she built a 10-6 lead in the third it looked as though Egypt had the first point on the board.

Then Heba hit five tins in a row, and suddenly had to save a game ball. She did that, but Olivia had been given cause to fight, and she surely did, coming away a 15/13 winner.

After a close opening to the fourth, Heba pulled clear again, and this time made no mistake. Crisis over, we all thought.

"It was the same as in the individuals - when I'm ahead I don't attack.

"Against Nour I was 9-4 and just needed a couple of nicks and it was finished, and when I was 10-6 up in the third today I was thinking more about the individuals than this match.

"It's so annoying, I've been beating all the Egyptian girls 3/0 up to the tournament, and I'm still thinking about that quarter-final I lost.

"I'm glad I got it back in the fourth though, to put the team ahead.

"The British will be my last junior tournament ... I have to take that one!"



Second on were individual champion Nour El Sherbini and Amanda Sobhy, who had suffered a 3-0 reverse against England yesterday.

Against all expectations, Amanda dominated from the start, never letting Nour get properly into the match, and crucially never letting her dominate the 'T', from where she's so dangerous.

Amanda took the first. She took the second. Surely the tide was going to turn. 5-3 to Nour in the third, now we'll see ...

What we saw was an American continuing to play out of her skin, and Egyptian still out of sorts. At 7-all Amanda blasted a drive deep into the corner, then got the better of a tough long rally to reach 9-7. A stroke gave her three match balls. It was going to have to be some comeback now ...

In fact it was no comeback at all, Amanda tinned a boast to squander one opportunity, then forced yet another tin from her opponent to seal a fantastic victory.

"Forget what I said about beating Laura Gemmell being my best match ever, I just beat the World Champion!

"Coming into the match I was sure I was going to get destroyed, so I didn't go on with a plan, I just went on and played, and I never had so much fun on a court in my life!

"I wasn't even getting nervous towards the end, even if I'd lost it would have been to the world champion, so there was no pressure. Whoa!"



So it was left to Nour El Tayeb to save the dream team's skin. It was asking a bit much of Julie Cerullo to win a decider for the third day in a row - especially as she didn't even think she would be playing when the match started! The USA had intended to give number four Yarden Udinak, but forgot to submit their team orders so were forced to play their number three.

"It was a lucky mistake on my part," admitted US coach Jack Wyant, "we ended up with our number three playing the decider which we would have wanted in those circumstances."

But it was too much of an ask, as Nour won through in straight games, looking increasingly in control as the match progressed.

By my oh my, what a bit of excitement to start the day ...

"I was so scared when I was warming up - this is the first team tournament I've ever played in, and to have to go on for the decider in the semi-final ...

"I felt better and better as the match went on though, and I'm so pleased to win and put us into the final."



Hong Kong take out the hosts
India 1-2 Hong Kong
Hong Kong stun the hosts

If today's first match proved to be closer than expected, so did the second, but in this one the underdogs went the whole way - sixth seeds Hong Kong stunning India, the second-seeded hosts.

It started well enough for India, with Dipika Pallikal beating Tsz Ling Lui in four games - she virtually gifted away the second one, tinning five times in a row from 10-7 up. Willing runner though she is, Lui couldn't stem the flow of winners from the Indian's racket.

"I thought everything was coming together in the first, and the seconds seemed to be going the same then I lost it. So I went back to my game in the third.

"I was thinking a lot about the team, and how important it was to win to put us one up, so I was thrilled to win in the end."



India were pegged back to level after Anwesha Reddy could find no answer to the running machine that is Tsz Wing Tong.

The HK girl edged the first on extra points, held a slender advantage throughout the second, then came fro 5-7 down in the third, getting the better of some long, tough rallies to close out the match.

"It was the reverse of the other matches, where I've been playing to put the team into the lead, or to win the match.

"This time, if I lost the whole team were out, so that added more pressure and made me more determined to win."



India had the determined Surbhi Misra out for the decider, for Hong Kong it was Carmen Lee, who so far hadn't been called on in the clutch. But it was Carmen who, in the words of Indian manager Major Maniam, "handled the crunch points better".

Indeed she did - all four games were close, but Carmen took three of them. The Hong Kong contingent were almost on their feet when she led 9-6 in the fourth, were biting their fingernails again as Surbhi came back to level it at 9-all, then they rose as one when she took the next two points ... Hong Kong were in the final.

"I just went on to win, I couldn't lose. I knew I had to break a leg to win this match, I lost to India in the Asian Junior teams and I was just thinking I can't lose to them again.

"I needed to keep it to the back of the court, her forehand boast is very good. In the second I was playing too much to the front and on the forehand, she's too good there so I had to change that.

"I could hear the crowd shouting, but I knew the only way to keep them quiet was to keep winning, not give them anything to cheer about.

"It's unbelievable, we're 5/8 seeds, we shouldn't be in the final but we are, it's just impossible! We're not supposed to win tomorrow, but we'll try our best ...