TODAY at the Women's Worlds
Mon 15th Dec, Day FOUR:


Gohar delights Wadi Degla faithful





Qualifying complete, it was on to the main draw with sixteen matches today, four sets of three in the afternoon on the Wadi Degla courts, then the final four matches - featuring the top four seeds -on the glass court after the opening ceremony.

There were significant upsets in both sessions - first it was qualifier Emily Whitlock, who beat 13th seed Jenny Duncalf in an all-English encounter, and India's Joshana Chinappa beat twelfth seed Madeline Perry in four games.

There were scares for other seeds - Low Wee Wern, Dipika Pallikal and Sarah-Jane Perry all needed five games to progress to round two.

The big upset was saved for the evening session and it was Nouran Gohar who stole the show as the Wadi Degla player beat fourth seed Nour El Sherbini, last year's finalist, in four tense all-Egyptian games.

The Wadi Degla fans also cheered their own Raneem El Welily to victory, although world junior champion Habiba Mohamed made the third seed work hard for her 3-1 victory.

Defending champion Laura Massaro was also under pressure in the middle of her match against qualifier Mariam Metwally, but the English world number two adapted to close the match out. Top sed Nicol David also faced an Egyptian qualifier, and although Yathreb Adel came close in the first, the seven-time champion took the match with increasing authority.

Wadi Degla Women's World Championship - Round ONE:

[1] Nicol David (Mas) 3-0 [Q] Yathreb Adel (Egy)
11/9, 11/6, 11/3 (31m)
Nouran Gohar (Egy) 3-1 [4] Nour El Sherbini (Egy)
11/6, 12/10, 4/11, 13/11 (58m)
[3] Raneem El Welily (Egy) 3-1 Habiba Mohamed (Egy)
11/9, 11/6, 9/11, 11/7 (48m)
[2] Laura Massaro (Eng) 3-1 [Q] Mariam Metwally (Egy)
11/3, 13/11, 8/11, 11/7 (50m)

[Q] Emily Whitlock (Eng) 3-0 [13] Jenny Duncalf (Eng)
11/8, 11/5, 11/5 (31m)
[16] Emma Beddoes (Eng) 3-0 [Q] Delia Arnold (Mas)
11/5, 11/4, 11/7 (32m)
[6] Camille Serme (Fra) 3-1 [Q] Nouran El Torky (Egy)
11/2, 8/11, 11/5, 11/7 (47m)
[7] Low Wee Wern (Mas) 3-2 Nicolette Fernandes (Guy)
9/11, 11/7, 9/11, 11/7, 11/2 (80m)
Joshana Chinappa (Ind) 3-1 [12] Madeline Perry (Irl)
14/12, 11/7, 4/1, 11/7 (50m)
[10] Omneya Abdel Kawy (Egy) 3-1 Sarah Kippax (Eng)
11/8, 6/11, 11/9,14/12 (53m)
[14] Dipika Pallikal (Ind) 3-2 [Q] Samantha Teran (Mex)
9/11, 10/12, 11/6, 11/4, 11/7 (75m)
[11] Rachael Grinham (Aus) 3-1 [Q] Tesni Evans (Wal)
11/4, 5/11, 11/6, 11/6 (38m)
[8] Nour El Tayeb (Egy) 3-0 Mayar Hany Mohamed (Egy)
11/5, 11/5, 11/5 (24m)
[5] Alison Waters (Eng) 3-0 [Q] Heba El Torky (Egy)
11/8, 11/6, 11/6 (34m)
[15] Sarah-Jane Perry (Eng) 3-2 Joey Chan (Hkg)
11/8, 7/11, 9/11, 11/3, 11/5 (60m)
[9] Annie Au (Hkg) 3-1 Line Hansen (Den)
9/11, 11/4, 13/11, 11/4 (48m)

EN BREFS

Boating on the Nile with the Girls


It was really a good match, it was nice to play different style of Egyptian squash, she is one of the up and coming players, extremely skilful, and she needs to be one to look out for…

I had to stepped up my game, because playing Yathreb for the first time here in Egypt, in the first round of the Worlds was a challenge.

We both had to get used to the court, you practice in the morning, but of course, the conditions are very different, and the timing of the ball is not what you expect. But as the match got going, it got better, we knew where the ball would bounce…

I'm happy to get through this match against Yathreb in 3, that is a good result indeed.



[1] Nicol David (Mas) 3-0 [Q] Yathreb Adel (Egy)
11/9, 11/6, 11/3 (36m)

Nicol finding her groove

First game, Nicol was struggling a bit to find her backhand sharpness, getting used to the conditions and maybe a bit nervous to play an dangerous/gifted Egyptian (is there any other kind??) in front of a Cairo crowd.

And Yathreb played her excellent controlling game, leading by two points all the way until Nicol caught her up at 8/8. The hard work that Nicol made her opponent do in that opening game paid off at the end of the game, Yathreb going for too much, making a few quick errors but threatening Nicol till the end, 11/9 for Nicol.

The second would see Nicol take more and more control, hitting more and more hard hitting that would prevent the Egyptian to have any kind of time on the ball. Unable to adjust her shots, Yathreb could only find a few winners, but not really putting Nicol under pressure.

A feel that was confirmed in the third, where Nicol-Awy showed her new racquet skills, hitting winners like a true Egyptian.

Maybe it's in the water after all…
Nouran Gohar (Egy) 3-1 [4] Nour El Sherbini (Egy)
11/6, 12/10, 4/11, 13/11 (58m)

The Shock

Or is it? I mean, if you take in consideration how amazing the up and coming Egyptian players are at this point in time, when you see a 17 year old being 19 in the world, you KNOW she must be doing something pretty well.

And that 'pretty well' Nouran was doing, she did it from the first game. 4/1 up, then 9/5, Nour completely overpowered by her opponent's confidence and heavy hitting.

Unable to have any kind of action, she was only reacting, and it wasn't enough. 11/6 in the first game for the Wadi Degla young Nouran.

Second game is probably the key to the match. Nour, more positive, and hitting the ball with more energy although lacking her usual sharpness and flair, led 8/5, 9/7, before setting two game balls at 10/8.

Well, a tin and three strokes later – the last one being very harsh as the distance to the ball was about from the T to the top left corner – Nouran was walking off court, a bit surprised as she stated, 2/0 up, 12/10!

Third, Nour is pumped up, while Nouran is accusing a bit the mental relaxation that comes after taking two games. Nour is finally showing what she can do, and there is truly a five setter written all over this one.

But it wasn't to be. The fourth is a classic really, close all the way to from 1/1 to 7/7, and off the Wadi Degla girl goes, 10/8 match ball! Well, the crowd obviously loved it! Great atmosphere out there. Quite amazingly, Nouran plays her first error of the game there and then – pressure pressure!

Nour will manage to get back to 10/10, suspense, told you, 5 setter written all over it, and will get herself a nice game ball, that will go out of court. A no let, a superb squeeze forehand drive and a backhand drop shot seals Nour's fate.

Our number four seed is out, 13/11 in the fourth. I was personally shocked. That was not the start of the week I had pictured for Egypt….

I am so happy, she is one of the players I believe in, and I play with her every time I can.

She is a truly dedicated player, she is so professional in her approach of the game, so disciplined, and she's got a bright future.

I truly think she deserve a better ranking and we are working on that.


She has a great team, with myself, Omar AA, Haitham and Hossam. They were all doing a good job.





I can't feel anything right now. It's the first time ever I play Nour, not even in practice, never even hit a ball with her. So I was not expecting anything, I was so relaxed, all the pressure was on her and I just played my squash.

When I was in the 2nd, down 10/8, I just thought, what about if I just play my squash, and see what happen. And the next thing I know, I get 4 strokes and I'm 2/0 up!

The third I was tired really, but the 4th, when I find myself at match ball, that's it I thought, I won, and relaxed. And same, I found myself at 10/10! And to be honest I have no idea what happened after, how I won the last point.

I really need to thank in particular Karim Darwish and Omar Abdel Aziz for their help, I just changed club in August, and they have made a big difference for me here in Wadi Degla, also Haitham Effat, and my fitness coach, Hossam. Thanks to everybody, I'm really lost for words…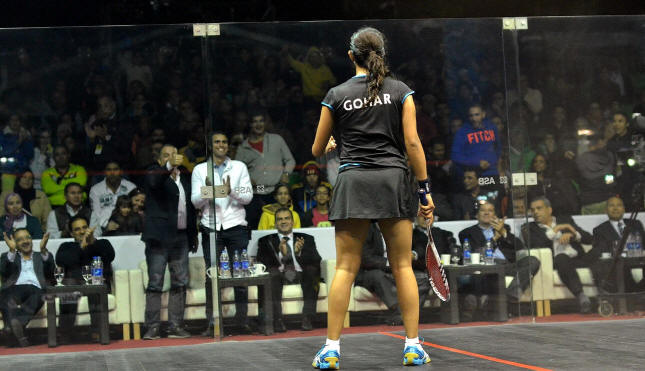 I felt OK after I was hit, but I took some time off to release a bit of steam. I know she didn't mean it, but I don't think that a stroke decision in those circumstances, when the swing is excessive, is a good one. But I understand, we can't have a rule for that.

After losing the third, I just tried to stick to my game plan. And I'm happy with the result, Hamdoulillah…



[3] Raneem El Welily (Egy) 3-1 Habiba Mohamed (Egy)
11/9, 11/6, 9/11, 11/7 (48m)

One Upset is enough, thank you very much…

Next we had two more Egyptians – who made that draw for crying out loud!!!! – Raneem, one of the most talented players out there, against another up and coming Egyptian player, the strong and powerful Habiba Mohamed, 15.

15. I just couldn't believe how strong, how mature, that young girl is. Only thing that shows she is still young, she is a bit like a puppy that would have outgrown herself! When she recovers to come back to the T, she's got a bit of a funny movement, as if her legs were too long for her own good!

Hitting extremely hard, mixing beautifully her short and length game, she took the game to Raneem right away. And the rallies got very intense very quickly. But at 7/6, Habiba serving, a swing ended on Raneem's eye (completely closed by the time I got to speak to her at the end of the match) cause a bit of a break.

Lots of attention from the medical stuff, while Habiba was keeping herself and the ball warm on court. About 15m later, Raneem was back on court, and was not impressed with the stroke decision. Still, with the anger that comes from having the feeling of being hard done for, she came back from 6/9, and score the following 5 points, making it 11/9. Ok, that was done, onto next.

The second was very weird indeed. Habiba went 4/0, then Raneem scored the following 6 points, and when they got to 6/6, Habiba kindly offered the game to her opponent, playing 4 tins very quickly in succession.

The third was not Raneem's finest game. Losing her game plan, making too many errors, she opened the court far too much, allowing Habiba to place some powerful and superb shots in the four corners. Game ball 10/7 for the contender, and although Raneem makes a come back up to 9/10, a last backhand drop shot for Habiba, and it's 11/9 for the Sporting Club Alexandria young lady.

The fourth sees Raneem more focused, 4/1, 7/3, 9/4, with Habiba giving it all to claw back to 7/9, but Raneem is now in control, and finds amazing shots/winners. 11/7 after a yet again stunning rally….

Pfew. We still have a number 3 seed…
[2] Laura Massaro (Eng) 3-1 [Q] Mariam Metwally (Egy)
11/3, 13/11, 8/11, 11/7 (50m)

Laura, not too comfy out there …

If the World Champion (both Individual and Team) started extremely well, completely suffocating young Mariam Metwally, 18, ranked 50, 11/3, the Alexandria girl soon found her breathing again, leading 7/3 up in the second!

Patiently, relentlessly, like very few players out there can do, Laura just played point after point after point, getting them all back, 7/7. Seesaw battle followed, 8/8, 9/9. Game ball Laura, 10/9, saved by a super deep crosscourt that just dies in the corner, 10/10. But Laura is showing her experience, and takes the second on her second game ball, 13/11.

As it's getting later and colder, the ball is too! And that suits Mariam's game perfectly. 4/1 up then again 7/3, is she going to let the advance go like she did in the previous game? Nope. 9/3. Surely that's enough. Nope yet again! Laura comes back to 8/9, but two great fast pace rallies and finally, the young girl takes a game, 11/8.

Laura takes a superb start in the 4th, 5/1, but that's the moment Mariam decides to have her second wind. And slowly, slowly, grinds Laura with her mixing powerful length/short volley drop shots. 4/6, 7/8, it's still all happening. But a very long and intense rally there just seems to give Laura the energy/belief she needed. 11/7, and a very relieve English Camp, 3/1 for Laura…

It's the first round of the World Champs, all those young Egyptians coming up, I was doing a clinic two days ago, and there were all those young players coming at me!!! They are sooo good!

Jetlag is ok, I had about 4 days at home, and was slowly getting back to UK time, and if I have a bit of trouble getting up in the morning, it's not too bad because I am scheduled to play late at night every day.

I never played her before, and never saw her play either! Actually, she was the only qualifier I didn't manage to see yesterday, and of course, I had to draw her! So I spent my day on Internet trying to find some footage, and have a good picture of the way she played.

I felt the ball died a bit after the second game… I was struggling to get my length after that, I guess that's why I was using a bit more the boast than I would normally do. It was a typical squash game, when I was controlling the game, I was wining and when I didn't, I wasn't!

Like I said, all the Egyptians are very dangerous, if Raneem and I meet our seeding, it will be pretty hard match, but there are a few rounds before that, and although I am confident I can keep my title, it is going to be very hard…

The tournament is brilliant, Wadi Degla is amazing, the court is brilliant too, well done to all the team to put it together, all the girls really appreciate the effort.



Afternoon Matches
[Q] Emily Whitlock (Eng) 3-0 [13] Jenny Duncalf (Eng)
11/8, 11/5, 11/5 (31m)

Three days in a row I get to speak to you!!!

Yes, I am incredibly sad about this. Funny, normally I'm the one that doesn't get the lucky break. That makes a nice change…

I know Jenny has had some foot problems, but it was weird, at some point I would play a tricky shot and she would get to it fine, then I would play a simple drop shot, and she would not move. Maybe she thought the floor was a bit slippery? I have been playing on it for 3 days, so I am used to it.

Still, I was wary of her at all times, her racquet skills are.. a joke! So I tried and got her in the back, I don't know, it just seemed to be going my way today…

And now, I have the whole day to enjoy and rest, and if I get to play Nicol, I'll have a chance to see her play tonight, and will have in any case more time to rest than my opponent!!!!



[16] Emma Beddoes (Eng) 3-0
[Q] Delia Arnold (Mas)
11/5, 11/4, 11/7 (32m)

First of all, let me tell you that it's the first time I make it to the second round of the World Champs, so I really wanted to play well and get to the glass court…

Delia was a tough opponent, funnily enough we've never played before, she is the only one of my age and who has been around like me that I never managed to play!

But I have seen her play many times, so I knew what to expect. I just stuck to my game plan – no, I'm not telling you.

So happy to get a chance to be fresh for tomorrow….


Joshana Chinappa (Ind) 3-1
[12] Madeline Perry (Irl)
14/12, 11/7, 4/1, 11/7 (50m)

Not that we are complaining, but it has been a long year, and especially for us as we had the Asian Games on top. But this World Champs is such a big event for us, so we tried and give it a big push.

Playing Madeline in the first round, that was never going to be an easy match, she is a great player, such a fighter, and had great results for the past two years as well. So I tried and kept it tight, keep it back for long and wear her down, because I would hoping I would be a bit fresher that she would be.

But she made it hard, from beginning to the end, I never relaxed at any point in the match, and it was long rallies all the way.

Now, I am playing the winner of Nicolette and Wee Wern. I see they are having a great time out there, I just wish they are going to keep having a great time out there!!!!



[6] Camille Serme (Fra) 3-1
[Q] Nouran El Torky (Egy)
11/2, 8/11, 11/5, 11/7 (47m)

I was a bit stressed, I t was never going to be an easy opponent. To be honest, I was expecting a rather physical match, with a lot of decisions, and in fact, it was more fluid that I was dreading.

It's always good to have a match like that, very intense, to put you straight into the tournament, and I went through the whole spectrum of emotions on that one, as we say in French "ça, c'est fait". So now, I can be more relaxed for tomorrow.

Talking of tomorrow, I'm playing Emma, we always have some great battles, great matches, very physical, looking forward to another one!



I know, she is a top 5 player, and it's my first time playing somebody at that level. And I didn't expect it to be easy, but I still believe I could have done more. That I could have done better. In particular in the 4th, I was close 7/8, but I made two unforced errors, and that, I shouldn't have…


[7] Low Wee Wern (Mas) 3-2
Nicolette Fernandes (Guy)
9/11, 11/7, 9/11, 11/7, 11/2 (80m)

She played really well in the first, and to be honest, she played extremely well until the middle of the 4th, she was up 5/1, 6/2, and then started to get tired, and that was when I managed to turn it around.

To be honest, I am struggling with my movement, I have a strained left adductor, so I was playing on one leg! It's hard to be playing the World Teams, play 7 matches in a row, and then come to Cairo and do it all over again!!!

The court is a bit slippery, which doesn't help…

With Nicolette, you know she is going to be pumped up, never give up, and keep running and diving!

But I knew that if I stuck to my game plan, at some point, she would just get tired. And that's what happened in the 4th.



[11] Rachael Grinham (Aus) 3-1 [Q] Tesni Evans (Wal)
11/4, 5/11, 11/6, 11/6 (38m)

Yes, it's been a bit of a busy schedule recently, after the Teams in Canada, I went straight back to Australia for the Nationals, played the finals there – well, 4 hours before my flight to come here, I still hadn't gone on court! I blame girls that were playing for the play-offs, they kept on court for 90m. Yes, that was lucky that I managed to win 3/0! So I had 45m to get to the airport!!!!

I have no idea what time it is, already when I came back to Australia, I just collapse from 3pm to 9pm, then was wide awake, straight on to the Nationals, and I arrived here yesterday, 11am, arrived at the hotel about 12.30, then took the 1pm bus to the club, and since then, I have only managed to sleep!

So it wasn't supposed to be a great day for me, but I guess I was so relaxed that I guess I played well! No, I have no idea who I am playing next, I have no idea if I'm playing tomorrow either! I didn't have a chance to look at the draw, I have been so busy. Not that it makes any difference who I play nowadays, although I'm seeded, the girls are sooo good, and on their day, they can beat anyone!

In a way, I wish that I would be playing tomorrow, then if I was to lose, that would be me finished! But no, it would be nice to play well and win the second round… Whoever I'm playing, whenever I'm playing…


[8] Nour El Tayeb (Egy) 3-0 Mayar Hany Mohamed (Egy) 11/5, 11/5, 11/5 (24m)

Mayar and I have been playing so many times, I even use to practice with her before she had big matches, so we know each other's game quite well. And actually, last time we played, she beat me!

So today, I was focused at all times, and I made sure that every shot I played had a purpose. And when I have a good lead, I know that sometimes, I can lose a bit my concentration. But today, I made sure I kept my focus, and I kept the pressure on.

There were no easy rallies, I made sure I made it long rallies and good accuracy attack.

Next round, I am playing my one and only Rachael… I love watching her play so much and I always enjoy playing her so much. Like I always say, the reason I love squash so much is because I can see Rachael play. She is my idol. And we are playing no tomorrow, but the day after…

You know, I am been on the tour for 6 years now, and it's the only time I managed to get to the second round of the Worlds! So I was so eager to win today….



[14] Dipika Pallikal (Ind) 3-2 [Q] Samantha Teran (Mex) 9/11, 10/12, 11/6, 11/4, 11/7 (75m)

I surprised myself today, coming back from 2/0 down, that's not something I do often, so it means that whatever I'm doing with my psychologist back home is working.

Actually I have never beaten Sam ever, and I have played her three times I think. She had a great win yesterday, she is playing well, and when you come back from injury, you have got that extra hunger, so I knew it was going to be hard.

When I found myself down 2/0, I thought ok, let's take one point at a time. That's what I have been working on with Sarah, I was sometimes match ball up, or 9/2 and I would lose the match. So I have been working hard on that. And today, I just took each point at it comes.

But it's the World Champs, everybody wants to win, so it's one step further for now, tomorrow is a rest day.

It's been such a great year for me, the Commonwealth Games, the Asian Games, but when you arrive at the Worlds, you start from scratch all over again, you start from zero. But it's nice to be here, it's the last tournament of the year, and I am sooooooo looking forward to Christmas time with my family back home, my mum, my dad, my aunty, my uncle, well, everybody!!!!


[15] Sarah-Jane Perry (Eng) 3-2 Joey Chan (Hkg) 11/8, 7/11, 9/11, 11/3, 11/5 (60m)

I played well in the 1st and 5th games…..

I started alright, and then she started to cut off all my shots, and I got panicky… I played her in Macau, but I guess she stepped up even more than she did back then…

Basically, she was doing quite well at not letting me playing my game, then I managed to make it all my game. And the 4th and 5th, I relaxed a bit finally. I guess also I was more preoccupied with hitting my target rather than wining the rally at the end….



[9] Annie Au (Hkg) 3-1 Line Hansen (Den)
9/11, 11/4, 13/11, 11/4 (48m)

It was my first match and I could feel I was a bit nervous, not moving too well and making too many errors. The second, I was more patient, made the rallies longer, and waited for the right opportunity.

But the third was the real crucial game. It was close all the way, and I'm luck to take it in the tie-break, on my second game ball, she had two as well. That was the turning point I think, and it gave me a lot of confidence. In the fourth, she started making mistakes and opened the court for me.


[5] Alison Waters (Eng) 3-0 [Q] Heba El Torky (Egy)
11/8, 11/6, 11/6 (34m)

After the week we had in Canada, we had such a great week, we arrive here with the momentum, it gave us a lot of confidence…

I had never played Heba, but I knew what to expect, and I think my strength today was not to get involved with what she was doing, and just stay focused on my game and not in what she was up to.

She hits the ball quite well actually, but today somehow, it was ugly squash at times, but I have to be happy to be off in 3, 9, 6, 6, yes, I'm quite happy with that, especially in the World Champs.



I was expecting to do much better today.

From her point of view it was ugly squash sometimes; from my point of view, I wouldn't say ugly squash, she didn't give me enough space to go to the ball and that's what the refree told her, he also told me to do more effort and he punished both of us at times.

We were moving point by point at the beginning of each game; She's one of the top players, her and the team just won the world teams, she went in more confident, she's more experienced which made a difference today.



more photos from the Welcome Dinner in the Gallery
Sun 14th Dec, Day THREE
Qualifying Finals - four for Egypt

There were eight places in the main draw of the Wadi Degla Women's World Championship to be won today, with matches against the top two seeds Nicol David and Laura Massaro the prize for two of today's winners.

Egypt were guaranteed three palces in the main draw, but ended up taking four as Mariam Metwally was joined by the El Torky sisters Heba and Nouran in winning their all-Egyptian matches.

Yathreb Adel made it four for Egypt as she beat Siyoli Waters to earn a draw against top seed and seven-time champion Nicol David - Metwally drew defending champion Laura Massaro.

Mexico's Samantha Teran turned in the performance of the day as she came from two games down to beat Misaki Kobayashi in 71 minutes, the same time it took Malaysia's Delia Arnold to beat Coline Aumard.

The qualifier lineup is completed by England's Emily Whitlock and Welsh number one Tesni Evans.

All of today's winners are back on court in the first round tomorrow, starting at noon and finishing with four matches on the glass court from 17.30.

Qualifying Finals:

Mariam Metwally (Egy) 3-0 Salma Hany Ibrahim (Egy)
11/9, 11/6, 11/3 (37m)
Samantha Teran (Mex) 3-2 Misaki Kobayashi (Jpn)
4/11, 11/13, 11/6, 11/7, 11/6 (71m)
Heba El Torky (Egy) 3-1 Nadine Shahin (Egy)
6/11, 11/7, 11/9, 11/7 (50m)
Delia Arnold (Mas) 3-1 Coline Aumard (Fra)
10/12, 11/6, 11/9, 13/11 (71m)

Yathreb Adel (Egy) 3-1 Siyoli Waters (Rsa)
11/6, 11/2, 6/11, 11/7 (38m)
Emily Whitlock (Eng) 3-1 Deon Saffery (Wal)
11/6, 12/10, 9/11, 11/4 (53m)
Nouran El Torky (Egy) 3-0 Hania El Hammamy (Egy)
11/4, 12/10, 11/9 (41m)
Tesni Evans (Wal) 3-1 Aisling Blake (Irl)
11/7, 11/9, 5/11, 11-2 (38m)