TODAY at the Women's Worlds
Wec 17th Dec, Day SIX:
Round TWO,
Bottom Half

We know all the quarter-finalists after the second round concluded tonight with the botton half of the draw.

The first two winners were Egyptian, the next two English, guaranteeing an Egypt v England semi-final ...

Wadi Degla Women's World Championship, Round Two:

[8] Nour El Tayeb (Egy) 3-1 [11] Rachael Grinham (Aus)
11/8, 9/11, 11/8, 11/3 (36m)

[3] Raneem El Welily (Egy) 3-1 [14] Dipika Pallikal (Ind)
7/11, 11/5, 11/3, 11/6 (50m)

[5] Alison Waters (Eng) 3-0 [15] Sarah-Jane Perry (Eng)
11/7, 11/6, 11/3 (31m)

[2] Laura Massaro (Eng) 3-0 [9] Annie Au (Hkg)
12/10, 12/10, 11/2 (40m)

Two for Egypt, Two for England

The Wadi Degla crowd were delighted as Egypt's Nour El Tayeb bcame the first winner of the day, getting the better of former champion Rachael Grinham in four games of rapid action squash, Tayeb's movement in the end proving too much for Grinham's shotplay to counter.

An Egyptian semi-finalist was guaranteed when Wadi Degla's own Raneem El Welily recovered from a game down to beat Dipika Pallikal. The third seed took ain injury break to attend to her ankle at 3-all in the first, and although she lost that game her shotmaking proved decisive in the next three.

In an all-English match it was Alison Waters, the fifth seed, who prevailed in straight games against Sarah-Jane Perry. There were no thought of having won the world teams together last week in Canada as Waters took early control and never showed and inclination to relinquish it.

Defending champion Laura Massaro made sure of an English semi-finalist as she beat Annie Au in straight games, but the world number two had to save a game ball in each of the first two games, taking both 12/10 before easing through the third.




EN BREFS

Photo Galleries


a trip to the pyramids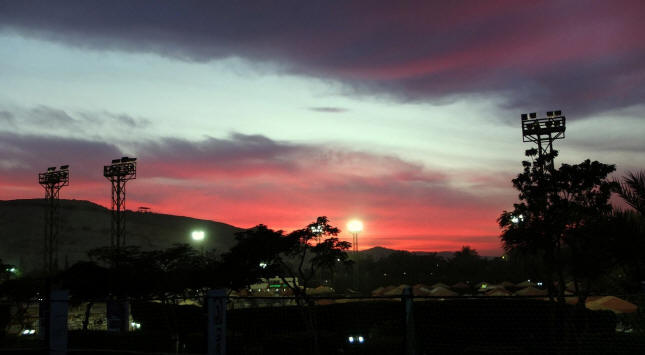 It's so hard for me to play Rachael, for different reasons. First, she is so umbelievably talented and skilful, but also, she is my role model, I love watching her play, but at the same time, I need to take my space when I play, it's so hard….

At the start, the ball was very soft, and it suits her game better than mine.

I tried to focus, and stick to my game plan, doing what my coaches were telling me to do, hit as hard as I could and not play any soft ball or a shot in the middle. Did you see what happened when I did play soft shots in the second? She did the same shot 5 times, and 5 times, I couldn't get it. I felt so stupid. ..

I am so happy to win today, especially as my Dad, my Mum and my sister were watching. They hadn't be seen playing for a long time and reaching the quarters of the world champs is my best achievement so far…

I'm happy with the way I handled it in my head…. I kept pushing and pushing, telling myself that an opening would come…

I didn't put any pressure on myself for this tournament, I don' t have any expectations, because I am in the middle of my final exams, I have a big one tomorrow at 10.30, yesterday evening, I was studying for 5 hours with a friend of mine. So I guess the fact I didn't expect anything worked!

But tomorrow, I'll have to be sharper and will need to take the ball earlier…



[8] Nour El Tayeb (Egy) 3-1 [11] Rachael Grinham (Aus)
11/8, 9/11, 11/8, 11/3 (36m)

And Rachael was still running, and lobbing….

Like Nour, I have an utter admiration for Rachael and today is not going to make me change my mind…

Rachael explained her last days schedule to me in a quote after her match in the first round. Have a look, it's worth it! Let me only say that she doesn't where she lives at the moment, or what time zone she is in!

But today, for the first three games, it didn't show. After a slow start in the first, led 1/4, 2/5, 3/6, she found her magical tactic, to come back at 6/6. I could see Nour getting more and more worried, but still the young lady, 21, managed to finish the game better, 11/8 for Nour.

The second was a Rachael Masterclass into "how to roll a talented young player into flour"! Nour was dominating the game completely, 8/3 in no time. Rachael, grinded her down, point by point by point by point, lobbing, volley drops, changed of angle and direction, height, width, the lot. Seven points in a row to get to 10/8, and took the game 11/9. Just amazing….

The third was a beauty as well, with nothing between the players between 3/3 and 8/8, amazing crafty and sharp and inventive and full of flair game. But at 8/8, the Australian hit the wall. At 37, the body just said, "I have enough girl, let go and celebrate Christmas"… 11/8 to Nour. And in the 4th, she just never showed up.

But what a beautiful match, so few calls/decision, flowing and clever squash. A joy.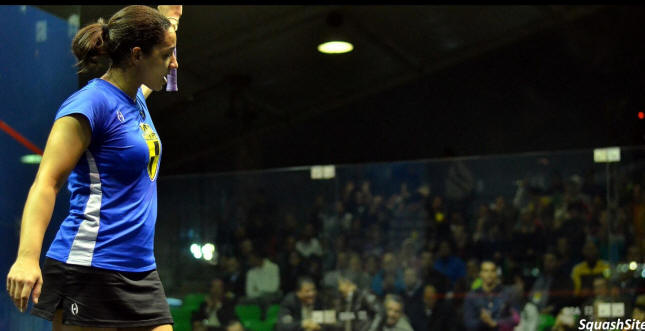 [3] Raneem El Welily (Egy) 3-1 [14] Dipika Pallikal (Ind)
7/11, 11/5, 11/3, 11/6 (50m)

Raneem riddled with bad luck….

Flashback. Middle of the first game, match against Habiba. Raneem gets hit just above the left eye, and finishes the game with that eye fully closed; "oh sh…." will be Omneya's comment as she sees her mate at the end of the match.

Back to today. 3/3 in the first game . Raneem goes for the ball, and twists her right ankle. Like she did she tells us 2 months ago.

If anybody tells you that Raneem is not strong mentally, you've got my permission to smack them.

Back after the normal 3m injury break for self inflicted injury, Raneem is back on court, but not moving as freely as she normally is, her ankle heavily strapped by a black ankle brace. Dipika is playing extremely well in that opening game, aggressive, sharp and wrong footing her opponent, she seems as well to read Raneem's game rather well. Result, 11/7 Dipika.

Playing a superb clever and tactically spot on squash, Raneem dominates completely game 2 and 3, 11/5, 11/3. I guess when you can't move, you HAVE to play your best squash....

A bit of drop of energy/mental adrenalin in the 4th, Dipika taking full advantage of it and playing as well as she did in the 1st, varying the angles beautifully. 4/1. But Raneem lapse of focus/breathing time is short, she comes back 4/4, with the momentum coming from the Wadi Degla audience, 10/5 and 11/6…

Very few decisions, the girls calling their shots out, very pleasant game indeed…

Now, for Raneem, the doctor seems hopeful, and she should be ok tomorrow isA….



I twisted my ankle trying to get to the ball, and the thing is about two months ago, I did exactly the same thing, so I knew what was happening, I know what to do, and I was lucky to have with me my ankle brace, and also a great team of medic that was able to help on the spot.

The good thing about the brace is that I know I was not worsening the injury and that I could play on it.

I'm happy with the way I handled the situation mentally once the incident occurred, I was not feeling too bad, it was a question of holding it together mentally.

I'm obviously happy I won, but of course, I am worried for tomorrow.


[5] Alison Waters (Eng) 3-0 [15] Sarah-Jane Perry (Eng)
11/7, 11/6, 11/3

Waters pulls rank

In an all-English match it was Alison Waters, the fifth seed, who prevailed in straight games against Sarah-Jane Perry.

There were no thought of having won the world teams together last week in Canada - Perry put England into the lead in the final against Malaysia and Waters won the decider - Waters took early control and never showed and inclination to relinquish it.

Waters, using the volley to twist and turn her opponent to great effect - Perry went sprawling to the floor a few times - led throughout the first, pulling away from 6-4 to 10-5 before taking the lead 11/7.

After an even opening to the second Waters again eased ahead to 7-3, this timi finishing it off 11/6. Waters continued the momentum into the third, was quickly 8-1up and there was no way back for Perry as Waters claimed the first English spot in the quarter-finals 11/3.

We are very good friends, we just spent a week together in Canada getting our World title, we play for the same team, it's never easy but it's the world champs, everybody wants to win.


I think I played pretty well there. I think I adapted to the court better, it suited my game better, I was picking her shots better than she picked mine.

The key was my length and my width today, I was finding my targets very well..

She is a fantastically talented player, give her anything loose and she'll punish you, so I'm and really pleased to get off in three against such a talented player.


[2] Laura Massaro (Eng) 3-0 [9] Annie Au (Hkg)
12/10, 12/10, 11/2 (40m)

Could have gone either way….

Very strong mental and tactical performance from the World Champion Laura Massaro tonight!

She started very well against Annie who visibly was struggling with the court, as it was her first time on there, Laura having played Mariam Metwally on the first day. By the time Laura leads 7/4, Annie has made 5 errors!

Finally getting used to the conditions, Annie keeps Laura in sight, only to catch up with her from 9/6 to 9/9. Nervous time for the English coaches sitting next to me, with "come Laura" being shouted every rally.

Annie scores her 4th point in a row to set up a game ball, 10/9. But Laura knows how to finish a game, and scores the next three points, 12/10 with the loud COME ON as she leaves the court.

The second is more balanced the whole way, the girls being neck to neck from 3/3 to 9/9, yet again. Annie is playing her normal backhand crosscourt lob to get Laura on her backhand, while Laura is pushing Annie on the deep right side – Annie's backhand – as the Hong Kong girl struggles a bit in that corner to get powerful shots.

Battle of sides, battle of will, tactical game. I could have missed the others, but I saw Annie play only one boast at the back of the court the whole match. All lobs, drives or straight volley drop shots. Very particular game plan…

Anyway, back we are at 9/9 in the second, and again, Annie gets first blood, 10/9. And we get another loud COME ON as Laura saves it again thanks to a deep crosscourt on Annie backhand. 12/10 for Laura, excellent accurate squash from the English at the end of the game, as she did in the previous one.

The third is truly a formality, 11/2, although her husband kept "Come Laura" each point of that game. They were that worried about the match, as Annie seems to manage to get into Laura's head at times. Not today though. Laura will be relieved/happy with her performance.

Alison next…

The score – two tie-breaks show how tight it was.

It's the fifth time I'm playing her this year, I guess I'm getting to grip with what I've got to do, if I'm doing it fine, if I don't I'm in trouble.

Very difficult to play a team mate tomorrow, we just spend a week together, it's going to feel weird to play her that quickly. I saved four match balls in Penang, I'll try to not do that again!!!

Hard conditions, the court feeling very dead, and being the last match on makes it even harder, it gets really cold out there. And with the way Annie played, it really made it very hard for me, she takes the ball very early and volleys a lot.

She was volleying a lot on my backhand, and with the conditions being what they were, if I'd let the ball drop, I wouldn't have been able to pick it up or having to boast it and then I would be in trouble. So I made sure I volleyed those lobs and over her if I could.

I played tactically very well, plus mentally every time I was 10/9 game ball down, then takes it on my first game ball. Actually, I think that my biggest strength are my adaptability (to court conditions, temperature, etc), and my ability to stick to a game plan.

Both I think I did well today…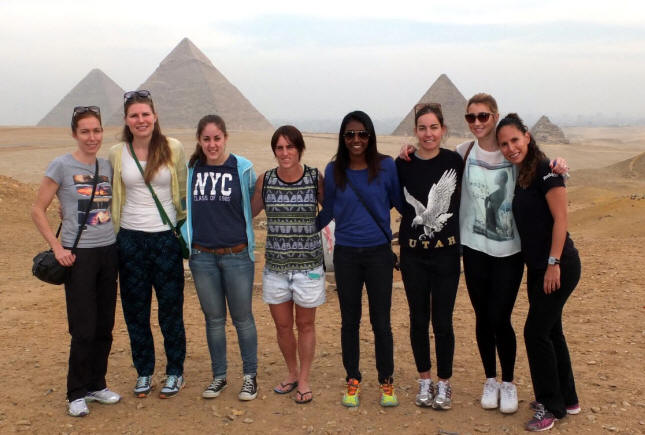 A trip to the Pyramids - lots of photos in the gallery ...