TODAY at the Women's Worlds
Thu 18th Dec, Day SEVEN

Quarter-Finals:

[1] Nicol David (Mas) 3-0 [6] Camille Serme (Fra)
11/9, 11/7, 13/11 (43m)
[10] Omneya Abdel Kawy (Egy) 3-0 [7] Low Wee Wern (Mas)
12/10, 11/3, 11/4 (30m)
[3] Raneem El Welily (Egy) 3-1 [8] Nour El Tayeb (Egy)
11/7, 11/9, 11/13, 11/5 (43m)
[5] Alison Waters (Eng) 3-1 [2] Laura Massaro (Eng)
12/14, 11/2, 11/7, 11/9 (52m)

Waters dethrones Massaro
as two Egyptians join David in the semis ...

Top seed Nicol David was the first player to reach the semi-finals with a straight-games win over Camille Serme that was much tougher than that bare statistic implies. Having never beaten David in 13 previous attempts, the Frenchwoman made a good start, leading 9-6 before David took five points in a row to lead 11/9.

The Malaysian was in front throughout the second, takingh it 11/7 and pulled away from the middle of the third to lead 10/7. Serme saved three match balls, but David was not to be denied, taking it on the fifth attempt 13/11.

"I knew that Camille would bring her best squash that she would be fired up, and that I would have to step up my game," said David, now potentially two matches from an eighth world title.

Low Wee Wern made a good start in her bid to make it an all-Malaysian semi, but from 5-0 down in the first Cairo's own Omneya Abdel Kawy proceeded to dominate the rest of the match, edging the first on extra points then overwhelming Low in the next two games to the delight of Kawy herself and the Wadi Degla crowd.

"I just played, point by point, point by point, and it worked really well," said Kawy. "Oh my God, I'm back in the semis of the Worlds in Egypt!"

The crowd were just as happy when Wadi Degla favourite Raneem El Welily won her all-Egyptiuan match with Nour El Tayeb in four games. Welily was always ahead as she took the first 11/7, then held off a fightback from Tayeb at the end of the second to double her lead 11/9.

The third was close, this time Tayeb saved a match ball before taking it 13/11, but Welily was back in charge in the fourth as she took the match 11/5.

"Today, I tried to stay patient and strong," said El Welily. "A great match with Nour, a great friend and a sister."

The final match of the day saw the defending champion ousted as Alison Waters came from a game down to beat Laura Massaro in an all-English battle.

Waters led 7-2 and 9-6 inn the first but Massaro, as she did yesterday, clawed back to take the game on extra points.

But Waters responded to that by taking the second 11/2, staying ahead throughout the third to take the lead and got the better of a close third, Massaro's reign ending on a no let from Waters' dropshot.

"This is a big win for me, I'm in the semis of the Worlds," said a delighted Waters. "It could have gone either way in the fourth but I came here to prove to myself what I could do mentally, and I'm pretty proud of what I've achieved."


"So, you've just beaten the World Champion ..."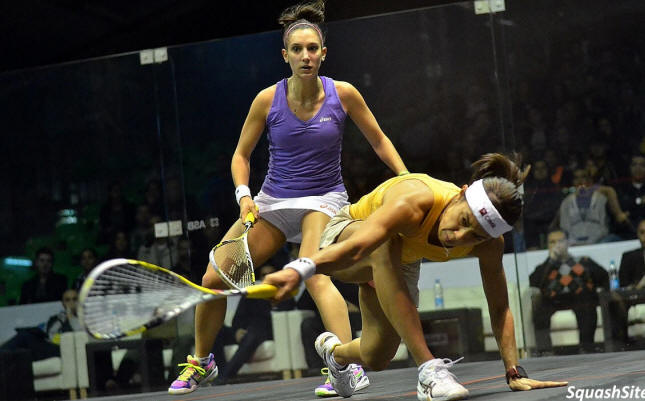 I knew that Camille would bring her best squash that she would be fired up, and that I would have to step up my game.

The first, she really played some good squash, so I knew I had to increase the intensity in the second. And in the third, I maybe didn't go for my volley as much as I should have, and suddenly, Camille found that little extra, and found some amazing winners to level the score at the end.

But there was a fine line and she started to clip a few shots. I knew that I just had to hang in there, and stay in the game. It was an all go squash all the way; I love it… But getting a 3/0 result against Camille is a great result, I'm very happy with that.


What keeps me going, is that I always find new things to add to my game, and also, that feeling you get when you are on the glass court, you cannot beat that feeling, and that makes me want to go on and on.

In the near future, yes, I was probably have my own academy, but first, we need to spread Squash all over Malaysia and make as many juniors play squash as possible.



[1] Nicol David (Mas) 3-0 [6] Camille Serme (Fra)
11/9, 11/7, 13/11

Faultess Squash for Nicol

Literally. Nicol didn't make one error throughout the whole match. Camille 4 in the first, 2 in the second, and 5 in the third (3 from 10/10….)

A very clean and fair match, on a not too cold court that allowed some nice rallies between the two girls that just played last week in Canada – same score, 3/0.

A good start in the opener for Nic, 3/1, 4/2, but Camille looking fresher she's been looking all week, 4/4. 6/6. And suddenly, Camille finds her game, attacking so well, putting Nicol under a hell of a pressure, 9/6. The Malaysian doesn't panic, she just length the shots, and the rallies to score calmly the next 5 points, with the help of two unforced errors from Camille.

I believe that was a crucial game for Nicol to win. Mentally more than anything else…

Camille looked a bit tired in the second, her serve that was so good in the first was not as sharp, her counterdrop, so efficient today, let her down too. She kept trying to push herself, but Nicol was in total control from 3/3, 8/3, 9/5, 10/6, 11/7.

The third saw the resurrection of the French girl that just got it all back. Nicol kept varying the height, crosscourt lobs and dangerous low drives to get from 5/5 and match ball, 10/7. And that's when Camille finally relaxed and became extremely dangerous. The mammoth rally she won at 10/7 really gave her wings. Point by point, Cam just strung the points up to 10/10. A little clip of the tin, 11/10, a 4th match ball, saved with a lovely volley backhand drop shot, but Camille will clip the following two points, allowing Nicol to transform her 5th match ball, 13/11….
[10] Omneya Abdel Kawy (Egy) 3-0
[7] Low Wee Wern (Mas) 12/10, 11/3, 11/4

Brave Wee Wern, Clever Omneya

It was not an easy match for either of the girls. Omneya first, riddled with stress and pressure, I think she reallllllly wanted to reach the semis, she really needed to do go and play well in front of the Egyptian crowd. Only when you've been in Egypt, and heard the chanting of your name by that adoring crowd, only then you understand how those Egyptian players grow wings back home.

Verrrry nervous start for Omneya, H2H standing at 1/1, 0/5, 4/9, with Wee Wern being her patient self and pushing the Egyptian that far back in the court she has to go for far too much. But carried by the crowd – sorry I'm hammering the point, but she was – she'll score 6 points in a row, and level the score at 9/9, then hitting some tremendous power to get her first game ball, 10/9. She'll need a second one, 12/10 for the Egyptian, a real tour de force…..

To be fair, after that, WW was a shadow of herself. As the courageous girl/fighter she is, she never gave up, but Omneya kept playing a crosscourt flick again and again that the Malaysian couldn't even start moving too. Still, Omneya had to be extremely careful, because any opening, WW would find the opportunity to send her to the back.

Still, at the level of the game, playing with a damage adductor is not allowing you to put enough pressure on your opponent. And quite logically, Omneya won the next two comfortably, 3 and 4.



I was sooo nervous, not about the match, but me playing badly, and I made myself play badly.

But when I saw all the people in the back, I just wanted to get back in there, and win or lose, show WW that I was still there, that I was back in the match.

And I just played, point by point, point by point, and it worked really well.

WW's movement was not good today, and I took full advantage of that. I know that'snot good but I had to.

3/0, I've very happy with that, OH MY GOD!!! I'm back in the semis of the worlds, in Egypt!

I got to the final in Sharm, against Nicol, so that's the rematch, that's my REVENGE!!!

And may the best player win….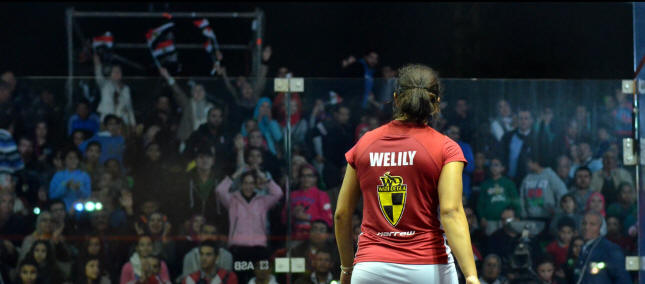 I am over the moon, and Hamdoulillah I'm out of the court in one piece today!

A huge thank you to the doctor who kept me on my feel today.

Today, I tried to stay patient and strong. A great match with Nour, a great friend and a sister.



[3] Raneem El Welily (Egy) 3-1 [8] Nour El Tayeb (Egy)
11/7, 11/9, 11/13, 11/5 (43m)

Sisters' match…

What a pleasure to watch those two moving on court. As tonight was not as cold as it was the previous days, we managed to have some lovely rallies, every between two Egyptians!

First game, Raneem is a bit cautious with her movement, just in case you didn't read my report yesterday, Raneem got injured in the first game yesterday, ankle twist. On the other side, Nour has got nothing to lose, no expectation – she is in the middle of her Finals at Uni Economics.

Nour goes up 4/1. Raneem, playing her best squash – you have to when you can't move/are afraid to move – comes back 4/4. She then finds some superb soft drop shots, helped by Nour playing a bit too slow and too short, from 5/5, 9/6 and 11/7.

The second is very close indeed. Nour has picked up the pace, and is putting Raneem under much more pressure, although still a bit too short. 1/1. 3/3. 5/5.

Again like in the previous game, Raneem gives a push, 8/5. But this time, Nour is watching, and finally finds her length – and some dives/splits all over the court, 9/9. There, a stupendous rally, diving, diving and diving again, but Raneem's short game is just pure feathr, a backhand drop short, and a second one to make sure, 11/9.

The third is a bit of a typical Raneem. Her mind probably at rest as she sees that her movement is acceptable, she leads nicely 2/0 up and 7/3, annnnnd off the mind goes and relaxes for half a minute. That's enough for young Nour. She rushes in there as buyers during the Harrods sales, and within minutes, Nour scores 6 points, 9/7!

Wake up call for Raneem, everrrrrrybody up! 9/9, and match ball, 10/9. A trickly boast saves it. And Nour won't be denied on this one. She worked hard at it, and gets it quite logically, rewardingly, 13/11 on her second game ball.

Back to the blackboard for Raneem. Back her bast, she finds some lovely length and volleys all over the place, 7/3 up again for the Wadi Degla girl. Annnnd again, Nour gets right in there… ! Are we going to have a 5 setters?

4/7. 5/7…. A long rally…

The whole of the Mansi/Momen breathes. No, not this time. Raneem feels the danger sooner, take the serve back, 8/5, match ball 10/5, and match Wadi Degla.

Chanting from the crowd, chanting from the Kids, like in Qatar for Ramy and Mohamed. It gets me every time. Only Egyptians can get behind their players. Like Welsh with Rugby… In love with Egypt.
[5] Alison Waters (Eng) 3-1 [2] Laura Massaro (Eng)
12/14, 11/2, 11/7, 11/9 (52m)

Waters ends Massaro's reign

The final match of the night, an all-English matchup between th reigning world cjhampion Laura Massaro and reigning British champion Alison Waters - who together won the World Teams for England just last week - promised to be an enthralling encounter, and so it proved.

Waters, full of confidence after winning the deciding tie for England in Canada, stromed into the lead in the first, but from 2-7 down Massaro battled back, as she does, closing to 6-9 and then two unforced errors from Waters brought Massaro to within one point.

Waters would get game balls at 10-9, 11-10 and 12-11 but Massaro saved them all and took the lead 14-12 with a drive that died at the back.

The Waters of old might have folded at that, but today she stormed back, dominating the second for an 11-2 win, and then pulled clear from 3-all in the third, taking the lead 11-7 and looking very much the likely winner.

The fourth was close, with neithe rplayer able to get more than a point or two ahead. From 7-all Massaro took two points on Waters errors, but then received a no let on Waters' drive down the backhand before a counterdrop clipped the tin for 9-all.

Waters, still looking for the opportunity to punish anything loose, put in a backhand drive that Massaro again got a no let on for match ball, then a similar drive down the forehand and after what seemed an agaonising wait another no let decision came and Waters was the Englishwoman in the semis.



This is a big win for me, I'm in the semis of the Worlds...

We've grow up together as juniors, we are good team mates, and we know each other's game pretty well. And yes, I had a good H2H against her, but then again, I didn't beat her recently, and the last time we play was at the Commonwealth, and that was not my best game by all means.

In the second, I don't know, the court temperature dropped suddenly, I was hitting my targets really well, and Laura lost her length. Ball went very cold, and one you have the momentum on there, you just keep going, and it would have been difficult for her to find her length back.

Playing in Canada gave me a lot of confidence. I learned a lot about myself there, after I lost against Joey, I came back very strong and played a very good match against Wee Wern.

I realised that I was actually mentally very strong, I believe in myself much quotes, and that gave me the confidence that I was lacking for the last months. And I basically picked up my game this week here as I left off.

In the fourthth it could have gone either way, 9/9… And I'm sure we'll have a lot more battles in the future. But I came here to prove to myself what I could do mentally, and I'm pretty proud of what I've achieved…