TODAY at the Women's Worlds
Tue 16th Dec, Day FIVE:
Round TWO, Top Half

Wadi Degla Women's World Championship, Round Two:

[1] Nicol David (Mas) 3-0 [Q] Emily Whitlock (Eng)
12/10, 11/9, 11/1 (42m)

[6] Camille Serme (Fra) 3-1 16] Emma Beddoes (Eng)
11/5, 11/13, 11/4, 11/4 (50m)

[10] Omneya Abdel Kawy (Egy) 3-0 Nouran Gohar (Egy)
13/11, 11/6, 13/11 (38m)

[7] Low Wee Wern (Mas) 3-2 Joshana Chinappa (Ind)
6/11, 11/3, 11/13, 11/7, 11/8 (64m)


Seeds through as round two begins ...

The first match of round two saw top seed Nicol David through to the quarter-finals with straight-games win, but qualifier Emily Whitlock pushed the seven-time champion all the way for the first two games.

The Englishwoman led for virtually all of the firsat, only to see David snatch it 12-10, and led 9-8 in the second which David took 11-9. That was the end of the challenge though as David dominated the third.

David will meet Camille Serme after the French sixth seed overcame another Englishwoman, Emma Bedoes, in four games. Serme took three games fairly comfortably, with Beddoes unable to maintain the form she showed to take a close second game.

Omneya Abdel Kawy won her all-Egyptian match with yesterday's giantkiller and Wadi Degla favourite Nouran Gohar in straight games, but it was tougher than that. Kawy edged the first, then pulled clear to double her lead after a stoppage for a grazed knee for Gohar.

The youngster struck back in the third though, and Kawy had to save three game balls to take it to extra points before taking the win on a stroke down the middle of the court on her second match ball.

In the final match Malaysian Low Wee Wern came through a second successiver five game encounter, once again coming from 2-1 down to win.

It wasn't the shootout you sometimes see Chinappa playing as she match the Malaysian in patient accurate play with few errors from either player. Chinappa's comeback from 4-8 down in the decider was stopped by a Low serve into the nick after just over the hour.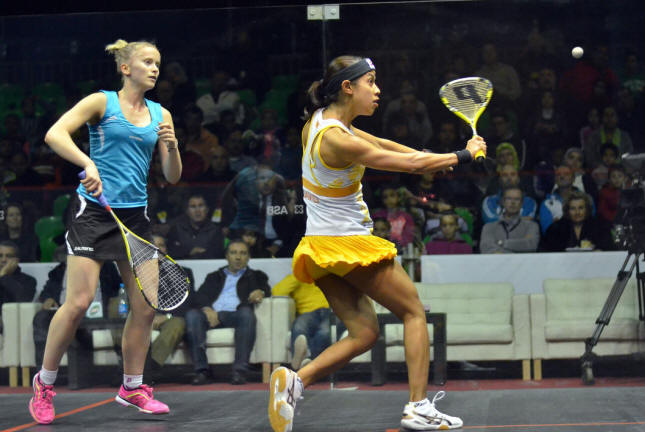 She played really well for the first two games in particular, she is a great young player, she just beat Jenny Duncalf, so I was expecting a tough match. Very happy to win 3/0!

She is a very tactical player, fast and quick, and she keeps going on! We played a really good match I think. I am getting used to play her, it's only the second time I am playing against Emily.

With conditions like that, of course she was going to attack when she had the opportunity. So I tried to take control and dug in!

She is a very determined player, and definitely one to watch out for.

And I think it's actually a good thing to have such a big match, the level is going to only get higher, this was a good way to prepare for it.



[1] Nicol David (Mas) 3-0 [Q] Emily Whitlock (Eng)
12/10, 11/9, 11/1 (42m)

Nicol under a lot of English Pressure

My word, Emily will be delighted with her week in Cairo, and most particularly with her match against Nicol. From the first rally, the young English girl, 20, never bowed to the seven time world champion. Noooo respect at all bless her. "I'm her eto beat you" she seemed to say at every rally.

Basically, in the first two games, there was not one short rally. Or a shot with no purpose. And Emily played out of her skin. Nicol was the one on the back foot, at the back of the court, while Emily was despatching the shots in the four corners, forcing Nicol to run and run and run, even more than usual! Everything was smiling to Emily today….

The English led comfortably 7/3, just playing superb and flowing squash, very few decisions, what a beautiful squash. But Nicol, although her new found short game was not working as well as it did recently, ground her way back, as only her can do. 7/8 she came back, then 9/9.

Rallies were superb, accurate, sharp from both girls, with Em attacking, and Nicol, well, picking it up and sending it back with interests… Nicol needed two game balls to close the opener, 12/10, what a game that was.

And we went for another one of the same calibre really, but this time, Nicol a bit ahead score wise, 7/4. Then we had a rally of all rallies, shame no recording of it, but it was so intense, so relentless attacking from Emily that I can say I saw Nicol stopping running. I kid you not.

That good. That intense. That beautiful.

It gave huge confidence to Em, 8/8, 9/9, but a bit more fuel in the tank for Nicol – as ever, so good at ending the games – and it's 11/9 to Nicol.

The third, you won't be surprised if I tell you that Emily was a bit tired, and Nicol-Awy reappeared, planted on the T, and dispatching the winners. 11/1.

But what a magic two first games. Good work. Truly good work. Excellent squash. I like.
[6] Camille Serme (Fra) 3-1 16] Emma Beddoes (Eng)
11/5, 11/13, 11/4, 11/4 (50m)

Camille gets better and better

It's no secret that the French number 1, WR6, has been a bit tired, and was probably not looking that forward to a huge battle with the very strong and fit Emma, WR19.

Emma is one of the few ladies that happily dive and she is not somebody that stops. Ever.

First game, Cam is control, I guess it also took a little while to Emma to get used to the glass court, it was her first game on there, whereas Camille had already played yesterday.

Still, Camille was doing a lot of errors – actually, Emma 5 points are coming from 5 errors from Camille. Despite that, the Frenchgirl managed to get ahead 8/5, before Emma kindly gave her three tins in a row, 11/5.

Second game is completely dominated by Emma, 7/1, 9/5. Camille has cut the errors down to 1, but the energy and power in on the English side.

Still, a lot of work is being done by Emma, 2 tins will be a bit of breathing line to her opponent, who then comes back to 9/9, 10/9 game ball.

Camille won't be able to transform that one, or the following one, at 11/10. It's actually Emma that finally get the game, 13/11.

But from the start of the 3rd, it's obvious that Emma is tired, and Camille takes that game rather comfortably, 5/1, 8/2, 11/4.

The fourth will be on the same pattern, 5/1, 8/3, 11/4. Still, some great rallies, Emma like I said never gave up, and we even had a little dive at 7/3… But the pace and the mixing of height imposed by the French girl was just too grinding in the end…




It was tough, it always is against Emma, we always have great battles, we actually are good friends, she speaks French which helps me, but on the court, you've got to forge your friends!

She is such a fighter, she never gives up…

In the first game, it was surprising, I felt I actually had a better length that she had, and it helped me a lot. But it's in the second I dropped it and found myself down, 7/1, crosscourting the ball far too much as well.

I get back in the game by straightening it back but I lose the game only just. It didn't matter that much, I knew that I had make her work phyisically, and that it would pay off later maybe.

The third, I saw she was a bit tired, and the 4th, well, I completely relaxed with my drop shots, I was able to make her work even more, playing even more short shots, like my coach was advising me to do.

But now, I have reached my seeding, I'm in the last top 8, and I can relax. Nicol next, I was truly impressed today with the way Emily played in the first two games…

And I don't know, the fact Nour lost in the first round sorts of gives us the feel that it is possible, that the top seeds may fall…

It's so nice to come to Egypt, I have come many times, and people are so nice, so welcoming…. I love coming here…. Tomorrow, relax, and who knows, even a bit of sightseeing…




In the 3rd, I knew I had to come back from 10/7. And I told myself, it's ok, you are the one that gave her the points. I made a lot of unforced errors, she didn't win it.

So, back to basics, just make her work in the back corner, and just push hard. She was so quick to get to the front, so I made sure I mixed the shots, front and back. But I knew I have to win 3/0. It's much easier to win from 2/0 up than from 2/1 up!

And you know, those young players, they are fresh, and if you give them a game, they get confident, while you are starting to think and ask yourself questions…

And in the first game, I also kept talking to myself "you've got to win the first game" because in Monte-Carlo, she won the first game on the tie-break.

And I really needed to break her confidence, break her down. I am talking a lot to myself now, I am working with a sport psychologist, and it's working I think. Because that's what I need now, to get tougher and tougher mentally…



[10] Omneya Abdel Kawy (Egy) 3-0 Nouran Gohar (Egy)
13/11, 11/6, 13/11

Omneya shows who's boss

After a mid paced and very long rallies in the first match, Nic/Em, then faster pace/mixed angles in the Cam/Emma, we had the Shooting out of OK Corral. Blessssss.

Well, when you have a cold glass court, and two Egyptians, you sort of know it's not going to be a marathon is it… Intense, yes. Brilliant yes. Fast flashy hard to follow squash, yes.

It was all that. Omneya today displayed some mental strength, as she came back from two game balls down in the first game, and three in the third!

And I could feel that Omneya wanted to show who was boss. Although great squash was coming out of Nouran's racquet, the local favourite, Omneya was as sharp as ever, and reading/anticipating the shots still beautifully.

Yes, you can run Omneya out, but you need to be bleeping good/sharp at it, cause she knows exactly where you are going to play your shot even before you know yourself where you are going to play it!

First game, not one error, close all the way, 10/9 and 11/10 game balls for Nouran, but game 13/11 to Omneya. Second will be all Omneya, 5/2, 5/5, 11/6 – Nouran getting her breath back…

Third, excellent start for the Wadi Degla girl, 3/1, but close after that, 3/3, 5/5, 7/7. But it's Nouran that's got the momentum, as she scores 5 points from 5/7 down (thanks to 4 tins from Omneya! 10/7, it looks all over for Omneya, but no. "It's easier to win from 2/0 up than 2/1 up" she smiles at the end.

So she dugs in, and basically, will save the three game balls, and will take the match on her second attempt, 13/11. Short, intense, good quality match indeed…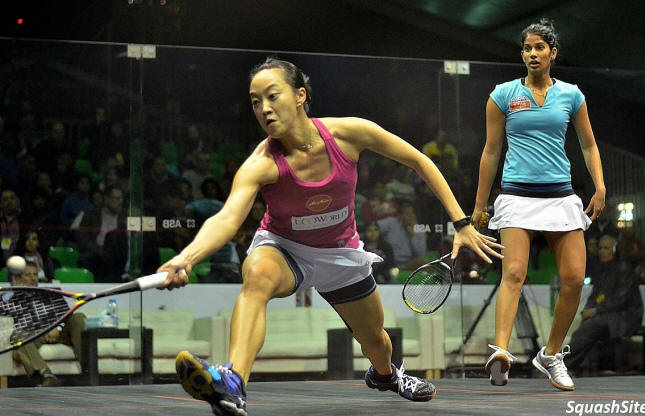 [7] Low Wee Wern (Mas) 3-2 Joshana Chinappa (Ind)
6/11, 11/3, 11/13, 11/7, 11/8 (64m)

Low in five again

In the final match Malaysian Low Wee Wern came through a second successiver five game encounter, once again coming from 2-1 down to win.

It wasn't the shootout you sometimes see Chinappa playing as she match the Malaysian in patient accurate play with few errors from either player.

Chinappa got a good start, converting a 7/3 lead to take the opening game11/6, but Low was equally dominant in the second as she levelled 11/3.

Chinappa took a good lead in the third, but from 3/8 and 8/10 down Low levelled, before Chinappa finally reagined the lead 13/11 on a stroke. Low again responded, maintaining a cushion throughout the fourth to level 11/7.

After a good start by Chinappa in the decider, Low took six points in a row to lead 6/3, but with the rallies lengthening and the lets increasing, Chinappa's started a comeback from 4/8 down, getting as close as 9/8. It was Low though who tookthe final two points, a deceptive crosscourt followed by a serve into the nick after just over the hour mark.





For a long time, it's been only Nicol in the last 8, so it's good for us to have two of us in there now…

Joshna played very well today, I think she really wanted to be the first Indian to reach the quarters of the worlds, and she played very well indeed, giving me a very hard time. She had nothing to lose….

It was my first time on the glass court, so it took me a little while to adjust.

As you could see on there, I was not moving freely, my movement is still impaired, my left adductor, so when you are not fit, you have to rely on your mental strength and squash domination. I now have a day of rest tomorrow, which is good.

Then I'm playing Omneya, one of the best hands of the circuit, it's only going to get harder from here…