Thu 21 Jul, Day SIX
Teams coming down to the wire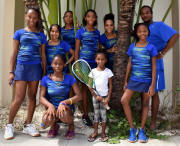 It was the third day of the team event at South Sound Squash Club, and the medals are getting closer.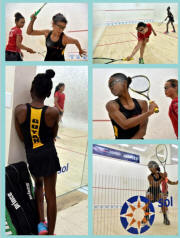 The afternoon matches saw all six Girls teams in action for the third time.

Barbados made it three out of three with a 5-0 win against Cayman; Guyana also stayed unbeaten as they inflicted a first defeat, 4-1, on Trinidad; Jamaica recorded their first win with a 3-2 victory over Bermuda.

The Boys' semi-finalists were settled tonight.


Guyana and Cayman met to decide top spot in Pool B, and Guyana took a crucial advantage as they took the opening U17 tie 11/9 in the fifth.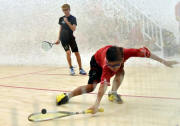 Guyana extended their lead in the U13 tie, and although individual champion Julian Jervis pulled one back for the hosts, the match was sealed as Daniel Islam won the fourth tie to take the match for defending champions Guyana.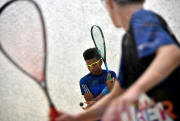 In Pool A Barbados cruised to a 5-0 win over Bermuda to clinch top spot - and a semi-final against Cayman - while OECS, despite only fielding four players, took the first three on-court matches, beating Trinidad 3-2 to claim second spot and a semi-final against Guyana.
Wed 20 Jul, Day FIVE
Favourites continue their winning streaks
The team event continued with six more matches today.


In Boys Pool A Barbados made it two wins out of two with a 5-0 demolition of Trinidad, while OECS recorded their first win as they came from two-nil down to beat Bermuda.

Defending champions Guyana played their first match against Jamaica, who put up a great fight before losing out 3-2. That leaves Jamaica out of semi-final contention while Guyana meet Cayman to decide the group.

In the evening Girls matches Guyana, Trinidad and Barbados all collected a second win as they beat Cayman, Bermuda and Jamaica respectively.


Jamaica gave Barbados a scare as the took a 2-1 lead, but with three individual champions to call on the top seeds were never really in danger as Sumairaa Suleman, Meagan Best and Amanda Haywood dropped just five points between them.

Suleman won 33-0 against a permanently smiling Alia Haddad, Best won 2, 1 and 0, and Heywood tried to serve out at 10-0 in the first but placed a perfect winner, then successfully served out in the next two games!
Tue 19 Jul, Day FOUR
Team events get under way ...

Day four of the MAPLES Caribbean Champs saw the start of the team event at South Sound Squash Club.
First up were three Girls matches with all six teams playing in a round-robin event.




Defending champions and top seeds Barbados got off to a good start with a 5-0 win over Bermuda, Guyana - champions for nine years in a row before last year - repeated that scoreline over Jamaica, while Trinidad & Tobago started their campaign with a 4-1 win over hosts Cayman.





Following the opening ceremony it was the turn of the Boys, with seven teams split into two Pools.

Cayman got off to a good start with a 3-2 win over Jamaica in Pool B, both needing to face defending champions Guyana to complete the pool. In Pool A Barbados beat OECS 4-1 while Trinidad came through in the decider to beat Bermuda 3-2.