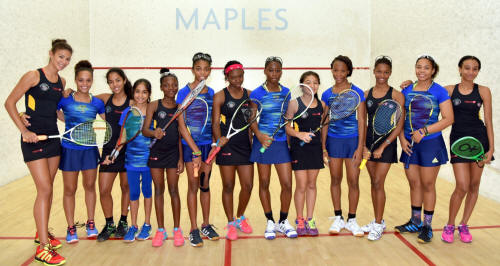 Sat 23 Jul, Day EIGHT, Team Finals:
Barbados and Guyana retain their titles


On the final day at South Sound Barbados and Guyana retained their Girls' and Boys' team titles, with Guyana winning overall team title for the 12th year in a row.

First was a repeat of last year's Girls Final as Barbados aimed to retain the title they won year against Guyana, who had win the previous nine editions.
Girls' Final: Barbados 3-2 Guyana

U13: Sumairaa Suleman 3-0 Aboside Cadogan 11/9, 12/10, 11/3
U15: Meagan Best 3-0 Makeda Harding 11/2, 11/1, 11/2
U19: Chelsie Samuel 0-3 Taylor Fernandes 3/11, 4/11, 6/11
U17: Amanda Haywood 3-0 Rebecca Low 11/4, 11/2, 11/1
U19: Jada Smith-Padmore 0-3 Larissa Wiltshire 4/11, 4/11, 3/11

3rd/4th: T&T 3-2 Jamaica 5th/6th: Cayman 4-1 Bermuda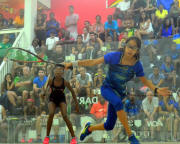 Guyana fielded both U19 finalists, but Barbados had the U13, U15 and U17 champions, and it always looked as though the opening U13 match would be crucial.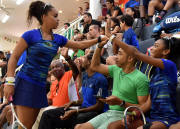 It was a thrilling opener, in which Barbados' Sumairaa Suleman managed to find the winners she needed at the end of close first and third games to give her team the lead.

The remaining matches were all one-sided as Meagan Best put Guyana two up, Taylor Fernandes pulled one back for Guyana and Amanda Haywood finished off the win for Barbados.
The Boys' final saw three-time defending champions Guyana take on hosts Cayman, whose only previous win was in 2010, also held in Cayman [Flashback to the 2010 Finals]
Boys' Final: Guyana 3-2 Cayman

U13: Shomari Wiltshire 3-0 Jace Jervis 11/5, 11/6, 11/1
U15: Daniel Islam 3-1 David Pitcairn 11/6, 8/11, 11/7, 11/6
U19: Benjamin Mekdeci 0-3 Julian Jervis 1/11, 1/11, 2/11
U17: Alex Cheeks 3-1 Jasun Sairsingh 11/8, 11/3, 9/11, 11/8
U19: Rithew Saywack 2-3 Isiah Robinson 12/10 in the fifth!

3rd/4th: Barbados 4-1 OECS 5th/6th: T&T 3-2 Jamaica
Individual U13 champion Shomari Wiltshire put Guyana in front as expected, and Daniel Islam doubled their lead in the U15 match, despite a gallant and determined effort from David Pitcairn.


Julian Jervis took the top string match decisively for Cayman - earning applause from his opponent Benjamin Mekdeci - and as in the girls' match the title was decided on the U17 leg.

Guyana's Alex Cheeks, displaying some tremendous retrieving skills, just held off a comeback attempt from Jasun Sairsingh who ultimately paid the price for too many unforced errors, the large Guyana contingent in the crowd erupting as he held on to take the fourth to give his team a fourth title in a row.

The overall team title went to Guyana, with Barbados in second and Cayman in third.
Presentation photos in the gallery