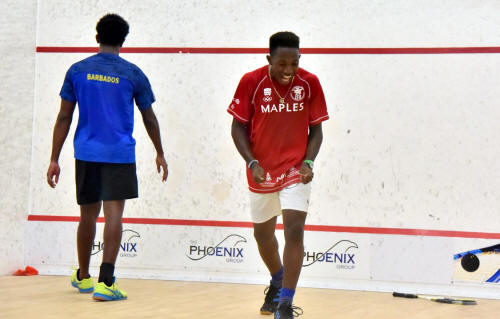 Fri 22 Jul, Day SEVEN
Team Semis - Cayman make the Boys final

After three days of pool matches, the Boys' team event was down to the semi-finals while the Girls played the penultimate round robin matches.


Guyana and Barbados girls' teams both kept up unbeaten records, Guyana dropping the first match before beating Bermuda 4-1 while Barbados won the first three matches against T&T who took the last two.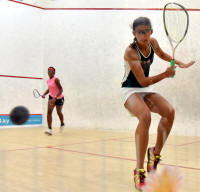 That sets up a final session on Saturday morning where Barbados and Guyana meet to decide the title - as they did last year - while Trinidad and Jamaica - who beat Cayman 3-2 today - meet decide third place and Cayman play Bermuda for fifth.

The Boys' matches were contrasting affairs.

In the 5-7 playoff Jamaica saw a two-nil lead slip before beating Bermuda 3-2 to set up a match against T&T for fifth place.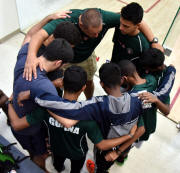 Guyana started their semi-final already one up against four-man OECS, and three-nil wins for Rithew Saywack and Shomari Wiltshire put the three-time defending champions back into the final, despite OECS taking the last two matches.


The Barbados v Cayman semi went down to the wire. Barbados took the lead as Reginald Brewster won in three, taking the first 12-10 from 6-10 down and the third 12-10 from 10-6 up!


Cayman took the lead as the Jervis Brothers Jace and Julian won in straight games, then Khamal Cumberbatch levelled it for Barbados with another three-nil win.

The decider was close, tense and noisy, with the two sets of fans chanting their dialling codes "2-4-6" and "3-4-5", but it was Cayman's Isiah Robinson who held his nerve at the end of three close games to put "Team 345" into a first final since they won the title at home in 2010.




The final round of Girls' matches are at 9.30 on Saturday, the Boys' Final and 3rd./4th are at 12.00.