TODAY in Hong Kong 2012
Wednesday 28th, Day FOUR Fram & Steve in HK

Joshana axes Annie


Omneya ousts Laura


Copps tames Omar


Line dumps Donna

Upsets abound on day four

If there was only one upset on a marathon day three, day four at the Hong Kong Squash Centre saw a more civilised finishing time but four upset results in the bottom half of the draws.

There was just one men's upset as South African Steve Coppinger took advantage of his reprieve from qualifying to oust Egyptian Omar Mosaad, but the women's draw was decimated as second and fourth seeds Laura Massaro and Annie Au - much to the disappointment of the home crowd who had earlier seen Max Lee depart - were beaten by Omneya Abdel Kawy and Joshna Chinappa respectively.

Line Hansen weighed in with a fine win over Donna Urquhart to leave the last sixteen draw looking decidedly unbalanced, and Nick Matthew rounded off the day by thwarting Simon Rosner, the German going home feeling unlucky to lose three-nil.

Men's Round One, Bottom Half:

[5] Ramy Ashour (Egy) 3-0 Tarek Momen (Egy)
11/7, 11/8, 11/2 (29m)
Saurav Ghosal (Ind) 3-0 [Q] Max Lee (Hkg)
11/3, 11/5, 11/4 (42m)
Nicolas Mueller (Sui) 3-0 [Q] Adrian Waller (Eng)
11/9, 11/7, 11/7 (50m)
[3] Gregory Gaultier (Fra) 3-0 [Q] Gregoire Marche (Fra)
11/5, 11/5, 11/5 (39m)
[7] Amr Shabana (Egy) 3-0 [Q] Mathieu Castagnet (Fra)
11/9, 11/7, 11/7 (35m)
Tom Richards (Eng) 3-1 Olli Tuominen (Fin)
11/7, 11/7, 7/11, 11/2 (47m)
Steve Coppinger (Rsa) 3-1 Omar Mosaad (Egy)
8/11, 14/12, 11/8, 11/9 (69m)
[2] Nick Matthew (Eng) 3-0 Simon Rosner (Ger)
12/10, 12/10, 11/6 (46m)

Women's Round One, Bottom Half:

Rachael Grinham (Aus) 3-0 Latasha Khan (Usa)
11/7, 11/6, 11/4 (23m)
[Q] Joshana Chinappa (Ind) 3-2 [4] Annie Au (Hkg)
5/11, 11/8, 6/11, 11/7, 11/5 (55m)
Camille Serme (Fra) 3-2 Aisling Blake (Irl)
11/7, 9/11, 13/11, 10/12, 11/2 (62m)
[7] Low Wee Wern (Mas) 3-0 [Q] Melody Francis (Aus)
11/1, 11/2, 11/1 (23m)
Omneya Abdel Kawy (Egy)3-0 [2] Laura Massaro (Eng)
11/9, 11/9, 11/7 (40m)
Joelle King (Nzl) 3-0 [Q] Coline Aumard (Fra)
11/3, 11/4, 11/3 (21m)
[6] Alison Waters (Eng) 3-0 Emma Beddoes (Eng)
11/4, 11/3, 11/2 (27m)
Line Hansen (Den) 3-0 Donna Urquhart (Aus)
11/4, 11/5, 13/11 (37m)
Day Four ROUNDUP

The opening match as the bottom half of round one got under way at Hong Kong Squash Centre was an all-Egyptian affair as Ramy Ashour, the 2010 HK champion seeded five, took on Tarek Momen, who competed well enough in losing two close first games before subsiding in the third as Ashour advanced in just under half an hour.

Next up was the last home representative in the men's draw, but despite local support and no lack of effort on his part, qualifier Max Lee couldn't knock Saurav Ghosal out of his speedy stride as the Indian won in straight games to set up a last sixteen meeting with Ashour.

The tin was raised for a pair of women's matches, the first of which featured good friends Rachael Grinham and Latasha Khan. Grinham, outside the top eight seeds but still a force to be reckoned with, was on top from the beginning and stayed there as she completed a straight-games win.



Then it was HK's top woman Annie Au, taking on Indian Joshana Chinappa. The Hong Kong girls didn't enjoy the best form in the world teams in France while the Indians performed beyond their own expectations, and that pattern continued here as Chinappa stunned the home crowd - not to say Annie too - with an impressively determined five-game win to oust the fourth seed who reached the semis here last year.

On the upstairs court 9 there were two contrasting women's matches, first Camille Serme reprised her recent five-setter with Aisling Blake in Shanghai, the Frenchwoman again winning, 11/2 in the fifth this time. Then Low Wee Wern wasted no time in going through to meet Camille, despatching qualifier Melody Francis for the loss of just four points.

Back on the showcourt, straight-game wins against qualifiers were also the order of the day for Nicolas Mueller and Gregory Gaultier - Mueller against Adrian Waller and Gaultier, the third seed and four-time HK finalist, against compatriot Greg Marche.

Relegated to the upstairs court, five-time champion Amr Shabana also faced French opposition, and won three well-contested games against qualifier Mathieu Castagnet, and Tom Richards beat Olli Tuominen, also in straight games.

The women's matches resumed on the showcourt, and provided the biggest upset yet as Omneya Abdel Kawy, only spared from qualifying by the withdrawal of Jaclyn Hawkes, inflicted mpre pain on the English (she won the deciding match against Jenny Duncalf in the World Teams final in Nimes) as she beat second seed Laura Massaro in straight games. All three were close, but Kawy was finding winners when she needed them, and at the right times too.

That was far from the end of the upsets - Steve Coppinger, who like Kawy was saved from having to qualify by a last-minute dropout, came from a game down to beat Omar Mosaad for his biggest-ever win, while Line Hansen finished off the women's draw with a straight-game upset win over Donna Urquhart. Hansen's next opponent is Alison Waters, who won her all-English duel with Emma Beddoes in three games.

The final match of the day, of the round, could have produced an upset too, but second seed Nick Matthew saved a game ball to take the first 12.10, and saved two to take the second 12/10 before despatching Simon Rosner 11/6 in the third to complete the last sixteen lineups.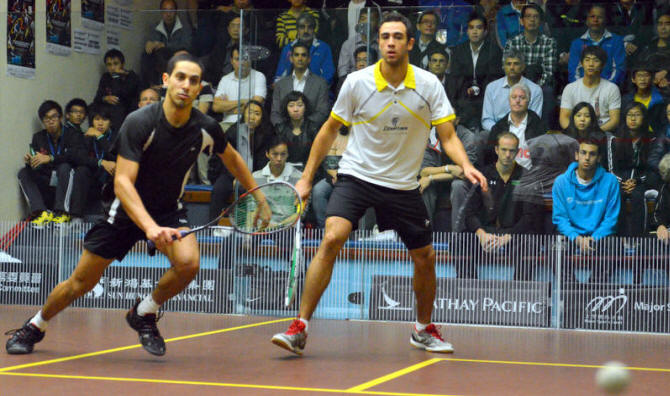 [5] Ramy Ashour (Egy) 3-0 Tarek Momen (Egy)
11/7, 11/8, 11/2 (29m)

RAMY BACK IN HK

What a great start of the day that was. No offence to anybody, you have squash players, extremely talented and all, and you have Ramy Ashour. He is just from another planet, and especially when he is playing against such a talent as Tarek the Momenator.

Tarek today pushed Ramy as far as he could, playing some superb attacks, and forcing his opponent to get in the retrieving mode very quickly indeed in the match (about the third rally on, after two tins from Ramy, we had a rally I would have come a long way to see).

Today, Ramy was not nervous, he was not all over the place. He was focus, calm, and extremely motivated to get out of that match spending as little time/energy as possible. And that, he did. Tarek couldn't have done better I think against an "on fire" Ramy, putting him under tremendous pressure, and get some stunning points out of him. Ramy moves on, and when he is as fit and trim as he is, I wonder who can/would stop him. Answer, in the coming days…

Tarek is the most explosive player on the Tour. If you don't contain him, you are dead! He is so fast that he wants to take the ball before I played it, and he just goes inside my head to try and see where I'm going to play it!

I stuck to my game plan, I'm happy with that. I'm also very happy I'm back here, because I couldn't attend last year, because of my injuries. So, so nice to be back here, I love the atmosphere, people are so nice – well, apart from the taxi drivers that have been really bad to me, but what can you do, you can't argue with them, you want them to take you where you want to go!!! Still, honestly, so nice to be back in Hong Kong…



Yes, a good first round match, thanks to the top 8 only seed rules, for the record, I'm totally against it. Although I can't complaint too much, as it hasn't happened to me too much, and I hope it won't….

I had a pretty good warm up I thought, but I really struggle to see the ball on there to start with, and he did too. There was then some nice spells in the first game, and I played well in the second as well, up to the 7/4, 7/5 mark. Then we had a massive rally, and I got a bit tired, to see the game slipping away from me.

Then in the third, I had a strange feeling in my stomach, and started to think about that and forgot about the game, and the next thing I know I was down 10/1, and the match was over!!!!

All credit to him, he played really well, and I'm now looking forward to my next tournament, hoping I'll do better than this….


Saurav Ghosal (Ind) 3-0 [Q] Max Lee (Hkg)
11/3, 11/5, 11/4 (42m)

NEVER EASY AT HOME…

I'm lucky enough to see the players in all different contexts, and Max for example, I've seen him "relaxed" playing in London and elsewhere, focused, precise, mentally sharp, in other words, no pressure.

Here, it's a different matter. He is the only male Hong Kong player in the draw, and that my friends, is a bleeping heavy weight on your shoulders….

Saurav was completely relaxed in opposition. Moving extremely well, retrieving Max' attack with ease, he really put more and more pressure on the local player that had to go closer and closer to the tin to try and get Saurav out of his comfort zone.

So, nervousness plus a Saurav full blast was a bit too much today for Max, but as I know, as he knows, he can do much better, and no doubt he will in his next tournament. But we still were blessed with some good spells of squash, between an attacking player, using cleverly short game and lobs, and a very fast and remarkable retriever of a player….

"Saurav is extremely quick on the court, so I had to make sure that my length was really good to give me more time on the ball, but in the first game I just couldn't do it.

I kept trying to find nice drives, but found the wall instead, opening the court for him.
And I made far too many errors.

In the second, I tried and speeded up the pace, but although I managed to win a few points, he was retrieving too well, and I lost a lot of energy there, so… not cost effective!

Not that I played well today, but the third I think is the one I played the best, my length was better, I had more time to attack, but frankly, too little too late."



"I had a really good summer training, and overall this season I'm happy performance wise, apart from a match in Santiago with Borja.

I had a hard game with Ramy where I lost a close 3/0, I managed to take a game out of Greg, which I never managed before, so, as they say, there is not substitute for hard work…

Today, I know what it is to play in front of your home crowd, when I'm in India, if I get a little sniff at an opening, it makes it really difficult for the other guy because of the home support, so I wanted to avoid that today here, and really got on court fired up, and lucky for me, it worked.

There is not much difference ranking wise between us too, so I take a 3/0 against him anywhere, and let alone here in Hong Kong!

I seem to play better against the top 10, top 5 - as Malcolm and James tell me – but those top guys, they provide the pace for you, with players on my level, I have to produce it, and something it leads to a bit of rushing and lack of accuracy. I just have got to find a way to apply the same pace when I play against players of my level…"


[Q] Joshana Chinappa (Ind) 3-2 [4] Annie Au (Hkg)
5/11, 11/8, 6/11, 11/7, 11/5 (55m)

A NATION IN MOURNING

How do you backup a semi-final performance in the previous edition? That was Annie's dilemma this year, and it felt like that today, she was petrified with the importance of the outcome.

I saw Annie play numerous times, and today, although she still found some exquisite short game, she was the shadow of herself. Nervousness has got to be part of it, the other part was how well Joshana, recovering from an ACL tear, played today.

In Nîmes, the Indian team did awfully well in the WWT, and we can see today why. Trained by Ritwik, she has raised her game after 8 months of rest – which probably gave her a new hunger to play, having been deprived for so long…

JC, as her friends call her, played extremely well today, really finding a nice mix between perfect length and dry short shots that took Annie off the ball and prevented her from adjusting her shots.

It's a bad day for HK, only Joey Chan left in the draw now, and a very sad Annie will leave the Centre today, along with a whole nation, stunned with such an upset.

"Today, I really wanted to win, I have a flight going home in a few hours, and I really didn't want to go.

I stuck to my plan today, playing everything on her backhand, but she is such a crafty talented player, anything loose I would play she would kill short.

And now I'm fitter, thanks to my rehab coach Ahmed Youssef, who nurse me back from my injury, and Ritwik, who really upped my game, I'm now happy to keep the rallies going instead of going for shots and finding the tin…. "


Nicolas Mueller (Sui) 3-0 [Q] Adrian Waller (Eng)
11/9, 11/7, 11/7 (50m)

THE EXUBERANCE OF YOUTH

Imagine two puppies, full of beans, having a fool around with a rubber ball in your living room. Well today, Nicki and Adrian had a run around, really visiting every inch of the glass court – that suits both their games to a T.

They are both tall boys, they luuuuuve to play short, hit hard, and run a lot. And that, they did a lot today….. Only difference I would say, experience. Nicki has got a bit more experience than Adrian, and it showed especially in the 1st (up 9/7, the English boy went for far too much far too early), and in the third, I counted 7 unforced errors for Adrian, including 3 times where he actually hit the floor.

The pace was mad, the squash ridiculous, and the attacking/retrieving Egyptian like. It was a very pleasant match for us, but I'm not sure they enjoyed it as much as we did…

I was expecting too much of myself today, too much pressure on myself, I think the fact it's my first qualifier in a first round of the season has got a lot to do with it, I just HAD to win. I'm lucky he wrapped it up for me in the 1st, I was down 7/9 and he virtually handed the game to me.

Adrian has improved a lot, last time I played him, he didn't move that fast to the front, but now, he's fine there!

Maybe tomorrow I can lower my expectations of myself and just play squash… It was not beautiful, but a win is a win….


[7] Amr Shabana (Egy) 3-0 [Q] Mathieu Castagnet (Fra)
11/9, 11/7, 11/7 (35m)

SHABANA JUST TOO ACCURATE

French qualifier Mathieu Castagnet didn't put a foot wrong today. He did an excellent match, and I guess things could have been different had he taken the first game.

But Shabana just did what he had to do. He never pushed too hard, just read the Frenchman's game perfectly well most of the time, to cut off his shots and place the ball as far away from him as humanly possible…

So, a milestone for Shabana here. Not only this is the 16th time he is playing Hong Kong – and not a break – but also, this was his 40th match as well…

To be noted…

"Yes, I needed an edge, so I decided that I would be an old man perhaps, but a Fit one!!!! And you get much more time to play when you are fitter…

Mathieu has developed a very French game, all sweet and accurate, Lincou style, that takes you in a false pace, waiting for the opening to kill the ball short. I sort of managed him at times!!!

Today, it all came down to a few points here and there in the first and second, the match could have gone a totally different way indeed.

Yes, Fram, 16 years coming here! That was the easiest record to establish ever!!!!"


[3] Gregory Gaultier (Fra) 3-0 [Q] Gregoire Marche (Fra)
11/5, 11/5, 11/5 (39m)

THE [BAD] LUCK OF THE DRAW

Those two French guys never played officially on the PSA Tour, but basically train every day in Aix together. Needless to say the atmosphere on court was not of an aggressive nature.

Little Greg was trying his best, but just was not comfortable at all on that court, made a lot of unforced errors, and could never really develop his game or put Greg under any kind of pressure. Never thinking he could win didn't help…

Greg was not in a killer mode either. He was in a training one more like, and there was no urgency and aggression in the match. A good first round to find your marks really. Little Greg deserved a better draw …

"I have tried not too be too aggressive, tried and work on my length and take my marks on that court.

It was very tough for him, he was playing well in the qualifying, and then, he gets me, we train together as well, and Mathieu gets Shabana… Shame, there was some better draw than that… It was very depressing for Greg. But his aim I think was to qualify, the rest is a bonus maybe…"



"You come from one day of rest, it's a new tournament, but you play not only your mate, but the world number three. So, apart from playing a good game and enjoy the squash, you know you won't win.

Plus on that court, he is so at ease, I needed to find perfect length, but he puts you under so much pressure at the back… so all those elements together, and it becomes very complicated….

Oh well, it's a good experience in the bag for the rest of the season, now prepare for the Worlds…"


Line Hansen (Den) 3-0 Donna Urquhart (Aus)
11/4, 11/5, 13/11 (37m

"That's a good win for me, it's quite a while since I beat anyone ranked above me, and to do it three-nil is a bonus! She beat me three-nil last time we played so it's nice to turn that around.

"I kept it tight in the first two and stopped her getting the opportunities she had last time. She was making a few errors but started playing better in the third so I was glad I managed to hang on to win that one.

"I'm really pleased also make the second round here for the first time in a lot of attempts."


[2] Nick Matthew (Eng) 3-0 Simon Rosner (Ger)
12/10, 12/10, 11/6 (46m)

SO CLOSE…

Simon must have been heartbroken as he stepped out of court having lost the second game 12/10 after losing the first one on the same score, and having had one game ball in the first, and two in the second. Still, I was amazed by the quality of the German's game today, as Nick had to play at the top of his game and show his A cards to beat the young man today.

Honestly, the pace that was played, the mixing of angles, style of play, the excellence of the movement and the variety of shots used was basically top three level for both of them.

Very few errors, physically sound and fighting until the last ball like a lunatic, Simon can't have regrets. He did stunningly well, while Nick showed why he is world number two and twice World Champion, playing amazingly well the crucial points at the end of each game.

Experience allied with talent, hard work and mental toughness. Nick has it all, Simon is quickly getting there…
Steve Coppinger (Rsa) 3-1 Omar Mosaad (Egy)
8/11, 14/12, 11/8, 11/9 (69m)

WEATHERING THE STORM

Omar Mosaad, a rugby player body with Egyptian hands, as in, pretty lethal squash wise, hits very very hard, and very very low. Which means that he is very damaging, but also that he can makes a lot of unforced errors. And the match in my opinion is all about those errors, on one hand, and of the physical/mental toughness of Stephen on the other…

Barely any errors in the first game for Omar, six in the second, none in the third, and six in the fourth. Meanwhile, Stephen was just weathering the hard hitting, absorbing his opponent pace to send it back in delicate drop shots/volley drop shots.

They both attacked pretty much all match, or run, or retrieved, or the three all together, rally in rally out, but mental toughness is what took Stephen to the finish post today I feel, backed up by an extremely hard summer training in Colorado, with Damon Brown, who, as Sue Matthew would say, has got a lot to answer for…..

Is it my best ever win? Yes. Am I happy. Yes.

All game long, even when I was ahead score wise, I felt that I had to play as if I was behind. I had to stay focused the whole match, for each and every point.

What is the difference between last time we played where he beat me 3/0? I went to Colorado.


Camille Serme (Fra) 3-2 Aisling Blake (Irl)
11/7, 9/11, 13/11, 10/12, 11/2 (62m)

Camille gets her revenge
Philippe Signoret Reports – Fram translates…

Camille and Aisling have the same type of game, based on rally planning and careful game plan. Add to that the Irish Fighting Spirit and Camille's stress, and you have more than an hour of hard battle.

In the first game, both players test each other on the backhand, waiting for the opening. They are neck to neck until 7/7. No cheap points coming from the Irish, and Cam has got to take the game to her. That's what she does, and she gets the first game 11/7.

Same difference in the second, Aisling still doesn't give anything away. Camille knows she's got to put the ball short, but she doesn't do it enough, which allows Aisling to defend perfectly well. And it's the Irish that take her chances at the front, taking the game.

The third is a carbon copy yet again, but Camille's doubts pushes her to commit many errors. Aisling's got 3 game balls, but the French girl is fighting, even desperate causes… She does well there, and takes the game 13/11.

But over it was not, Aisling was back with a vengeance.

Cam made two errors at the start of the game, meanwhile Aisling cleverly changed her game, attacking more. The Irish runs away with the score, 10/8, but Camille claws back at 10/10, but can't reproduce the upset of the previous game, losing the 4th 12/10.

But at that point, Aisling just lost her focus completely it seemed, making the wrong choices, making the error. Meanwhile Cam was solid and got a good lead, which allowed her to be more relaxed.

At the end, no suspense, Camille takes the game and match 11/2. There was a shorter route to victory, but all credit to Aisling for her stunning match.

Today, I wanted revenge, I sooo wanted to win! And that what I managed…

It was a hard, a very hard battle, physically, mentally, tactically. Asling played beautifully, like she did in Shanghai where she beat me a month ago.

But I thin that this afternoon, I was a bit better physically, and I managed to take the lead immediately in the 5th.

But once again, I was very tense. Still, the physical combat was fought, and that where I managed to win I feel.

Tomorrow is another day, another player. I will have to be more relaxed to be able to play a sound tactical game. But there again, I have a revenge to take on last year's….



Joelle King (Nzl) 3-0
[Q] Coline Aumard (Fra)
11/3, 11/4, 11/3 (21m)

Joelle too strong

Not easy for Coline to face the World number 5. But on that cold glass court, it was mission impossible for now.

Joelle immediately found her length and controlled Coline. The French woman tried and attacked, but with no preparation, it didn't get very far.



The third is the best one for Coline, who managed to slow down the pace, finding therefore a better length and bettering her short game as well. But Joelle made sure that Coline was not getting back in it, and gave it a big push.

Still, a few precious points for Coline on this tournament…



I had played Coline once before, it was at the British, and it was a tough 3/0, so I knew that today, I had to be switched off from the start, anybody is able to beat everybody nowadays! So happy to get a 3/0.

I'm starting to like the glass court, we are playing more on it, so I never used to like it, but little by little, I'm starting to adjust and appreciate it….


Omneya Abdel Kawy (Egy) 3-0 [2] Laura Massaro (Eng)
11/9, 11/9, 11/7 (40m)

Kawy hurts the English again

A stunning performance from Omneya Adel Kawy, who only made the main draw when Jaclyn Hawkes withdrew. Second seed Laura Massaro will have known that she'd traded one dangerous opponent for an even more dangerous one as Kawy inflicted more pain on the English after her title-winning performance in Nimes last week - when she beat Jenny Duncalf in the deciding tie of the final.

Massaro could easily have taken either of the first two games, but Kawy found the winners she needed at the right time to take both of them at the death.

The Egyptian made a good start in the third, and although Massaro closed the gap several times, each time Kawy would find another winning dropshot or flick or deceptive boast to keep the lead intact.

It fittingly ended with another winner, and the decimation of the seeds in the bottom half of the draw was complete.

"I think I played really well today. A lot of people had been telling me I did well in Nimes, but I knew I could do better.

"The pressure of playing a big match for yourself is quite different, I really wanted to do well here, I needed this one but I knew I would have to play better and I did.

"I'm really enjoying my game at the moment, it's good to be back, I hope this is the how it will continue and I can carry on playing well, starting with tomorrow."