TODAY in Hong Kong 2012
Saturday 1st Dec, Day SEVEN, Semi-Finals Fram & Steve in HK
Finalists are decided in Hong Kong

It was another disrupted day in Hong Kong as the weather intervened to prevent the completion of the semi-finals in the spectacular setting of the Cultural Centre Piazza, Tsim Sha Tsui, Kowloon.

Camille Serme and Nicol David won through to the women's final before rain early in the first men's match meant that James Willstrop and Ramy Ashour had to return to Hong Kong Squash Centre to complete complete their passages into the final.

Men's Semi-Finals

[1] James Willstrop (Eng) 3-0 [4] Karim Darwish (Egy)
11/8, 11/5, 11/9 (57m)

Play was suspended at 4/2 in the first game due to rain, and the match was moved to the Squash Centre, where it was pretty much a full house as most of the fans made their way across the water. Willstrop kept a grip on proceedings, fending off Darwish's not inconsiderable efforts to fight back and eventually won this 2010 final repeat in straight games.


[5] Ramy Ashour (Egy) 3-0 [2] Nick Matthew (Eng)
11/9, 11/9, 13/11 (65m)

After taking two desperately close first games at the death, Ram Ashour looked to be racing into the final as he sped to a 7/2 lead in the third. Nick Matthew fought back strongly, but a couple of unforced errors at the end cost him as Ashour went through to set up another England v Egypt clash for the title.


Women's Semi-Finals :

Camille Serme (Fra) 3-2 Omneya Abdel Kawy (Egy)
11/9, 4/11, 11/7, 11/13, 11/6 (65m)

A match which swung one way and then the next, with Omneya taking the lead, saving match balls in the fourth to force a decider, but ultimately it was Camille who forged ahead to reach her first Hong Kong - her first World Series - final ...

[1] Nicol David (Mas) 3-0 [8] Natalie Grinham (Ned)
11/8, 11/5, 11/6 (40m)

It was never easy, but the seven-time defending champion was always ahead in this semi-final, Natalie staying in touch but unable to break through as Nicol makes it 39 HK wins iin a row ...
Camille Serme (Fra) 3-2 Omneya Abdel Kawy (Egy)
11/9, 4/11, 11/7, 11/13, 11/6 (65m)

Camille capitalises in Hong Kong

France's Camille Serme progressed to her first WSA World Series final as she overcame Omneya Abdel Kawy in an up and down four game encounter on the Kowloon harbourfront.

A surprise finalist was already assured as two players outside the top eight seeds took to the court in the spectacular setting but it was Kawy, whose results so far had all been big upsets, who made the better start.

As happened throughout the match though, a period of brilliant winners was followed by a spell of less convincing squash and a few errors. Serme took advantage to take the first game from 4/8 down but could do nothing against Kawy's onslaught in the second.

Kawy continued to let leads slips as Serme again battled back, taking the third game from 3/6 down and seeing two match balls slip by in the fourth after recovering from 2/6. The Frenchwoman was on top from the outset of the fifth though, her 6/1 lead never in danger of being overturned and after just over an hour closed out the match.

Itís very nice to get to play well again, I could see that the players of my age are getting to the top 5, and here I was, down in the ranking.

So, Iím really happy with that performance todayÖ

I still donít know how I won that first game, I was saying to Greg after the first game, I was really behind, but she made a few errors, and I just played as tight as I could.

In the second, Omneya is a bit like Ramy, or itís a nick, or itís a tin! You really canít do much about it, and she didnít let me play tight enoughÖ You canít even get to the ball, because you canít see it going from the racquetÖ.

In the third, I didnít panic, because I had prepared myself mentally for that game against her, so I just concentrated on keeping close to the wells, and making the rallies as long as possible, because I know she doesnít like it.

In the 4th, I didnít panic either after losing the two match balls I had, because I knew she had had some pretty hard matches, 10 games played in 2 days, and that she was bound to be a bit tired. I knew that if I took a good start in the 5th, I was fit enough to keep a good lead.

And I soooo loved to play on this court, I didnít enjoy that much playing on a court for a long time, and I wanted to win just for the pleasure to come back and play on it again tomorrow!



I wanted more! I had a few nice wins, but I wanted more! I wanted to play better than I did today, but Camille played very well, she picked up everything, and she started to get in my mind.

I started to think too much, about what shot I should play, where to play itÖ

I was up in the 4 first games, and then Camille came back, and I now know what the other players feel, because thatís what Iíve been doing to them, they were up in the score, and I came back and beat them! So I hope thatís it now, I have experienced it, no more!!

I want to thank my family who has been supporting me when I was down and out, and also Hisham El Attar, Dr A. Shaker and his tem, Mohamed Ali, Taner Salah, Dr Khaled el Sayes. Iím on the way back, and I hope I will improve more and more.

But Iím happy with my performance, itís going to better my ranking! I did my best, I gave it absolutely everything I had.


[1] Nicol David (Mas) 3-0 [8] Natalie Grinham (Ned)
11/8, 11/5, 11/6

NICOL ON TOP, YET AGAINÖ

I just had a quick look on SquashInfo (my bible) to look at the H2H, and with going in too many details, the last time Natalie beat Nicol was in 2007, in the Seoul Open. Since, Nicol has overpowered Natalie 14 times.

On one hand, you could say thatís bad news, but on the other, Natalie had nothing to lose. And thatís how she started the match I felt. Extremely positive, hitting hard and deep in the back corner, and soon enough putting Nicol under a lot of pressure at the front, forcing the Malaysian to find the tin more than usual.

Long rallies, really long rallies in that first game I thought. Nicol gets a good lead, 6/3 then 8/5, but the Dutch wonít have it and comes back close to 8/9. Nicol still outlasts her opponent in some excellent rallies, 11/8 in 15mn.

The second is more one sided, although Natalie rallies well, but Nicol runs away with the score, 5/2, 8/4, 10/5, and game 11/5.

You could think that being led 2/0 down and having lost 14 matches in a row would be enough for the Dutch to give up, but thatís not knowing Natalie! She comes back with a vengeance in the 3rd, and takes an early lead 3/0. Nicol digs her hills in, 3/3. Nice and disputed squash, 4/4. But from that point on, Nicol just controls most of the rallies, and Natalie is pushed into making a lot of unforced errors, losing the match actually on one, 11/6Ö

It took me a little time to adjust to the court, itís a new one, so, I was maybe a bit late on the ball, my timing not at its best.

Natalie was really sharp today I thought. She was constantly on the ball, picked up everything, back and forth as usualÖ She is a tough competitor, she just doesnít stop. She didnít reached world number 2 by accident!!!

That court has got a feel that is very true, and when you work the ball well, like I did in the 3rd, you are rewarded. And she also made a few errors in that game.

Looking forward to my final with Camille, a new finalist for me in Hong Kong. And in this sport, you donít get to the final if you are not a tough and great player, so Iíll have to save my best for lastÖ.



I made a few errors in the second, because I was not attacking enough anymore, I need to keep the pace up, and in that game, I didnít.

My game plan was good, I wanted to move her around, and I did. Itís not about making the rallies last, and rally forever, itís about being positive and attacking and playing to the front. Maybe not short, because she gets to every ball anyway, but up and tight, because itís more difficult to control the ball when itís really tight..

But Iím happy with the way I played.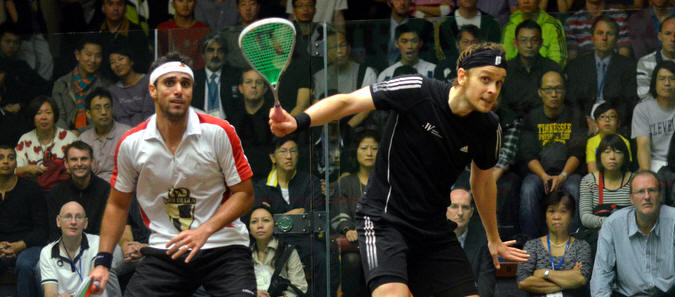 [1] James Willstrop (Eng) 3-0 [4] Karim Darwish (Egy)
11/8, 11/5, 11/9 (57m)

JAMES: A MAGESTRIAL PERFORMANCE

This was a match/circumstances where James Willstrop showed why he has managed to keep the World number 1 status for January.

Karim, fresher physically, having had no quarter to play after Shabanaís withdrawal, seemed to have a game plan in mind: making the rallies as long and gruelling as possible, trying to capitalise on that advantage he had.

So, a mid pace was establish, length, width, good weight on the ball, and hit, hit, hit that ball for long rallies. Not one point is won at the front, itís all about technique and accuracy. But as Karim gets a no let, taking the score to 5/2 to James, the rain starts falling.

Not a big one. A drizzle. James frowns, Karim is not overjoyed either. I have a flashback of El Gouna semis, where play was stopped, and their semi was finish on the Movenpick court in front of 7 people, including myself and the refsÖ Not again, please.

After a few minutes, decision is taken to take the matches back to the National Centre. Of course, by the time James/Karim are packed away in a minibus with the refs on their way back to town, the rain has stopped, and didnít start againÖ Typical.

Anyway, here we go, the rest of us, in a big bus back to the National Centre. The Centre having been restored to its normal appearance, no press office of course, no tournament posters, but nice Christmas decorations! StrangeÖ Still, the spectators, avid for great squash, have followed, and the place is fairly packed! Good atmosphere. People eager for the show to startÖ

And on they come, Karim and James, immediately getting into long rallies again. Like he started on the Harbour, Karim tries and makes all the rallies so hard, so attritional, putting James under extreme pressure, and James start to ploy. Karim comes back score wise from 5/2 to 6/6, and takes the lead for the first time of the match.

To be honest, I hadnít seen Karim play that brilliantly and so assertively for a long time. But if a younger James would have found it difficult to keep up physically under such a rhythm, James no1 doesnít, and to be honest, could be rallying like that all day and still have a good run at the end of the match to make sure.

And Karimís plan backfired. The rallies, still monumental and marathon like, are now turning in Jamesí favour, and the Englishman, having found a second wind, scores the next 5 points to take the game most decidedly, 11/6.

Thatís the turning of the match really I think. Mentally, Karim ďaccuse le coupĒ, find it difficult to come back mentally and physically from that loss, and will be lead 10/2 before losing the game 11/5.

All credit to the Egyptian, he tried to apply his game plan again, and started making the Yorkshireman do an awful lot of work again. Karim comes back from 6/3 down and really takes the game to James. 6/6. 7/7. 8/8. A tin will give James his first match ball, 10/8, which heíll lose with a tin, but he takes the next one on a stroke, and is now in the final of the HK for the second time in a row. Not a bad day at the office after all.

Yes, the court change, we canít really complain, itís a fact, it happens, we canít ignore it, the situation exists, and itís the same for both of us.

Without being too kind for ourselves, itís the best squash weíve played on there this week, if you consider that we warmed up, played a few points, stopped, hanged around, then stayed in a car for 20m, warmed up again, and played on a different surface all together! Considering, I think we really made the transition extremely well.

This is the best I felt on that court all week! I had the lead when we stopped, which makes it a bit easier, it was harder for him, he must have been in the car, listening to us chatting, and thinking he had to come back, it must not have been easy.

The crowd in HK have been incredible, the atmosphere is amazing, people are showing their emotions, and itís great for us. I hope that the weather will help us tomorrowÖ


"That end of the second. In my mind, I was 10/9 up, and I found myself 10/9 down! My point of view is, at full speed I was trying to get to a short ball, with a big hurdle in front of me, which was Ramy on the floor, I tried my best to get over him and go and play the ball, and I was prevented to do so. So in my view, itís a stroke. Now, of course, had we been in the Harbour, I would have had a review, that was definitely 100% a decision I would have asked to review! And maybe I would have seen on the video that I was wrong, I donít know. It would have been interesting to see. But it wasnít to be, canít complain, nobodyís fault.



Now, Iím not going to apologise because Iím passionate. Because I show my emotions on court. Did you see how the crowd reacted with me? How loud they became in the 3rd? To be honest, I was hoping them to carry me for 2 more games, but I only managed two ridiculous points. All that support, to only get two more points. I must have looked pretty ridiculous really, mustnít IÖ



After that second game, I was really down, and for the first time of my career, I really felt like throwing away the towel, and go and shake Ramyís hand, thatís to show how I felt after that game. But Iím glad I came back and went on fighting. But like I said after my match against Simon, I played the important points well, thatís exactly what Ramy did tonight, he played the crucial point very well. One might be lucky, but three? He must have been doing something pretty right.

Concerning my back, I was fine when I got there, but I felt a niggle during the first round, thank God for Jade our ES physio, without her, I donít think I would have played the tournament really, being so close to the Worlds. And I really needed a few points in the second to realise that I was going to be fine. Itís the same problem that I had when I was young, but because I am now stronger, itís down to 25% of what it was. But itís still there, and Iíve got to be careful.

I canít believe how unlucky I am!!!! Iíve been trying to get out of the centre since 2004, never made it past the quarters here, and for once in 13 years I make it to the harbour, they send me back to the Centre!!!! Well at least, I managed to hit a few ball today in practice. So Iíll be able to say ďIíve played on the Glass Court on the HarbourĒ, even if it was only practice!!!

Overall, disappointed with the result, happy with the performance. And the most important, my back is ok, and Iíll be fine for the worlds. And Iíll go back tomorrow to watch the squashÖ"



[5] Ramy Ashour (Egy) 3-0 [2] Nick Matthew (Eng)
11/9, 11/9, 13/11 (65m)

COULDNíT GET ANY CLOSERÖ

Drama. Passion. Upset. Conduct stroke. Crowd roaring and supporting their man. Who said squash needed the glamour of a superbly lighted glass court!!!! Just give the boys a ball, a crowd, and off they go making the showÖRamy and Nick delighted us tonight by producing a brilliant match, hard fought, and still full of respect/fairness for each other.

Letís stop for a minute and look at the stats. From the start of Ramy's career, those two had major battles. First time ever they played, in Qatar 2007, Ramy still a junior then beat him in 82m in the semis. On Qatar's cold court, Ramy and his ridiculous shots that nobody had seen before must have been devastating, but still, Nick fought bleeping hard before accepting defeat. And most of their matches have been of the same calibre ever since. As for the recent h2h, Nick won the British Open, but that is his only victory in their last 10 encountersÖ

Like for Karim, Nick had a physical advantage on paper, as he had a day of rest courtesy of Shabanaís ribs trouble, but Ramy didnít seem to be affected at all to be honest. As the Egyptian told me ďwe train very hard for that kind of situation. Thatís why we work so hard physicallyĒ.

So off they started. If Karim/Jamesí rhythm was sort of mid pace, those two just went for it from the word go. What those two hit, retrieved, changed angle, front, back, side, the other sideÖ And if one was managing to steal a two points advantage, the other one would quickly close the gap, but it was Nick who had a one point cushion most of the game.

Up to 7/7 that is. 8/8. 9/9. Great rallies, winners and amazing pickups were flowing away,

and I was thinking, what a shame the IOC members were not there to see how our players quickly adapted to what was thrown at them, as they didnít come to the National Centre unfortunately.

A mishit from Nick gives Ramy a game ball. And a superb winner the game, 11/9.

But as he goes off court, Nick is calling for Jade, ES physio, as he is getting back spasms. Oh great I thought, we didnít have anybody retiring today, yes, we need another upset! But no, with her ďmagic spongeĒ, like we say in rugby, after 3 minutes, Nick was back on court, and with the way he twisted and turned his back for the next five rallies, we all could see that he was fine thank Heaven.

The second is mirroring the previous game score wise really, but the intensity has gone up about five notch on the Richter scale! Each and every rally is fought ďas itís the last point of the matchĒ, as Borja would say.

And like the previous game, we have 7/7, 8/8. Nick is leading 9/8 when we have a massive rally yet again. Ramy is at the front, re-dropping a shot, but has thrown himself on the floor. Nick seems to have a bit of a strange movement there, not sure what happened, and would luuuve to see the replay, as he seemed to stumble over Ramyís body, whereas Ramy is laying on the left of the ball. Anyway, it is a bit confusing. It could be a no let in our opinion, or a let, and the Refs quite understandably give a let.

Nick, really not happy with the decision, expecting a stroke, starts to explain that he really wanted to play the ball, but that he was prevented to do so. ďDecision has been taken, please play on, Mr MatthewĒ states the ref.

But Nick doesnít budge. Standing with the door opened, his back resting on the side wall of the entrance, he stays silent and motionless for a minute, and states as a matter of fact ďthis is the worst decision in historyĒ.

ďConduct stroke for descent. 10/9, Mr Ashour to serve.Ē

The crowd goes ahhhhhhhhh. Nickís face completely white, as if the blood had been drained in a split second. ďWhy?? What did I say??Ē ďYou know perfectly well what you said. You said, this is the worst decision in History.Ē

ďOk, it was said in the heat of the moment, I apologise for it. And you are still happy to give a stroke at this stage of the match?. Who else is happy with that decisionĒ, adds Nick to the crowd. Nobody breathes.

The two get back on court. Needless to say that this rally is pretty short, and that Nick tins the ball.

Letís have a look at what happened there. Yes, Nick was wrong to make that comment. But itís not like it had been a nasty match up to then. Those two were on their best behaviour, especially after their last encounter that had turned into a bit of a war, then commented heavily on the Social Network (I even got caught in it!). So, both of them barely addressed the ref up to then.

I personally feel that the decision given Ė let Ė was the safest one. And that Nick should have been warned ďMr Matthew, no more comments, or the code of conduct will be appliedĒ. That would have been enough, especially due to the exceptional circumstances the players had to adapt to, and the stage of the match. Giving a stroke was over reacting, and probably due to the lack of experience of the young ref who was centre-refereeing the match. I guess we all have to learnÖ



Nick looked like he was going to stop the match to be honest. If he hadnít had Chris Robertson, ES National Coach, and Jade in his corner at the time, being led 2/0, back hurting, he probably would have. But no, he changed his shirt, and came back on court, with the crowd now loudly in his corner Ė whereas before, Ramy was the crowd favourite. And we are grateful he did. Because that game is one of the most hard-fought I ever came to see.

Nick took an awful, awful bad start, trailed 7/2, it looked like Ramy was seconds away from the shower. But Nick is a fighter, heís got a force within him that made him overcome some many hurdles, he was not going to give up that easily. And with his normal fashion Ė hitting hard and low, fighting for every shot, moving extremely well Ė he strung the points to come back to 8/9. But he tins a volley drop shot Ė which I thought was good, but he called it down, bless his honest socks, and offers Ramy his first match ball.

With two superb drop shots, Nick forces a tie-break, 10/10. The crowd is now roaring, cheering, supporting the Englishman, only too happy to see a fourth. Ramy goes a bit junior on us, going to too short too soon, and tins the third match ball. At 11/11, all is possible, but Nick tins the next two points, forced to make the error by a Ramy making the rallies long again.

And itís on his fourth match ball that the Artist wins this epic encounter, 11/9, 11/9, 13/11. Iím exhausted. The crowd is ecstatic. Ramyís finger is bleeding again. And itís going on 1am. When I think that some people get bored in lifeÖ

"It was a fair game, it was a great challenge too, itís never easy to beat Nick, such a calibre of a player, itís like James, I always enjoy playing the top players because they make you raise your game to theirsÖ

Iím happy with my overall performance, and truly really forward to playing James tomorrow on the glass court in the harbour, because believe it or not, I NEVER PLAYED THERE!!!! Even the year I won, we were playing in the Mall, so I never got to the Harbour, and Iím dying to play there!!!

Iím glad I won. I would have been happy with the win no matter, 3/0, 3/1 or 3/2!!! Iím happy because I kept my discipline, I didnít play like a junior, well maybe for two or three rallies.

The change of venues, well, in my mind, I had prepared myself for it, I didnít want it, as I said I really wanted to play on the glass court there, but I was mentally ready for the change.

Well, those past 5 days felt like 5 years, and 6 more to live through in Qatar for the Worlds, 6 more years!!!!!! But we have to keep doing it. Thatís what we train for. Thatís what we live for."