TODAY in Hong Kong 2012
Thursday 29th, Day FIVE Fram & Steve in HK
Men's Round Two:

[6] Peter Barker (Eng) 3-0 Cameron Pilley (Aus)
13/11, 11/8, 11/8 (65m)
[4] Karim Darwish (Egy) 3-1 Daryl Selby (Eng)
6/11, 11/4, 12/10, 11/6 (65m)
[1] James Willstrop (Eng) 3-0 Ong Beng Hee (Mas)
11/8, 11/9, 11/7 (68m)
[5] Ramy Ashour (Egy) 3-1 Saurav Ghosal (Ind)
11/7, 11/5, 10/12, 12/10 (61m)
Borja Golan (Esp) 3-1 [8] Mohamed El Shorbagy (Egy)
11/6, 11/9, 8/11, 11/9 (68m)
[7] Amr Shabana 3-2 Tom Richards
10/12, 10/12, 11/7, 11/7, 11/7 (70m)
[3] Gregory Gaultier (Fra) 3-0 Nicolas Mueller (Sui)
11/4, 11/5, 11/5 (43m)
[2] Nick Matthew (Eng) 3-0 Steve Coppinger (Rsa)
11/6, 11/6, 11/8 (35m)

Women's Round Two:

[3] Jenny Duncalf (Eng)3-1 Dipika Pallikal (Ind)
11/9, 7/11, 14/12, 11/7 (60m)
Rachael Grinham (Aus)3-1 [Q] Joshana Chinappa (Ind)
11/4, 10/12, 12/10, 17/15 (65m)
[8] Natalie Grinham (Ned) 3-1 [Q] Nicolette Fernandes (Guy)
11/7, 7/11, 11/6, 11/7 (49m)
Camille Serme (Fra) 3-1 [7] Low Wee Wern (Mas)
5/11, 12/10, 11/3, 9/7 rtd (47m)
[1] Nicol David (Mas) 3-0 Joey Chan (Hkg)
11/5, 11/5, 11/1 (27m)
Omneya Abdel Kawy (Egy) 3-2 Joelle King (Nzl)
11/8, 3/11, 11/13, 11/8, 11/7 (62m)
Kasey Brown (Aus) 3-1 [5] Madeline Perry (Irl)
11/6, 11/8, 13/15, 11/6 (60m)
[6] Alison Waters (Eng) 3-1 Line Hansen (Den)
12/10, 11/3, 6/11, 11/7 (38m)
Day Five ROUNDUP:
more women's upsets as
Golan grabs last eight spot ...

With another ten matches to play on Hong Kong Squash Centre's showcourt - plus six upstairs - a long opening encounter was the last thing we needed, but a 29-minute opening game between Peter Barker and Cameron Pilley seemed set to dash hopes of adhering to the optimistic schedule.

Barker came from 10/6 down to take that first game 13/11, stayed ahead during the second and pulled back an early deficit to take the third 11/8, becoming the first player to reach the quarter-finals after 65 minutes of play.

Barker's next opponent will be Egypt's Karim Darwish, the fourth seed who came from a game down to beat Daryl Selby in ... 65 minutes again!

The first women's quarter-final place was taken by Jenny Duncalf. The English third seed won a tough four-game encounter with in-form Indian Dipika Pallikal, Duncalf's reaction when taking the third 14/12 to regain the lead proving just how crucial that game was.

Meanwhile on the upstairs court Natalie Grinham - who was expecting to play after her sister, not before, came through a competitive four games against qualifier Nicolette Fernandes, taking seven points in a row to avoid the need for a decider.

Natalie popped downstairs to watch Rachael, ho had an even closer four games with Joshana Chinappa, who upset fourth seed Annie Au yesterday. After the first two games were shared Rachael edged the third 12/10, then fought back from behind in the fourth to get match ball at 10/9. Joshana kept on saving match balls but couldn't get ahead, Rachael eventually closing it out 17/15.

The time? 65 minutes of course (or two hours late, to put it another way).

Then it was back to the men, and two contrasting matches that had their crowds equally absorbed: Ong Beng Hee lost in straight games to top seed James Willstrop, but the 'veteran' Malaysian stole the hearts of the Centre Court crowd with a skilful and spirited performance that earned him a standing ovation at the end.

Meanwhile Borja Golan prevailed over eighth seed Mohamed El Shorbagy in an encounter that was as intense as they come, both players getting animated and anxious. The spaniard took the first two games, then came from a few points behind to snatch the fourth and boy was he delighted.

"When you play someone like that you have to play more than 100%, you have to fight for each point as if it was the last one," said a delighted Golan.

Two Egyptian winners followed, but Ramy Ashour and Amr Shabana were both sorely tested. Ashour, the 2010 HK champion, came from 6/1 down in the first to take the lead against Saurav Ghosal, eventually winning as the Indian saved a match ball to take the third 12/10 only to let the fourth slip by the same score.

Shabana, champion here from 2005 to 2009, found himself two games down to Tom Richards, 12/10, 12/10. The four-time world champion recovered to take each of the next three games 11/7, much to the annoyance of the Englishman, who had his chances when leading mid-way through the fifth.

By now we were more than three hours behind the admittedly optimistic schedule, and local favourite Joey Chan took to court against Nicol David. Unbeaten in Hong Kong since 2005, the Malaysian world number one was as efficient as ever as she put out the last home player in straight games.

Omneya Abdel Kawy followed up yesterday's dismissal of second seed Laura Massaro with another upset win, this time over fifth seeded Kiwi Joelle King.

The first two games were shared, but after edging a tense third 13/11 King forged ahead 8/4 in the fourth and looked the likely winner. Seven point in a row from Kawy levelled it though, and the Egyptian quickly established a winning lead in the decider.

Meanwhile Alison Waters was setting up a quarter-final date with Kawy as she beat Line Hansen in four games.

That left the final two men's matches, still over three hours past their scheduled time.

Third seeded Frenchman Gregory Gaultier wasted little time in despatching young Swiss Nicolas Mueller in straight games - at 42 minutes the quickest men's match of the day by some margin and a useful energy saver for tomorrow's meeting with Ashour in a repeat of their 2010 final.

Nick Matthew was even faster, wrapping up his match with Steve Coppinger in just 35 minutes as he went through to another match against Amr Shabana.

It all starts at 14.00 on Friday, all on Centre Court.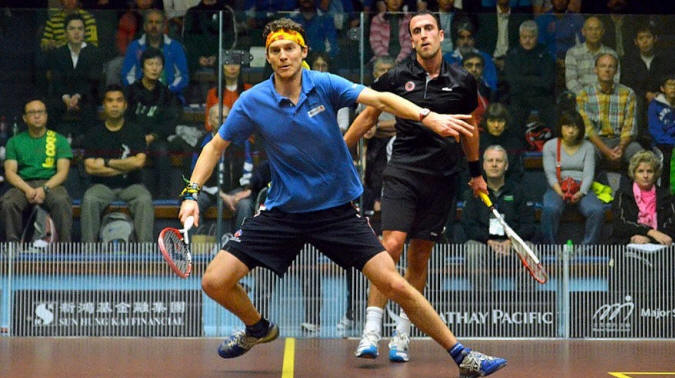 [6] Peter Barker 3-0 Cameron Pilley 13/11, 11/8, 11/8 (65m)

PETER, YET AGAIN

Although the H2H states 3/3 between the two players, Peter beat Cameron the last two times they played. Last year here actually was the last time they played, 3/0 for Peter, rather quickly in Peterís standards.

I of course remember more of their previous encounter, played on a packed and warm court at the Worlds last year in Rotterdam, where the battle was ragging for two games, I think to remember the second game last 52m I think.

After which Cameron looked at that watch Ė he was now lead 2/0 down, and it was past midnight Ė and clearly thoughtÖ naaa. Too late for a come backÖ.

Today was again a great battle, with the Australian stringing points quickly to take the lead, and the Englishman, patiently, gradually, getting his claws back in the game. First game was typical, Cameron having a 10/6 advantage to concede the game 13/11Ö.

In the second, he came back with a vengeance, leading 4/0 quickly. And there again, Peter caught up with him 4/4, to take the game with confidence 11/8. And the third was pretty much on the same format, Cam up 6/4, a tight finish, 6/6, 7/7, Peter taking a 2 points lead, 9/7 and closing it nicely Ė with a few explanations with the refs Ė 11/8

One point that need stressing. Peter didnít win most of his points at the back on the court as his perfect length/width game would logically lead him, but actually at the front, as his short game Ė in particular to his forehand, is becoming a stunning weapon. Another interesting data, I counted only 1 error throughout the match for the Englishman.

"Itís one of those matches where the result is more important than the performance, itís back to reality Iím afraid.

But Cameron is a well established top 16 players, and Iíll take a 3/0 against him any day.

We are both wicker on our backhand, so we try and switch, and that makes it a tactically attritional game.

I donít think my balance between defence and short game was good enough today, but sometimes, it ainít prettyÖ"


[4] Karim Darwish 3-1 Daryl Selby 6/11, 11/4, 12/10, 11/6 (65m)

TOUGH MATCH FOR KARIM

Karim today was a bit slow, border sluggish when he started the match. His backhand length completely out, he really struggled on that side, and played into Darylís game, a mid pace that the Englishman excels at. And quite logically really, itís Daryl that draws first blood, 11/6.

Not sure exactly what happened in the 2nd, Daryl sort of didnít show up, helped I guess by the fact that Karim upped the pace considerably, shortened the rallies and took the initiative.

The third was to become the turning point of the match. Like he did in the 1st, Daryl took a great start, 5/1, 7/3. Did he relax a bit? Did Karim closed up the game?

After some long rallies, we were back at 7/7. Within six points, Daryl got 3 no lets that, in my opinion, seemed pretty harsh, as it seemed from where I was sitting that Daryl had no access to those 3 drives.

To be quite fair, Karim as well got a few strange decisions during the match, but as he admitted himself, it was not at crucial timesÖThose were. 8/7, 8/8 and 10/10. Hard to keep your mind focused after that. And it didnít fail, Daryl loses the game, and to add insult to injury, on a stroke.

In the 4th, Karim was full of confidence, and let his game shine all around the court, forcing Daryl to four uncharacteristic errors.

The Egyptian takes the last game rather comfortably, 11/6.

"In the first game, I was very passive, I didnít do enough with the ball, I was playing his game.

So in the 2nd, I made some changes, was more positive, varied my shots instead of sending everything to the back.

The third was crucial, I had some weird decisions but not at crucial times, and so did he, and at crucial times. I know how it can play on your mind. I gave it a big push, and managed to win the important points in that game."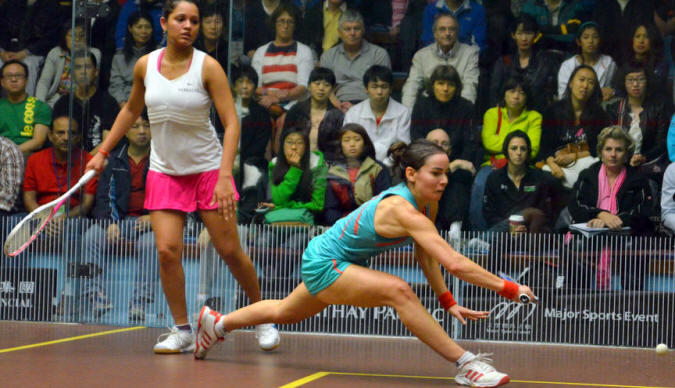 [3] Jenny Duncalf 3-1 Dipika Pallikal
11/9, 7/11, 14/12, 11/7 (60m)

TOO MANY ERRORS FOR YOUNG DIPIKA

I really enjoyed this match, I have to say. I thought the two ladies were playing out of their skins, a very fast pace game, with a lot of change of angles, lots of running, retrieving, visiting both of them the court several times per rally.

And to be honest, Dipika played to a level I didnít think she could as well! She found some beautiful volley drop shots in particular that are little gems, and more interesting, she is now running! Last times I saw her play, running was not exactly her favourite part of the game of squash, bless her sweet little cotton socks.

Of course, like she said, she went for far too much, tried to get some easy points, and made 6 errors just in the fourth game, 5 in the 2nd. Mind, Jenny made a few of her own! But Jenny got the experience that Dipika doesnít have, and didnít make the errors when it really mattered. And that made the difference in the end.

Jenny will be relieved of the outcome, not to have to play a 5th, and Dipika, well, itís all in the box under the filing ďexperienceĒ.


She played quite freely today, as you would expect when youíve got nothing to lose. Last time we played in NY, I beat her 3/0, but she didnít play well, so today, I was expecting a different match.

It was a bit scrappy at times, we both made a lot of unforced errors, getting too low, but it could have been messier, it was important I took the second game. But I thought she played well.



After that 6/5 tin in the 4th, I guess I just stopped thinking. I know I relay on my drops, and today, they wouldnít work. Iím still thinking a bit like a junior I think, I have been playing juniors 10 years, so although I have been a senior for a year, Iím struggling with the transitionÖ.


Borja Golan (Esp) 3-1 [8] Mohamed El Shorbagy (Egy)
11/6, 11/9, 8/11, 11/9 (68m)

BORJA, AT LAST

Spanish Borja Golan played the perfect match today. He twisted and turned Mohamed El Shorbagy for the first two games, preventing the Egyptian from adjusting his dangerous short game. Mohamed didnít seem at all in the match for about a game and a half, and by the time he switched his neurones on, well, Borja was up 2/0.

The pace was ridiculous, but in my opinion, the key to the match is actually Borja counter attack game. Ah, yes, forgot to tell you that we were playing on the traditional court, and that what would have probably died in the nick on the glass was standing up a fraction of a second up, enough for Borja to use it to his advantage.

At times, the match has a feel of kindergarten, but one with a lot of testosterone flowing as well, if you see what I mean. The ref did very well to keep his calm with the constant questioning he was under, my hat to him.

A few months back, Borja played out of his skin against Ramy in the British Open. He only lost by a few points. But I feel that today, Borja gets the victory he deserves, if that makes sense?

ďAgainst such a player, I cannot be at 98%, or 95%, and in fact, 100% is not enough! And if I scream on court, if I express loudly what I feel, itís because Iím emotional, and I cannot fight it. Maybe itís good, maybe itís bad, but I cannot help it.

I played every point like if it was the last point of the match. Because with such a talented player, each point can be the one that will make the difference at the end.

During the British Open, it was weird. I went on court, played a few short balls, Ramy didnít pick them up, so I kept on going, and I was lucky that he wasnít really playing. And then, he started playing! But I was not really playing my game. Whereas today, I was, I think, and I felt strong.

I was really focusing on playing tight, it really works on this court, and I was aggressive on the ball, but I didnít attack too soon either.

Mohamed didnít play well in the first two games, he played much better in the last two, and the 4th game was really close.

Iím so happy, itís my first time in a quarter of a WorldSeries event!Ē


Camille Serme (Fra) 3-1 [7] Low Wee Wern (Mas)
5/11, 12/10, 11/3, 9/7 rtd (47m)

Camille gets past Wee Wern
Philippe Signoret reports, Fram translates

We had a game plan in place against WW. Cam knew what she has to do, but in the first game, she made too many errors and forgot 3, 4 times the plan. Only positive, is that Cam got WW to do an awful lot of work, especially as the Malaysian doesnít really enjoy going to the front too oftenÖ.

In the second, Camille cut down on the errors, but was still struggling to play the right shot at the right time. WW get two game balls, and thatís for me the turning point. On a few big rallies, WW starts to show that she is a bit tired, and Cam comes back to 10/10. She let go of the arm and gets the game. The plan is working!

Cam is playing better and better in the 3rd, she attacks once, but not twice to prevent WW to counter attack. She leads 3/0 but when WW goes and tries to get a drop shot, starting a bit late, splits and hurt herself rather badly.

Camille sees the injury, sees how WW is fighting with the pain, respect to the Malaysian who plays through the pain. The French girl takes the game 11/3.

In the 4th, Camille sticks to the original game plan, and the rallies last. She needs to attack, but canít afford the errors. A gutsy WW fights and still believes she can win. At 7/7, Camille is playing well and not that well. Suddenly she finds 2 nice attacks close to the tin, and leads 9/7. The pain is too great for WW, whoís got to throw in the towel.

ďI am very happy to be in the quarters of this major. I had a revenge to take on Wee Wern, well, several actually, as she beat me the last three times we played.

Today, the good thing is I had a game plan, we had prepared it throughouly with Philippe, video, and even a few precise elements this morning in practice. I was ready to roar!

My only regret is of course that Wee Wern got injured in the 3rd. She is such a warrior, as she tried until the last shot, she went and retrieved all my shots, until the pain was just unbearable, at 9/7 in the 4th. I am truly sorry and I hope sheíll be back in shape for the Worlds in Caymans.

As for me, Iím now playing Rachel on the glass court.Ē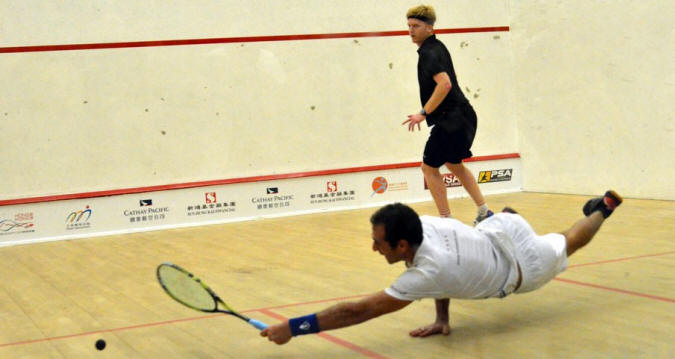 [7] Amr Shabana 3-2 Tom Richards
10/12, 10/12, 11/7, 11/7, 11/7 (70m)

TOM GUTTED, SHABANA RELIEVEDÖ

I only saw the 7, 7, 7, not the 10, 10 at the start. But what I was was one of the fairest, most entertaining game of squash I saw for a long time. As one of the refs stated at the end to Shabana ďI wouldnít mind paying to watch such a matchĒ.

Legend Shabana. The nickname I got for him could not have been more appropriate than it was tonight.

"I was unlucky the first two games, and lucky the next threeÖ

You know, you play on a traditional court, and you get traditional squash, pure squash. We both gave everything we had, and I enjoyed it.

After losing the first 2, I stuck in there, and I thought, take it point by point, and I thought I had a chance to take it a bit longer, and I tried to squeeze a few points out of him, and I think he got a bit tired in the 4thÖ

In the fifth, he came out firing, it was very close and anybodyís gameÖ."



"I think this is the best I ever played, or at least, the best I played in a very very long time.

I was lucky to get 2/0 up, I was playing good lines, good shots, but I think he was a bit off, and then, well, he started playing Shabanaís game. Itís a nightmare for us, you know, us young players, we are trying to go up the ranking and there you have Shabana, fitter than he ever was! Itís a SCANDAL!!!!

In the 3rd and fourth, he made me do an awful lot of work, he had perfect lines, perfect lobs, and I donít think I ever done as much work on a squash court.

In the 5th, I wanted to take all the opportunities I could, which meant that I could play a few errors, but hopefully, play a few winners as well. Up to 6/6, I thought I was playing not too bad, and I donít think I didnít much wrong after that, but there is that little thing called ďexperienceĒÖ but he is justÖ. a Legend."





At 11-10 in the second Tom hits this shot into the nick to go 2-0 up





Kasey Brown (Aus) 3-1 [5] Madeline Perry (Irl)
11/6, 11/8, 13/15, 11/6 (60m)

SHARP AND HARD HITTING

Madeline Perry is for me the Cameron Pilley of the WSA tour! She hits extremely hard, and yet, extremely accurately, mixing it with lovely volley drop shots and a perfect fitness.

All that to say that Kasey did pretty good today to beat the Irish number one, who really didnít put a foot wrong all match. It all came down to very little, a few errors here and there, and a few long rallies that ended Kaseyís way.

Again, that traditional court got us some pretty good matches today, which I really enjoyed watchingÖ

"I trained with Shorbagy this morning, it worked for me, it didnít for him!

I knew that she would be playing a hard and fast game, so I tried and varied my shots as much as I could, and took it short as often as I could.

Our matches have normally been quite even, but the last time we played, it was in the Australian Open, and I got absolutely chopped!

So I used that game to build a game plan.

Which proves that sometimes, itís good to get chopped!"


Omneya Abdel Kawy (Egy) 3-2 Joelle King (Nzl)
11/8, 3/11, 11/13, 11/8, 11/7 (62m)

I had absolutely no pressure, thatís always good, while Joelle who is better ranked than I, was a bit nervous I think.

Last time we played she beat me, and in that match, I started badly, and I finished badly! Iím happy to say that today, I managed to finish better!

At some point in the 4th, it didnít look good for me, but itís not over until you lose the last point, so I hang in there, and it worked.

Iím really happy with my performance, although it was a bit up and down, but I got a bit more up than down!

Looking forward to my match with Alison tomorrow, again, nothing to loseÖ


[2] Nick Matthew 3-0 Steve Coppinger
11/6, 11/6, 11/8 (35m)

He plays for Duffield in my National League team, so I trained with him a few times, Iíve watched him play often and I know very well how dangerous he can be. Heís been knocking at the door of the top 10 for a long time now, he had his best win yesterday, and I know how hard it is to back it up, especially when itís late at night.

I got to change my body clock this week, because I knew I was in the bottom half so I got to do the same things as normal, but 2 hours later! Itís a bit of a pain, it is frustrating, but there is nothing you can do, so you just get on with it.

Of course, itís human nature, when you play that late, you want to go to bed as soon as possible, but if you go for too much, too soon, you are bound to make errors, and soon you find yourself with a five setter on your hands. So, youíve just got to be patient and make sure that you do the workÖ