#1: Doubles Trouble for Beddoes ?
Emma backs doubles partner Waters to win, unless ...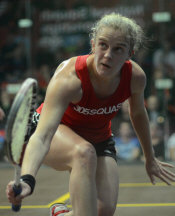 Emma Beddoes is likely to have to temporarily lay her friendship with Alison Waters to one side at the National Championships in Manchester next week.

The Leeds-based 5/8 seed will meet her doubles partner in the quarter-finals at the National Squash Centre if she beats a qualifier in the first round.

"I've been really enjoying the team element of doubles and we work well as a partnership, but I guess we'll be putting the banter to one side next week!" said Beddoes.

Having narrowly lost to Malaysian Low Wee Wern in the Greenwich Open and Ireland's Madeline Perry in the Premier Squash League this year, the 28-year-old believes she is in the type of form to stretch the likes of second seed Waters.

"I'm certainly playing well enough to be pushing the top girls, but I'm really looking at turning these close matches into wins," she said.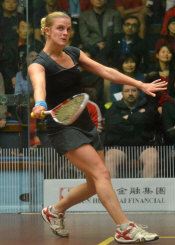 "There are a few key areas I'm working on and I'm confident once these improvements transfer over into my match play, the results will come."

Beddoes would dearly like to win her first national title, but she added:

"I'm under no illusions as to how tough that will be. Even though there are no world-ranking points available, the Nationals are a big event and a prestigious title. The top four seeds are all world top 10 and it's a tough battle for places on the England team.

"As long as I compete well and give it my best, we will see how far that takes me."

She admits picking a winner this year is "really tough to call", explaining: "It's a great sign of the times with how competitive women's squash – and England squash in particular – is at the moment.

"Unless I take her down (in the interests of team harmony!) and on current form, I'm going to go with Al!"