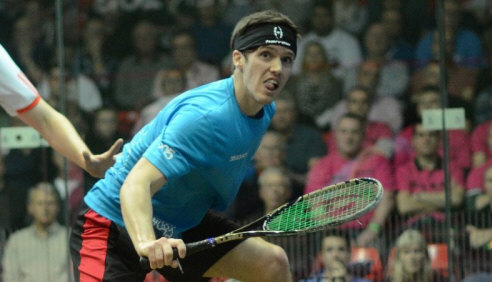 #4: Chris Simpson
SIMPSON BACKS MATTHEW TO TAKE TITLE


Chris Simpson believes defending champion Nick Matthew is a red-hot favourite to win his sixth National Championship in Manchester next week.


"I think the safe money has to be with Nick," said the joint fifth seed from Guernsey. "He has an unbelievable record in Manchester with British Closed, British Open and World Open titles. But there are a lot of us chasing him and trying to take the title!"

First up for Simpson is Gloucestershire left-hander Robbie Temple, whom he has beaten all three times they have met, but then it starts to get more difficult.

"I have a particularly tough last-16 match against Joe Lee, who has beaten me a few times before," said the world number 22.


"If I get through that, I would most likely play Peter Barker, who I haven't played for many years now. It's a very strong draw overall with the strength of players in Britain at the moment.


"I wouldn't like to say how far I'll get. I like to take it one match at a time, as there are no easy matches. If I concentrate well and perform to the best of my abilities, though, then I am confident I can do well."

Simpson reckons he is in good form at present, having reached the second round of the Tournament of Champions and first round of the Swedish Open after qualifying.

"I feel I am playing quite well, a lot more consistently than I did in the past." said the Yorkshire-based Guernsey man. "


I'm now regularly getting to play the 'big boys' in tournaments, which is helping to push my game forward.

"Each time I play a Matthew, Willstrop, Shabana etc I learn something new and go home with a list of things to work on."

There won't be too many alterations to his game before the Nationals, though:

"It's hard to change things too much in a short space of time," he explained.

"I see most changes to be more of a gradual evolution. I'm working hard to be more attacking and have more options on my forehand side."