#3: Adrian Grant
GRANT PREDICTS 'GREAT SPECTACLE' AT NATIONALS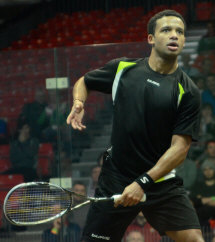 Experienced Londoner Adrian Grant has forecast that next week's National Championships in Manchester will be "a great spectacle of entertainment" for squash fans.

"I find the Nationals intriguing," said the 33-year-old 5/8 seed. "The standard is so high it could be a PSA tournament!

"It's always been a title I've wanted to win and the calibre of players every year justifies what it means to be called National Champion."

The left-hander has been drawn against a qualifier in the first round, but he said:


"They can't be taken for granted, as there's a lot of talent in the UK that will thrive at the opportunity."

Grant has fallen at the opening hurdle in his last five PSA World Series events, but the London Open champion pointed out: "I've had some tough first rounds.

"Although I thrive playing these matches, it's also important to get a consistent run of matches day in, day out under your belt during an event.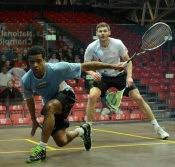 "I'm in it to win it and to perform to the best of my ability and enjoy the event – just like every other player.

"At the end of it we all want the same outcome for ourselves.

"It will be an open contest and we are all too aware that if you don't bring your A game on any given day, it may not be enough to win – which will be a great spectacle of entertainment for squash fans."