22-Sep, Day ONE
reports in French and English
Qualifying Round One:

16h Chris Ryder (Eng) bt Yann Perrin (Fra) 6/11, 11/6, 11/2, 12/10 (65m)
Joan Lezaud (Fra) bt Jan Koukal (Cze) 14/12, 11/9, 11/8 (54m)

17h Julien Balbo (Fra) bt Bradley Hindle (Aus) 11/7, 13/11, 11/4 (46m)
Tom Richards (Eng) bt Romain Tenant (Fra) 11/9, 14/12, 11/3 (39m)

18h Mathieu Castagnet (Fra) bt Dylan Bennett (Ned) 11/13, 11/9, 11/6, 11/5 (62m)
Saurav Ghosal (Ind) bt Jesse Engelbrecht (Rsa) 11/8, 7/11, 9/11, 11/3, 11/9 (68m)

19h Mark Krajcsak (Hun) bt Nafiizwan Adnan (Mas) 11/9, 11/9, 11/6 (46m)
Aaron Frankcomb (Aus) bt Fabien Verseille (Fra) 11/9, 11/7, 12/14, 11/5 (84m)

BELLES PERFORMANCES DES FRANÇAIS…

Très « chauvinement », j'avoue que j'étais très fière de tous les français que j'ai vu jouer aujourd'hui, gagnants ou perdants, et d'après les informations que j'ai eu, ceux que je n'ai pas vu jouer n'ont pas démérité…

Côté de ceux qui nous quittent, Yann Perrin a pris un jeu à l'anglais très en forme du moment, Nick Ryder, en le malmenant et le forçant à la faute devant. Mais l'anglais s'est bien repris pour imposer de bonnes longueurs, et notre Yann a fait trop de fautes pour pouvoir inquiéter son adversaire…

Très fière de Romain, qu'elle était la Framboise aussi, car si le Suédois d'adoption avait tendance à être un peu court physiquement sur des matches que son talent intrinsèque aurait dû lui permettre de gagner, il a aujourd'hui prouvé qu'il en avait sous la semelle.

Au milieu du 2ème, les deux nous ont sortis un échange d'enfer, du genre de ceux dont on ne se remet pas, que Romain a finalement perdu. Romain venait donc de se faire remonter à 7/7, alors qu'il avait pris une avance confortable, et je me suis dit, « cuit, qu'il est, le Brestois ».

Eh bien pas du tout, en deux échanges, il avait récupéré sa pêche, trouvé son deuxième souffle, et zoom, il était reparti dans l'échange. Alors, contente qu'il m'ait fait mentir, car je pensais qu'un match entre ces deux joueurs, qui préfèrent l'attaque, n'aurait que peu ou pas d'échange, et ne dépasserait pas les 30 minutes… Bon boulot, Romain.

Pour Fabien Verseille, même différence. Je l'ai trop souvent vu gâcher son talent par des fautes stupides et évitables, pour ne pas apprécier la superbe performance qu'il nous a donnée aujourd'hui.

Fabien a un don, celui d'avoir la raquette greffée à la main, et de pouvoir en faire plus ou moins ce qu'il en veut. Il manque un peu de « match experience » à ce niveau de jeu, et sous pression, se perd un peu mentalement.

Mais dans un match difficile, contre un joueur solide, et un « roublard » du PSA, qui a bourlingué dans tous les pays et sur tous les courts du monde, où les discussions avec l'arbitre ont été nombreuses, Fabien a un peu perdu pied à la fin du 4ème, alors qu'une blessure à la fin du 3ème lui avait donné un petit quart d'heure pour reprendre du poil de la bête et arracher le jeu pour revenir à 2/1…

Je pense que Fabien a franchi un cap dans son évolution de joueur, et qu'il est sur la bonne voie. J'espère qu'il ne me fera pas mentir…

Pour ceux qui s'imposent aujourd'hui, je n'ai pas vu Julien, mais son adversaire, pourtant très en forme en ce moment, Bradley Hindle, m'a dit avec un grand sourire tandis qu'il quittait le club que Julien était juste trop bon, trop solide, et qu'il n'y avait rien à dire d'autre que Bravo à lui.

Pareil pour Mathieu, je ne l'ai pas vu, mais il a fait un superbe match, qui confirme son excellente prestation contre Renan à Bordeaux il y a quelques jours. Son match contre Saurav devrait être très intéressant. A noter l'excellente attitude de Dylan après le match, qui est venu saluer son adversaire alors qu'il était en phase de récup avec le kiné de l'équipe de France…



Et le Joan Lezaud, qui a sorti la panoplie parfaite, une excellente variation de jeu, prenant la balle très tôt, jouant très vite et soutenant ce rythme pendant tout le match. Quelques fautes, mais peu considérant le haut pourcentage de son jeu ; il a su prendre le Tchèque à la gorge, il l'a bien asphyxié à la fin du 1er. Jan a bien tenté de revenir ensuite à la fin du second, mais il s'y est pris trop tard, Joan avait la confiance avec lui.

Notre français a eu un peu de mal à finir le match, et les « calme-toi, Joan, allez, tranquille » fusaient dans les spectateurs, car on connaît le tempérament anxieux du petit. Mais pas de hoquet sur ce match, et une très belle victoire pour Joan dans un tournoi qui compte énormément pour lui…

Bref, une très belle première journée de squash, avec des matchs d'un excellent niveau dès le premier tour des qualifs, ce qui est à noter. Le niveau de cette compétition est très relevé, et je pense que les matches que nous avons vu aujourd'hui auraient été sans problème des demis ou des finales de tournois français – je pense tout particulièrement à Julien/Bradley, ou Mathieu/Dylan. C'est vous dire la qualité des joueurs venus à Paris pour tenter de se qualifier pour le tableau final…

Mixed day for the French in Charlety
Roundup from Steve Cubbins

The return of world class squash to French soil got under way with the first round of qualifying on the PUC Club courts at the Stade Charlety in Paris's southern suburb of Gentilly.

With six Frenchmen, all kindly kept apart in the draw, hopes were high for home success, and it ended with three of the six going through to tomorrow's qualifying finals.

The first pair of matches saw the biggest upset of the day as Joan Lezaud beat Czech Jan Koukal in straight games. Despite taking the first game against top seed Chris Ryder, Yann Perrin couldn't make it a dream start though.

Next up was Julien Balbo, and the French number four looked impressive enough against the in-form Bradley Hindle, taking it in straight games. For Balbo, taking the second on extra points was crucial, as it was for Englishman Tom Richards in his match against Romain Tenant. Just as Hindle faded in the third, so did Tenant, leaving the France count at two.

A second upset came when Mathieu Castagnet overcame Dutchman Dylan Bennett. After losing a close first game the French youngster assumed increasing control. He will face Saurav Ghosal for a place in the main draw, after the Indian champion came from 2/1 down to foil Jesse Engelbrecht in an hour-long tussle.

In the final set of matches Hungary's Mark Krajcsak maintained a close lead throughout his three games with Nafiizwan Adnan, while France's Fabien Verseille couldn't quite finish the evening with a French flourish, losing out to Aaron Frankcomb in four games in the longest match of the day, partly due to an injury break.

Joan Lezaud (Fra) bt Jan Koukal (Cze)
14/12, 11/9, 11/8 (54m)

JAN NOT ALL THERE…
Framboise reports

If those two young players have a similar game – they like to attack, take the ball early, retrieve and run a lot – I had the feeling today that Jan was not all there. I think that the fact he just flew in today might have something to do with it.

He was playing well, very well even in patches, but suddenly he seemed overwhelmed with the furious pace his French opponent exerted on him. After a first game extremely disputed, Jan seemed to have a drop in concentration at the start of the second, to try and come back at the end of it, a bit too late.

The third was still pretty close, up to 6/5 for Joan, but during the next rally, Jan hurt his hand I think on Joan's racquet on his way to a right side drop shot, and asked for a few minutes' break, that seemed to help a "in the red" Lezaud, who then found some excellent winners to set a match ball at 10/7.



A bit nervous, the Frenchman found the tin a few times, but to the delight of an all French crowd, takes one the few three-game victories of his young career…


J'ai le cœur qui bat à 3000 à l'heure, je suis tellement content, content surtout de ne pas être tombé dans mes travers habituels, c'est-à-dire d'être nerveux sur le court.

C'est le plus gros tournoi de ma carrière, avec les meilleurs joueurs du monde, et j'y participe non pas par mon classement, mais parce que je suis invité. Alors, déjà que je savais que jouer à Paris, devant mes amis, etc, me mettrait une pression encore plus grande… J'avais plus peur de moi-même que de lui…

D'ailleurs, tu pouvais entendre Fabien [Verseille] et Dédé [Delhoste] me répéter constamment « calme-toi, calme-toi… ». Ils me connaissent, ils savent que je cherche à rentrer mes coups, et que je deviens de plus en plus nerveux si je réussis, car je veux en rentrer d'autres.

Au quatrième jeu, j'ai eu un gros coup de barre, à 4/4, et j'ai eu un coup de bol inouï, c'est que la balle a crevé. Et pareil quand je le touche à la fin du match, qu'il a pris du temps, c'était parfait, parce qu'il voyait bien que je commençais à fatiguer, c'est un joueur tellement intelligent tactiquement, et il te fait courir, courir, courir…

J'ai aussi l'impression que je n'ai pas gagné mes points sur des fautes de sa part, mais que je les vraiment gagnés.


Alors qu'au début de mes jeux, je varie bien mon squash, et je pense d'ailleurs que c'est ce qui fait ma force, dès qu'on arrive au milieu/à la fin du jeu, c'est comme si je perdais le fil, que je ne suis plus sur la même longueur d'onde.

Ce n'est pas que lui change son jeu, je ne fais pas non plus de fautes, ou je n'ai pas peur de gagner, c'est simplement que je commence à ralentir le jeu, à monter toutes les balles, au lieu de continuer à frapper fort et près de la tôle.

J'ai beaucoup travaillé physiquement, mais c'est dans la tête, inconsciemment, je change mon jeu, et je lobe lobe lobe, je ralentis le rythme. Et même quand je réussis à me créer des opportunités, je ne les saisis pas, je ne fais quelque part que 'renvoyer ' la balle…

J'ai eu exactement le même problème à Bordeaux, contre Mathieu, où le match était serré… On peut vraiment dire que je ne sais pas gérer les fins de jeux…



Tom Richards (Eng) bt Romain Tenant (Fra)
11/9, 14/12, 11/3 (39m)

BEAUTIFUL ENCOUNTER…
Framboise reports

Like the previous match Jan/Joan, Tom and Romain have the same type of game. They are both tall, they like to volley, and they luuuuuuve going for their shots.

And the first two games were excellent squash indeed. Both varied their squash, lobbed beautifully, surprised their opponent by dropping at the front or finding perfect length, and got some exquisite counterdrops where and when it hurts…

I was surprised by Romain's fitness actually, as it's been his weakness in the past, and when they had a massive rally won by Tom at 7/7, where Romain took a lovely tomato colouring, I thought that the game/match was over. But no, quickly back in the game, the Frenchman was, and only surrendered the second 14/12 …

The third was just too much for my compatriot, who couldn't make his brain accept he had to start the match from scratch, and Tom secured a 3/0 victory, always welcome at the start of a tournament…

"I felt pretty much in control for most of the match, and when I was down in the first and the second, I always had the feeling that I would be able to get back on top by being disciplined, making it hard for him, and working the rallies, that physically, I was stronger than he was…

"I think in the third, he had too much work to do to come back into the match, and that explains the score…

"I did work an awful lot lately, I worked a lot on my fitness before Egypt, about six weeks of very hard physical training. And after that, I realised that I was also a squash player, and that I needed to get that part right as well!

"I think this match will do me good for tomorrow, the first one is always the most difficult…"


Saurav Ghosal (Ind) bt Jesse Engelbrecht (Rsa)
11/8, 7/11, 9/11, 11/3, 11/9 (68m)

UP AND DOWN…
Framboise reports

This was a typical Jesse performance, with stunning speed and accuracy at times, and silly basic errors at others. The task for the opponent is to "weather the storm" while still finding attack angles to put the pressure back on the South African and force him to find the tin.

This on the other hand, was not Top Saurav in action, although he retrieved a few irretrievable shots that Jesse thought/hoped were winners. He looked pretty tired to me, but dug in and as they always say, the importance is to win even if you're not at your best…

There were a few decisions during the match that seemed a bit strange to both players, but they appeared to balance out at the end of the match, and didn't seem to have any bearing on the final outcome…

Overall, an up and down performance from both players, with a start of the match played at a too fast pace that neither players could keep, and at the end of the day, it was more a question of nerves than anything else…

"What was going through my head was that it seems that every time I get a good result, the next match, I seem to lose with the help of a few controversial decisions from the ref!

"Today, I can't say I was tired as such, but more that I was lethargic, as if the body didn't want to go…. It's just that after Bordeaux, I took two days of rest, then 3/4 days of hard work, and it always takes 2/3 days for the body to recover. Hopefully, tomorrow, I should be fine…

"I saw Mathieu play against Renan in Bordeaux, and I was impressed by his game, he really played well…"





"Right now, I'd rather have lost 3/0 than do all that work to lose 3/2!!!!!!

"It's always difficult to play somebody who's just won in a final, he's got the experience, and at the end, it was pretty tough…

"So, now onto the next tournament, first qualifying for Saudi, then the Worlds in Manchester, getting my shoes and legs training on…"




Aaron Frankcomb (Aus) bt Fabien Verseille (Fra)
11/9, 11/7, 12/14, 11/5 (84m)

ONE OF THOSE…
Framboise reports

It was not an easy match to follow, a lot of arguments with the ref, first from Aaron in the second game in particular, then from Fabien in the fourth, and with the crowd heavily involved, quite logically, the atmosphere was slightly electric.

But the great thing is that both players nevev took it out on each other, and stayed very fair play and focussed on their own match.

At the end of the third Fabien got a hand injury, and although it was not serious, they couldn't stop the cut from bleeding. That gave a bit of breathing time to the Frenchman, who came back strongly to take the third in front of a very happy crowd indeed…

There again, experience played a major part, Fabien feeling the pressure more than his opponent, and Aaron was able to close it out rather comfortably in the fourth after a very tight and disputed match indeed.

C'est dans la tête…. Ca m'énerve de perdre des matches comme ça, très serrés, parce que je m'énerve….

Aaron garde bien la balle au fond, il colle bien, et il fait très peu d'erreurs. Par contre, moi, j'en ai fait trop, et lui, il est très solide au fond.

Au quatrième, je reviens bien, et je fais une série de tôles, et je perds le match…

Tant pis, ce n'est que le début de la saison…. Et bises à MCMA…



"In the third, after the injury break, I got a match ball, and let it go, made a couple of mistakes, and didn't hit the ball through.

"I never felt that comfortable on court today, just grinded through it. I've been working on getting on the ball quicker and I was not happy with that today, I was not reacting to the ball fast enough.

"But all credit to Fabien, he played very well, made it tough, I'm really glad to get to the second round, and I'm really hope to get to the main draw…"


"He caught me cold in the first, I didn't even get into second gear in that game, taking it too short too early, but he was definitely up for it.

"I straightened it up after that and it was ok. The fourth was pretty even, I was pleased that I played the big points well to close it out.

"This is about the fifth or sixth time I've been top qualifier for a 5-star or better event, and no-one ever seems to drop out, I always have to play them!"



Chris Ryder (Eng) bt Yann Perrin (Fra)
6/11, 11/6, 11/2, 12/10 (65m)

Ryder rides out French storm
Gilles Rondeau reports

Cette première rencontre sur le court N° 1 du PUC aura très accroché, malgré la différence de classement entre Yann Perrin (N°104) et Chris Ryder (Eng-N°38).

Le français a très bien négocié le 1er jeu, en se détachant à partir de 6/5 pour l'emporter 11/6.



Dans les deux jeux suivants l'anglais imposa ses longueurs de balles au français qui fit également beaucoup de fautes directes par précipitation.

Yann refit surface dans le 4ème et eu même une balle d'égalisation à 2 manches partout. Malheureusement pour le français, c'est l'anglais qui s'imposa 12/10.

Je suis déçu car j'ai perdu mais j'ai fait un bon match dans l'ensemble.

Le 1er jeu a été très bon, j'ai été solide, précis et patient.

Dans le second, j'ai peut être été trop euphorique sur la lancée du 1er…j'ai fait trop de fautes directes, je me suis un peu trop précipité. Dans le 3ème j'ai eu un coup de barre. Dans le 4ème, je suis redevenu plus patient, j'ai collé les balles en attendant l'ouverture. Ca c'est joué à pas grand-chose…Bon au finale je suis content de mon jeu, de voir que le travail effectué paye.

En tout cas c'est très sympa d'être chez soi pour un gros événement, dommage que je n'ai pas été plus loin !


Julien Balbo (Fra) bt Bradley Hindle (Aus)
11/7, 13/11, 11/4 (46m)

J'ai fait un bon match, contre un joueur en forme et en confiance, qui reste sur plusieurs très bons résultats. Il fallait que je sois à 100 % d'entrée, que je ne tombe pas dans son rythme.

Le dernier tournoi à Bordeaux, m'avait permis de voir où j'en étais. Là, j'ai de très bonne sensation et je suis content de la manière dont j'ai joué.

Maintenant il faut se qualifier !





"Julien was just too good, too solid today… "


Mathieu Castagnet (Fra) bt Dylan Bennett (Ned)
11/13, 11/9, 11/6, 11/5 (62m)

Mathieu marches into finals
Gilles Rondeau reports

Superbe performance de Mathieu Castagnet (N°77) face à Dylan Bennett (N°50). Le jeune français s'impose en 4 jeux malgré la perte du 1er jeu et après avoir été mené 6/2 dans le second…

Ce match fut très accroché et entaché de nombreuses discussions, surtout de la part du néerlandais.

Je suis très content d'avoir remporté mon 1er match PSA en France puisque lors des tournois de Toulouse et Bordeaux j'avais perdu au 1er tour. De plus, là ce sont les Internationaux de France, à Paris, ca a une grande signification pour moi !

J'ai été mené 1 jeu 0 puis 6/2 et à partir de ce moment j'ai décidé de changer de stratégie et d'être plus agressif. J'étais vraiment trop passif au début du match, après j'ai décidé que ce serait moi le patron sur le court et ca a plutôt bien fonctionné…

J'ai fait une grosse préparation cet été, ça fait plaisir de voir que le travail paye. Mais bon, il ne faut pas s'arrêter en si bon chemin, mon objectif est de rentrer dans le tableau final, alors il faudra gagner demain face à l'indien Saurav Ghosal (N°44) que j'apprécie. Ca sera un très bon match, contre un joueur très fair-play.


Mark Krajcsak (Hun) bt Mohd Nafiizwan Adnan (Mas)
11/9, 11/9, 11/6 (46m)

Krajcsak stays on top
Gilles Rondeau reports

Krajcsak a fait le jeu dans les 2 premiers jeux en faisant la course en tête. Dans le début du 3ème, le malaisien semblait trouver la faille dans le jeu hongrois pour mener 3/1 en étant plus régulier et surtout plus patient.

Mais Krajcsak repris le match en main pour finalement s'imposer 11/6.

J'ai fait un bon math, ca s'est joué à pas grand-chose dans les 2 premiers jeux…j'ai mal joué les points importants, j'ai fait des erreurs de débutant sur ces points la…on a pas le doit a ce niveau de faire ces erreurs…tant pis je ferai mieux la prochaine fois !


"He was playing well, but I think he got a bit tired in the end ... that's just the type of match I needed ...


Previews and the Qualifying Draw
ON Y EST PRESQUE…

Pour ceux qui, comme moi, ont passé de nombreuses nuits dans l'hôtel Marriott à Islamabad, la nouvelle de sa destruction totale par les terroristes religieux m'a profondément bouleversé. Non pas seulement parce que j'aurais dû y dormir en novembre prochain, pour le Pakistan Open, mais surtout parce que cela représente un drame humain de plus pour ce pays berceau de tant de légendes de notre sport.

J'ai beaucoup d'amis dans ce pays, et j'avoue que j'ai du mal aujourd'hui, à « passer à autre chose », et commencer un autre tournoi, comme si de rien n'était….

Enfin, nous voilà au stade Charlety, avec les derniers réglages de rigueur, préparatifs, panique de dernier moment mais qui finissent toujours par s'arranger… Nous, on connaît la routine, vous savez…

Alors, l'hôtel du tournoi est à quelques secondes de la sortie voitures du Stade, donc parfait pour nous, et les qualifications se jouent dans le club du PUC, dont les courts ont été mis à la disposition de la Fédération par le Président Gérard Bizari, club qui possède quatre courts, et qui a l'immense avantage pour nous d'être à un couloir de la Salle Charpy, et donc du court vitré.

Nous n'avons pas de connexion Internet au club lui-même, et il nous faudra donc faire mout aller et retour vers la Salle Charpy, mais bon, ça nous fera faire de l'exercice…

Le tirage est maintenant effectué, début des matches à 16h.... Je vous tiens au courant mes petits...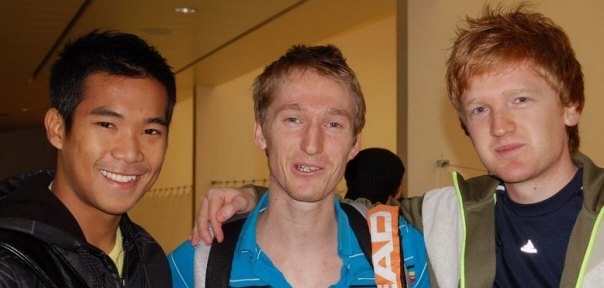 NEARLY READY…

As the news of the bombing of the Marriott in Islamabad where we spent so much time is still tingling in our ears like a bad dream we all are going to wake up from, as flights to the wonderful country that is Pakistan, cradle of so many Squash Legends, are being cancelled, we are about to start the qualifications here, in Paris.

We cannot not salute our Pakistanis friends and wish them a prompt end to the conflict.

The Charletty Stadium is situated at the extreme South of Paris, between "Porte d'Italie" and "Porte de Gentilly", for those who know a bit about our City. It's not the most attractive part of the capital, I admit it, but the great thing about Paris, is that you are able to get to any point extremely fast. Tram, bus, tube, RER (fast train across the town) take you to wherever you wish to go. Also, at about 10mn, you've got the famous French Chinatown, that starts "Porte d'Ivry", filled with great restaurants, cheap and cheerful, that spread over a large part of the 13th arrondissement.

We are lucky enough to be in an Ibis Hotel just minutes from the venue, a treat really, as the time lost in travelling is, most of the time, the only space we could have spent relaxing. So, thanks for that.

The players came and tested the courts of the PUC club that the Club President, Gérard Bizari, graciously gave the Federation use of for the qualifying matches and for warming up for the event this morning.

Four courts, we'll be using two for the qualifications, they are a bit pink, but hey, makes a change, and I'm told by Steve Cubs (yes, you've got both of us to cover the tournament), that the lighting seems good and the photos should be of nice quality. And they've got the great advantage to be about one corridor away from the Glass Court.

We don't have wireless within the club, so we'll have to go back and forth to the main hall, and you may experience a little delay in the reporting. But you'll have everything eventually, as ever…

Draw now done, matches will start at 4pm, stay tuned for more info....