| | |
| --- | --- |
| | |
BRAVO LA FRANCE…



Bien sûr, bravo à Greg qui a fait le sans faute, contre un Nick en forme superbe, franchement, un match magnifique, ne vous laissez pas berner par le score qui semble sévère… Chaque échange était long, disputé, collé au mur – comme l'a dit Peisson de l'Équipe, « s'ils jouaient encore plus près du mur, ils joueraient dehors ! », avec des attaques et des récupérations de légendes. Comme l'a dit James, « Nick et Greg, c'était furieux !!! ».

Bravo à Borja, qui a su aligner son troisième match en 5 jeux d'affilés (Kemp, Thierry, James) en trois jours, et se taper deux top 10 en deux jours. Même si James n'est pas à 100%, avec une cheville douloureuse qui le gênait en particulier à l'avant droit, il était quand même extrêmement dangereux, et il en a attaqué et sauvé, des balles, l'Anglais…

Mais Super Borja – oui, je lui ai trouvé son surnom à lui – avait tellement faim de victoires, et après avoir perdu tant de match au tie-break du 5ème, des matchs serrés qu'il aurait pu gagner, il aligne enfin les victoires… Bravo à lui…



Mais surtout, surtout, c'est à vous que je veux dire bravo. A vous, les spectateurs qui étiez là durant le match Borja/James, vous qui avez soutenu les deux joueurs, bien qu'aucun n'ait été français, vous les avez applaudis à tout rompre, vous avez fait le spectacle, vous les avez aidés à se dépasser, à vous montrez tout ce qu'ils savaient faire…

Et moi qui voyage dans tous les pays du monde, je peux vous dire que je n'ai jamais vu une telle audience, si connaisseuse, si respectueuse, si enthousiaste, sans que l'honneur chauvin s'en mêle.

Ecoutez ce qu'a dit James après son match…

« Tu sais à quoi je pense, je pense à ce CLOWN de journaliste qui a écrit il y a peu de temps que le squash était en train de mourir. J'aurais aimé qu'il soit là, ce soir, parce les français ont montré ce soir ce que le squash devrait être…

Qu'on ne vienne pas me dire que le squash n'attire pas les spectateurs, regarde-moi cette foule, et quelle foule…

Quelle atmosphère, ce soir, chapeau les Frogs – bien qu'ils m'aient perdu mon sac à l'aéroport – parce que, s'ils n'organisent pas beaucoup de tournois, quand ils le font, ils font un sacré bon boulot. Rennes en 2004, c'était génial, et là, c'est fantastique. Alors, la seule chose que j'espère, c'est que ce tournoi va continuer, encore et encore… »

Vous voyez, je ne vous mens pas. Vous avez été extraordinaire. Et bravo à l'organisation, qui, même si certaines choses restent à être améliorées, comme toujours et partout, a fait un sacré boulot.

Bravo à vous tous. La Mamie est fière, très fière d'être française aujourd'hui…



Je suis content, parce que la semaine dernière, on a joué ensemble dans un match exhibition, et il m'a mis une sacrée raclée…

Nick revient très fort, après 8 mois d'absence…

Moi, j'ai eu tellement de haut et de bas cette saison, j'ai vraiment envie de revenir à mon top, et ici, j'ai tout pour réussir, j'ai mon staff avec moi, et aussi le public, merci à eux d'être venu si nombreux…

Le niveau entre les top 8 est tellement moindre, tout dépend de celui qui joue à son top le jour J….

Je suis ici pour me faire plaisir, parce que c'est quand je suis comme ça que je joue le mieux…


| | |
| --- | --- |
| | |
[1] Gregory Gaultier (Fra) bt
[4] Nick Matthew (Eng) 11/6, 11/9, 11/7 (55m)

SCHOOL MATERIAL…
Framboise reports

I must say that Nick Matthew, although he doesn't agree with me, played great squash against his mate Greg Gaultier. I always appreciated Nick's game before, but his absence seems to have added a little je ne sais quoi to his style, more brain is maybe a way to describe it…

Nick was always very patient, but it seems that he has found a perfect balance between the length and short game. His drives, like Greg's, were so close that again Peisson from l'Equipe laughed, "if they were any closer to the wall, they would be outside the court!!!!" A master class in technique.

But Nick feels perfectly when to break the rhythm to find the attack and put his opponent under pressure, and Greg got caught a few times. And when the Frenchman was able to return, back Nick went to the discipline and Squash School material… Great stuff, great great stuff.

Greg was stunning of control too. Both his attitude, still perfect on court, even under pressure, and his squash, even if he tinned a few shots in the first game. Don't get fooled by a score that may appear a bit dry. Like James stayed after his own semi later that night, "Nick and Greg, that was furious". And it was.

The crowd, over a 1,000 paying spectators, plus I would say, 250 guests, appreciated the performance of both players, although logically supporting their man. And their man was confident, calm, controlled. It worked for him. I haven't seen him play that well for months, and he'll be proud of his tournament.

He should…

"I was good in patches, whereas he was consistent throughout the match. I was 3 / 4 rally up, and then, Greg was 3 / 4 rally up, and I gave him too many easy points, in particular on my short game.

"What made the difference today was that Greg was more mentally tuned in. This was definitely my first big match of the year, and I really felt like a beginner player, coming to his first semi-final!!!!!

"This was a great experience for me, it's all in the head, as we all know, and mentally today, I was up and down… I think that Greg was overall, 1, 2% better than me today, but he was better for 45 min of the match, and I was better maybe 10 minutes… That 1, 2 percent can mean a great deal and add up to that 3 or 4 points difference at the end of each game.

"Greg used the momentum of the crowd, which I thought was great tonight… I really enjoyed the environment, it was great playing a top three again, and I think it's good for the tournament that Greg won today.

"I gave the best I could physically, I've learned a lot here, and I think it will help me a lot in Manchester… that's definitely money in the bank…"



"I'm happy with that victory, as last week Nick and I played an exhibition match, and he beat me flat out… After eight months of absence, Nick is coming back with a vengeance…

"As far as I'm concerned, I had so many ups and downs, I really want to come back at my top, and here, I've got all the elements to succeed, I've got my staff with me, and also the audience, they came so many, thanks to them…

"The level between the top 8 is so little that it's up to who is the best on the day… And Nick, he didn't come here for the view, we've always had massive battles, and it all comes down to the one who wants it more…

"I'm here to enjoy my squash, I realised that's I was at my best when I was enjoying… Before, I was putting too much pressure on myself, well, not exactly, in fact, I was playing without really envy to play… I've got the feeling, the pleasure back in my game…

"Now, everything is really well in place, like I said, I gradually got stronger and stronger match after match, first round was average, then I was able to include discipline and patience into my game…

"I was expecting/hoping to do a good match… That's done…"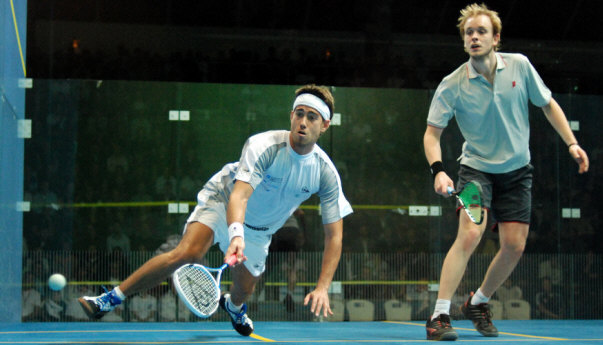 [6] Borja Golan (Esp) bt [2] James Willstrop (Eng)
12/10, 6/11, 12/10, 5/11, 11/8 (71m)

SUPER GOLAN HITS AGAIN…

Once again, I know that James doesn't want to find excuses, but we all saw (and Borja too) that he had problems getting in the right front corner, and that he was often using his other foot to get balanced upon arrival… But as he still ran and retrieved a lot, I would say that yes, James was probably at, 75, 80%? I may be wrong, but that's what I would estimate.

As Borja stated, even at 60, 70%, James is still World number 3, and can beat pretty much anybody, and Super Borja played another stunning astonishing performance to beat his second top 10 player in a row…

The match, completely different from the previous one, which had long balanced constructed rallies, could be described as a "dog fight", in the nicest way possible. It was a volley crosscourting at will, loads of shorts game, nice lengths, but nothing seemed constructed, just the spark of the moment, just what seemed to pass in Borja's mind, zoom, here, zoom there, up, down, left, right…. No rules, no structure, just… right here, right now…

The last game, James was down 9/2, and simply went back to basics, getting his points in the back, and Borja losing his in the tin. At 8/9, James, who hadn't taken a risk for the whole climbing back, went for it on Borja's serve, and tinned it. Exactly like Thierry the day before at 9/9. And like the day before, it was Borja that got the next point…

One thing to be noticed though. I've been travelling a fair bit for the past five years, and I never ever saw anywhere else such a large and knowledgeable crowd chanting, clapping, and supporting the players each their turn, with no national pride involved. James is English, Borja Spanish, but the crowd was celebrating squash, saluting their dedication, skills, talent and sportsmanship, and during that match, I was more than ever proud to be French…

"I think that without a doubt, this is the best tournament, and the best performance I ever did in my life, and I've got a lot of hopes for tomorrow's match against Greg.

"When James comes back from 9/3, and I hung in there, it's things that you work at, very hard, it's mental strength…

"Tonight, I tried to keep James under pressure, like I did yesterday with Thierry, but by playing more in the front than I did against Thierry, because I knew that James was struggling with his injury, and that he had problem moving to the front to get my drop shots.

"But because I knew he was struggling, I think I got at the front too fast, I was anticipating too much sometimes, and made a lot of errors there…"



"My ankle can't be an issue, no excuses, because I'm here, and it's now…

"This was a great match, a really good match. Borja has improved a lot, and I'm happy to have played such a match… He played well, he played really well…

"I know I can play from behind so at 9/3 in the fifth I just decided to play safe and kept it to the back. It was working well, but then I made an error to take it to ten and it's so tough from there. He did really well to close it out though, the pressure was definitely on him.

"You know what I think at the moment, I'm thinking about that CLOWN who said that squash was dying.

"He should have been here tonight, because this was an excellent display of what squash should be. Don't tell me squash doesn't attract the masses, it does, just look at here, tonight, what a great crowd.

"And the evening was excellent, first, Nick and Greg, that was furious, then us, that was pretty close.

"This was a great atmosphere, hats off to the French, they don't organise many tournaments, but when they do, they do a pretty good job of it. Rennes in 2004 was outstanding, and this one, pretty amazing.

"I just hope that this is going to go on and on… Although they lost my bag, bloody Frogs…"