Fri 31st, Day Three
Quarter-Finals:

[1] Dipika Pallikal (Ind) bt [5] Nouran El Torky (Egy) 11/6, 4/11, 11/8, 11/6 (37m)
[4] Nour El Tayeb (Egy) bt [9/16] Salma Hany (Egy) 11/7, 11/6, 11/1 (21m)

[1] Mohamed El Shorbagy (Egy) bt [9/16] Raphael Kandra (Ger) 11/7, 7/11, 11/9, 11/8 (44m)
[4] Andrew Wagih (Egy) v [8] Farhan Zaman (Pak) 11/8, 11/7, 11/8 (25m)

[8] Maria Toor Pakay (Pak) bt [9/16] Kanzy El Defrawy (Egy) 6/11, 11/4, 11/9, 8/11, 11/8 (47m)
Nour El Sherbini (Egy) bt [2] Heba El Torky (Egy) 11/8, 8/11, 11/9, 11/13, 11/8 (61m)

Aurangzeb Mehmund (Pak) bt [9/16] Lucas Serme (Fra) 8/11, 11/9, 7/11, 11/8, 11/8 (93m)
[2] Ivan Yuen (Mas) bt [6] Amr Khaled Khalifa (Egy) 11/3, 11/8, 11/7 (39m)
Sherbini & Aurangzeb
gatecrash the semis

After two days of two rounds it was back to sanity with the quarter-finals today, with a definite Egyptian flavour to them - six girls and three boys gave Egypt over 50% of today's competitors, underlining their recent dominance at junior and senior level.

If Dipika Pallikal is to win India's first-ever world squash title the chances are she'll have to beat four Egyptians in a row to do it, and if Mohamed El Shorbagy is to retain the boys' title there's a good chance he will have to beat players of different nationalities in each of his five matches ... the luck of the draw!

In the event both top seeds came through with only minor scares - both dropping a game - but the story of the day has to be the performances of unseeded (or seeded so low it doesn't really count) Nour El Sherbini and Aurangzeb Mehmund.

Sherbini's recent form suggested at the very least a close match with compatriot Heba El Torky, the second seed, and so it proved. At 2-1 and 9-4 the game looked up for Sherbiny, but she staged a stirring comeback to reach the semi-finals at just 13 years of age.

Mehmund's story is equally remarkable. Having despatched the fifth seed in a marathon five-setter yesterday, he repeated the performance, prevailing over Lucas Serme in the longest match of the tournament.

Another special mention goes to Maria Toor Pakay, who becomes Pakistan's first ever girls' semi-finalist (she was probably the first quarter-finalist too).

The other semi-finalists are Ivan Yuen, Nour El Tayeb, and Andrew Wagih. As the saying goes ... read all about it ...


Would you like daily updates via email ?

Sign up on the blog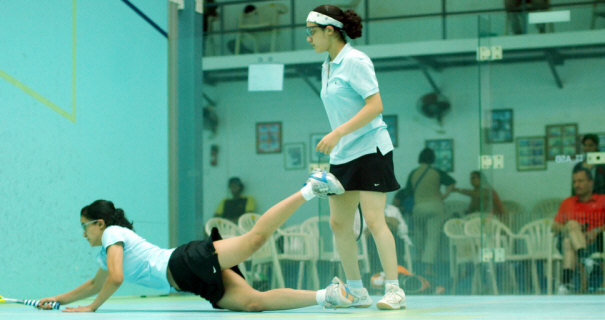 [1] Dipika Pallikal (Ind) bt [5] Nouran El Torky (Egy)
11/6, 4/11, 11/8, 11/6 (37m)

[4] Nour El Tayeb (Egy) bt [9/16] Salma Hany (Egy)
11/7, 11/6, 11/1 (21m)

Dipika & Nour through to semis

The first pair of matches featured three Egyptians - that's going to happen more and more - so one was bound to reach the semi-finals.

The all-Egyptian clash went to seeding, although Salma Hany made Nour El Tayeb work hard in the first two games, Nour diving headlong several times, as she does. Salma's challenge faded in the fourth though, and Nour finished it off comfortably.



Dipika faced the younger of the El Torky sisters in a clash of styles. Dipika loves to hit her winners, and Nouran just loves running. The Indian's shots were going in in the first game, but she made error after error in the second, some forced by Nouran's tenacious play, some unforced.

Consistency returned to Dipika's game in the third, but she was caught at 8-all and the match was in the balance. Three crisp winners soon put the crowd's fears to rest, and Dipika was in control from the start of the fourth as she moved into the semis.

"I'm so happy to be in the world junior semi-finals!

"I started well, but she led in the second. I was able to pull it back and take that game, and I think there was something wrong with her in the third, I was able to win that quickly.

"I'm really looking forward to the semi-finals, although it will obviously be tough against Dipika in her home town …"



"The first was quite easy and I got overconfident. The pressure hit me in the second, I was going for too much.

"I kept telling myself to stay grounded in the third, if I hadn't won that then I think the match would have gone the other way so it was important to win that one."


[1] Mohamed El Shorbagy (Egy) bt Raphael Kandra (Ger)
11/7, 7/11, 11/9, 11/8 (44m)
[4] Andrew Wagih (Egy) bt [8] Farhan Zaman (Pak)
11/8, 11/7, 11/8 (25m)

Egyptian double act

Only two Egyptians in the next pairing, but both came through.

Andrew Wagih made short work of Farhan Zaman, attacking constantly and always looking in control, Zaman presumable feeling the effects of yesterday's tough match.

Shorbagy started confidently enough, but made a few errors at the start of the second which gave Raphael Kandra a foothold in the match, which seemed to give him confidence as he took the second to level.

It continued to be tight, but Shorbagy's experience - he is world number 17 after all - helped as he closed out the third from 6-8 down, and a tit-for-tat fourth from 8-all, Kandra finishing the match in a crumpled heap at the back of the court after vainly chasing the ball one last time.

"It's good to win quickly, I should have something left for tomorrow. I knew he had a hard match yesterday, so I was going for my shots, putting it short and making him work hard, trying to have short rallies.

"I've played Shorbagy all through juniors, he beat me three times in the British Junior Open, and ever since the draw came out I've been targeting this semi-final, and each match here has been a step towards it. Now I'm there I know I'll be focussed for it.

"This is my last tournament as a junior, I don't want tomorrow to be my last match, so I'll be giving it my best."



"He surprised me a bit – it's always hard to play left-handers, you can't see where the ball's going. I tried to keep it on his backhand but that was good too, I tried slowing it down and lobbing but he coped with that as well.

"So I just started playing a basic game, keeping it tight and dropping only when he boasted me. At 6-8 down in the third I could have been in big trouble, I was glad to win that one.

"It maybe wasn't my best squash ever, but there's a lot of pressure on me here, so I'm just glad to be through. I've been playing Andrew since we were ten, so it should be a good match …"


[8] Maria Toor Pakay (Pak) bt [9/16] Kanzy El Defrawy (Egy)
6/11, 11/4, 11/9, 8/11, 11/8 (47m)
Nour El Sherbini (Egy) bt [2] Heba El Torky (Egy)
11/8, 8/11, 11/9, 11/13, 11/8 (61m)

Surprise Surprise ...

Three Egyptians again, and two surprise semi-finalists.

Then again, given that Maria Toor Pakay is the eighth seed and was playing a 9/16 in Kanzy El Defrawy maybe not so much of a surprise, although the Egyptians tout Kanzy as a future world champion.

It was a see-saw match, with first one then the other gaining control. Maria's extra power told at times, at others Kanzy's speed and shotmaking held sway.

After the first four games were shared, Maria opened up a 7/1 lead int he decider, and although Kanzy pulled a few back, but Maria held to to clinch a historic semi-final place for Pakistan, at her first attempt.

The all-Egyptian match featured second seed Heba El Torky and unseeded Nour El Sherbiny. Cut and dried you would think, unless you knew that 13-year-old Nour had won their last three encounters, winning 3/0 in the ATCO Open in Cairo last month - and has been beating all the other Egyptians too.

Heba started well, her dynamic aggressive style taking her to the first game, but in the second Nour came back into it, picking off those volleys that she so loves. Heba came back to take the third, and when she hit a boast to go 9/4 up in the fourth she marched to the front pumping her fist in the air.

It proved to be premature, and as she proved so adept at in Cairo, Nour clawed her way back into the match, levelling at 9-all. Heba had two chances to take the match, at 10-9 and 11-10, but Nour levelled and surely had the momentum for the decider.

She did, but only just. It was close all the way, nothing in it for 16 tense points up to 8-all, but again it was the younger player who found the edge in the endgame, and we had a 13-year-old world semi-finalist.

"It was a tough match, I got ahead in the fifth but got nervous when she started coming back. I'm very happy, to be in the world junior semi-finals for my first time in the event is just fantastic."



"I wasn't nervous at all at the start, there's no pressure on me to do anything and I'd beaten her before so I knew I had a chance if I just played my game.

"I did get nervous in the fourth, I knew I could win this game but I was losing so I just relaxed, got my concentration back and managed to win it, and then the fifth."


Aurangzeb Mehmund (Pak) bt [9/16] Lucas Serme (Fra)
8/11, 11/9, 7/11, 11/8, 11/8 (93m)
[2] Ivan Yuen (Mas) bt [6] Amr Khaled Khalifa (Egy)
11/3, 11/8, 11/7 (39m)

Mehmund wins a Marathon,
Yuan eases through ...

Second seed Ivan Yuan enjoyed a relatively untroubled passage into the semi-finals with a straight-games win over Amr Khalid Khalifa, ending Egyptian interest in this quartet.

It was far from an untroubled passage fro his semi-final opponent though, as Pakistan claimed another semi-final place as Aurangzeb Mehmund survived a brutal 93-minute encounter with France's Lucas Serme.

Lucas led two games to one, and will be rueing letting a 9-3 advantage slip in the second game. Aurangzeb fought like a tiger though, apparently not feeling the effects of his 70-minute marathon from yesterday - although he was certainly feeling it by the end of the match.

And just like the previous match on this court, it was the Pakistani who forged a useful lead in the decider, then hung on to fend off a spirited comeback that had the French support on its feet and earned Aurangzeb a conduct warning for coaching.

So, an Indian and a Malaysian join a gaggle of Egyptians in the semi-finals ... predictable enough, but not many would have put Pakistan down for two places ...

"I'm playing pretty well, I have a lot of confidence at the moment. I was playing my shots and moving him around in the first and that gave me confidence.

"It was neck and neck in the second, at the end I tried to go a little faster and put more pressure on the ball and finally got him.

"I haven't played either Lucas or Aurangzeb before, so it should be interesting."



Happy? Yes! Tired? Yes!

Aurangzeb doesn't speak English ...