Semi-Finals: Check Chennai time

[4] Nour El Tayeb (Egy) bt [1] Dipika Pallikal (Ind) 11/6, 8/11, 11/8, 11/7 (33m)

[1] Mohamed El Shorbagy (Egy) bt [4] Andrew Wagih (Egy) 11/7, 11/9, 11/6 (37m)

Nour El Sherbini (Egy) bt [8] Maria Toor Pakay (Pak) 11/8, 11/6, 11/6 (20m)

[2] Ivan Yuen (Mas) bt Aurangzeb Mehmund (Pak) 11/6, 11/9, 11/3 (28m)

plate semi-final results
Daily updates
via email ?

Sign up on the blog

Two wins and you're world champion
Semi-Finals Preview:

It's getting down to the nitty gritty now, and it's almost as much about how players handle the pressure as how well they play.

First up is local favourite Dipika Pallikal, aiming to become India's first-ever squash world champion. She starts favourite, of course, but Nour El Tayeb is a tenacious fighter and she'll leave nothing behind on that glass court, you can be sure of that.

Then it's the defending champion Mohamed El Shorbagy against his boyhood friend and longtime rival Andrew Wagih. Mohamed senses history, but Andrew thinks it's his turn. Should be a cracker.

The most surprising semi-final is next. No-one would have predicted Maria Toor Pakay to reach this stage, but she's played well and taken every opportunity presented to her. Quite a few were predicting Nour El Sherbini to to do well, but a world semi-final at 13 is a real test of nerves.

Finally it's second seed Ivan Yuen against Aurangzeb Mehmund. Ivan has got here relatively untroubled, while Aurangzeb has survived two marathons. He's a fighter for sure, but has he got the legs ...


[4] Nour El Tayeb (Egy) bt [1] Dipika Pallikal (Ind)
11/6, 8/11, 11/8, 11/7 (33m)

Tayeb terminates Indian dream

They came to see an Indian progress to within one match of a world title, they saw a performance from an Egyptian who wouldn't be beaten.

Dipika Pallikal has a bit of an all-or-nothing game, she has some dazzling winners but errors go hand in hand with that approach. Nour El Tayeb makes few unforced errors, and lets nothing go, making for a fascinating class of styles.

Nour made the better start, taking an early lead in the first, and started to catch Dipika out with boasts at the front as she took the lead. The tables were turned in the second as Dipika stayed a couple of points throughout. By this time Nour had dived headlong three times, more were to come in the next two games.



The third was nip and tuck to 4-all, Nour opened out to 8-4, Dipika levelled, but the Egyptian came again to claim the next three points and the lead (that game's on video, coming soon).

With the wind in her sails, Nour was quickly 5-0 up in the fourth and the Indian challenge was faltering as Dipika found the tin too many times. With the crowd urging her on she pulled it back to 5-7 with some frantic, exciting rallies.

It was only a temporary reprieve though. Nour moved to 10-5, hit the tin twice, but then the Egyptian camp erupted in joy as Dipika hit the tin one last time.

"I was trying to keep the ball off her forehand, she's so strong there she can kill the ball at will, my coach devised a plan for the match and I stuck to it as much as I could.

"I've spent the last six months thinking of this semi-final, but on the bus on the way here I didn't believe I could win it. I didn't think about winning until I got to match ball, I remember Heba being so far ahead yesterday and not winning.

"I don't know how I feel now, to beat Dipika, here in India, it's such a feeling. I'm in the world final …"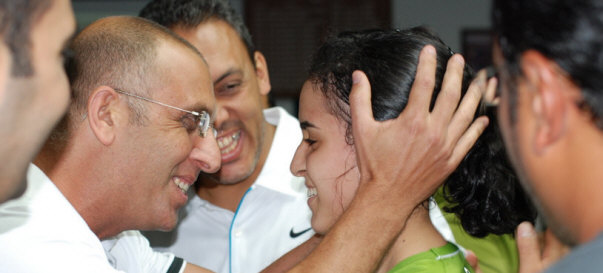 [1] Mohamed El Shorbagy (Egy) bt
[4] Andrew Wagih (Egy) 11/7, 11/9, 11/6 (37m)

Shorbagy stays on course

Few problems for the top seed in the Boys' event, and defending champion Mohamed El Shorbagy beat compatriot Andrew Wagih in a convincing three time.

Shorbagy was in the lead an in control pretty much throughout the match, only when a couple of tins let Andrew get back to 9-all in the second was there any real sense of danger.

Two tins from Andrew put paid to his chances of completing that comeback, and when Shorbagy went quickly out to 4-2, then 8-2 in the third, the writing was on the wall.

Such was Shorbagy's confidence in that third that he twice over-ruled the referee who had called Andrews shots not up to play a let, and at 9-6 told the referee that he should have awarded a stroke to Andrew, rather than a let (although this time he didn't go as far as to give away the point!).

"I played very well today. In all the matches so far I've been playing the player and the pressure, and haven't been able to cope with both at the same time.

"Today I played the pressure and the player and beat both of them. My concentration didn't drop at all, except for a short spell at 6-3 in the second, but you can't expect to keep full concentration for a whole match, one small lapse is acceptable.

"I was really nervous before the match, but I talked to my mum and she made me so relaxed, she's amazing.

"I've watched Ivan playing this week, he's playing very well, it should be a harder match than the British, and that was pretty difficult …"



Nour El Sherbini (Egy) bt [8] Maria Toor Pakay (Pak)
11/8, 11/6, 11/6 (20m)

Sherbini sets up all-Egyptian final

Maria Toor Pakay may have been seeded higher, but no-one was in doubt about who was the favourite for this encounter. Maria had been able to outpower another young Egyptian, Kanzy El Defrway, in the quarter-finals, but young Sherbini was a different proposition.

Having said that, Maria played well, recovering from 7-3 down to level the first at 8-all, but Sherbini plays those volleys so well and she used them to good effect to close out the game.

Nour was well on top from the start of the second, opening up a 9-2 lead. To Maria's credit she hung in there, but the gap was just too great to make up.

The Pakistani led the third, 4-2 and 5-3, but again Sherbini's ability to put the loose ball away began to pay dividends. From 6-all she eased ahead, pouncing on a loose shot to bring up match ball, the crunching a drive into the corner to finish the match.

There were no wild celebration in the Egyptian camp this time, they fully expected to win this one, and they probably expect to win the next one too ...

"I didn't feel any pressure going into this match, even though it was quite different from yesterday's. I was just trying to keep the ball tight to the back, and put in dropshots when it was loose, and I think I played to that plan well.

"I've played Nour a few times already, and won most of them, but tomorrow will be different, it's a final and we'll both be trying our best to win."


[2] Ivan Yuen (Mas) bt Aurangzeb Mehmund (Pak)
11/6, 11/9, 11/3 (28m)

Mehmund runs out of steam

After spending over 160 minutes on court in his previous two matches, it was a big ask of Aurangzeb Mehmund to beat Ivan Yuen, the Malaysian second seed who has been playing well this week.

Ivan carried on where he left off yesterday, playing smooth, error-free squash, not going for anything flashy, and quickly got on top.

An early lead was held throughout the first game, the second was closer with Aurangzeb staying in touch up to 8-all, but two errors put that game out of reach as Ivan's lead doubled.

From 2-all in the third Ivan won three tough rallies, and at 5-3 Aurangzeb missed an easy dropshot. He raised his eyes heavenward, and his body language told us all that the game was up.

The next five points were barely contested, and Malaysia had its first world finalist since Nicol David.

"I feel I'm playing pretty well. I hadn't played him before, so I had to just try to keep it steady and see what happened. I'm so very glad I played well here, it was a nice feeling when he stopped in the middle of the third.

"I've been thinking about this final for a while, so it's nice to actually get there. I hope I play as well tomorrow and we have a good final …"