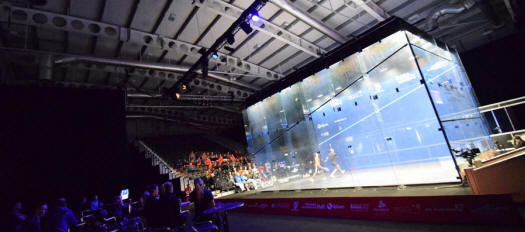 Fri 25th Mar - QUARTER-FINALS:
Serme and Gohar storm into semis


Quarter-finals day in Hull as the 'Wimbledon of Squash' approaches the final stages, and it was Camille Serme and Nouran Gohar who stole the headlines.

World Junior Champion Gohar beat third seeded compatriot Raneem El Welily while France's defending champion Serme repeated her win in last year's final over Laura Massaro, now the world #1 and the last remaining English hope.


They'll meet for a place in the final while Nicol David and Nour El Sherbini will replay their 2012 final in the other semi after wins over Omneya Abdel Kawy and Amanda Sobhy.

The men's quarters all went with seeding as Ramy Ashour and Karim Abdel Gawad won their all-Egyptian matches against Ali Farag and Marwan Elshorbagy. Gawad is now up against another Egyptian in Mohamed Elshorbagy, the defending champion who beat Colombian Miguel Rodriguez, while Ashour is set to face world champion Gregory Gaultier, who maintained his dominance over Simon Rosner.

Brief reports below, more detail on the Egypt and Tecnifibre reports ...
Quarter-Finals

[1] Mohamed ElShorbagy (Egy) 3-0 [6] Miguel Rodriguez (Col)
11/8, 11/8, 11/9 (47m)
Karim Abdel Gawad (Egy) 3-1 Marwan ElShorbagy (Egy)
11/9, 11/7, 4/11, 12/10 (65m)

[5] Ramy Ashour (Egy) 3-1 Ali Farag (Egy)
11/8, 11/8, 9/11, 11/6 (56m)
[2] Gregory Gaultier (Fra) 3-0 [7] Simon Rösner (Ger)
11/6, 11/6, 11/8 (47m)

[5] Camille Serme (Fra) 3-0 [1] Laura Massaro (Eng)
11/8, 11/5, 11/7 (39m)
[8] Nouran Gohar (Egy) [3] Raneem El Welily (Egy)
11/9, 11/6, 9/11, 11/9 (70m)

[4] Nour El Sherbini (Egy) 3-0 [7] Amanda Sobhy (Usa)
11/4, 11/7, 14/12 (33m)
[2] Nicol David (Mas) 3-1 [6] Omneya Abdel Kawy (Egy)
11/4, 12/14, 12/10, 11/2 (46m)
Gawad denies all-Shorbagy semi


Karim Abdel Gawad, appearing in his first British Open quarter-final, denied the Elshorbagy brothers another meeting in the semi-finals as he beat Marwan in a tough final match of the day at the Airco Arena.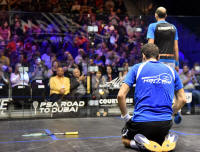 On top in the first two games, Gawad seemed to suffer more from a 20-minute break at the start of the third when a spectator injured himself and needed treatment.

Marwan quickly established a winning lead in the third, and kept the momentum as he earned a game ball in a fiercely contested fourth.

Gawad took the final three points though, to complete the semi-final lineup.
Serme does it again

Defending champion Camille Serme beat England's Laura Massaro, as she did in last year's final, but this time the Frenchwoman took just three games to complete the win as she controlled the match from start to finish.


Serme pulled clear from early in the first - Massaro serving out on game ball -took a 6-1 lead before taking the second comfortably,and established a big enough lead in the third to hold off the Englishwoman's attempted comeback.


Massaro never really looked herself, but Serme's play probably had a lot to do with that.

"You never know what can happen on court, but I have played two English ladies in this tournament, and beaten them, so I was a bit hoping for a hat trick !" said Serme.

"Very happy to beat Laura of course, and even more honoured as it's the first time I beat her as #1 in the world. I'm going to try and enjoy one more match, two if I can …"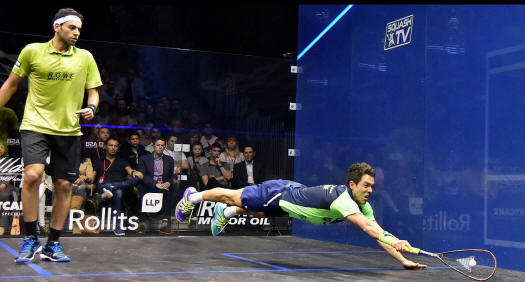 Shorbagy too strong tonight

Top seed and defending champion Mohamed Elshorbagy is through to the semi-finals after beating Colombian sharpshooter Miguel Rodriguez in three tough games.

The speedy Rodriguez was never quite able to turn the game into the fast paced affair he loves as Elshorbagy kept a tight rein on affairs, staying just enough ahead in all three games.

"I hate losing. I'm probably the world number one in the world because I'm the one in the world that hates losing the most!" said Shorbagy.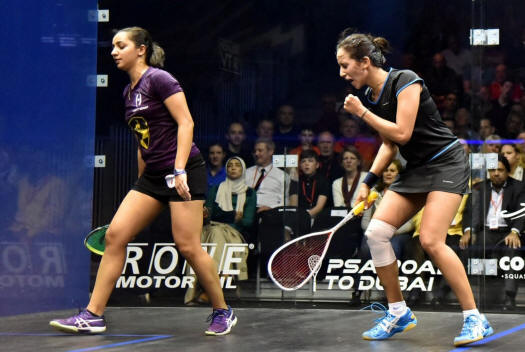 Gohar takes out third seed Raneem


World Junior Champion recorded one of the wins of her life - and she's had a few - as she beat third-seeded compatriot Raneem Welily in four close games to reach the British Open semi-finals.

There was little to choose between them in any of the four games. Gohar took the first two, but it wasn't as if Welily was playing badly, Gohar just finished better,


The senior player recovered from 4-6 down to take the third, but Gohar turned the tables as she came from 7-9 down to earn match ball which she took at the first attempt.

"It was a very very very tough match, it means a lot… it means so much, " she said.

"Raneem is my best friend, she is my little sister, playing her was tough, beating her was tougher. I'm so happy I beat her but… "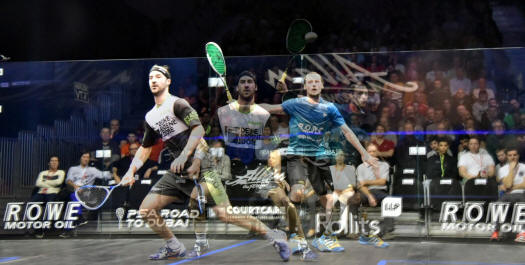 Gaultier in charge


World Champion Gregory Gaultier seems to be improving match by match on his return to competitive action.

After going 0-4 don in the first game he resumed his usual dominance over Simon Rosner, and try as he might the German couldn't break the French General's stranglehold on the match as he moved into his fourth consecutive British Open semifinal.


David through to eighth semi


Five-time champion Nicol David was on great form at the start of the match with Omneya Abdel Kawy. The Malaysian enjoys a heavy H2H advantage and it seemed to tell as she breezed through the first.


Kawy recovered well though, took a close second and almost managed it again in the third, but having regained the lead David regained her dominance in the fourth - letting out a little "whoop" as she hit a lucky winner to reach match ball - to reach yet another semi-final, and a rematch with Sherbini.

"In the second and third she was just giving it her all with nothing to lose," said David. "I knew I had to force my game so I got tighter and deeper and got the crucial points when I needed them most to put it all together at the end."
Ramy wins high-class encounter


They'd never met before but Ramy Ashour and Ali Farag put on a wonderful show at the Airco Arena, a high-qualify match that kept the crowd entertained throughout. Ashour was on top for the first two games, moving well and playing his deft shots - once corkscrew crosscourt was a beauty!


Farag was never far away though, and managed to take a close third, to his own delight, but Ashour was back on top from the outset of the fourth and moved into the semis looking very much the part.

"This was not an easy match and it's not an easy sport," said Ashour. It was a great match, I really enjoyed that, but don't let him trick you into believing he's the underdog anymore."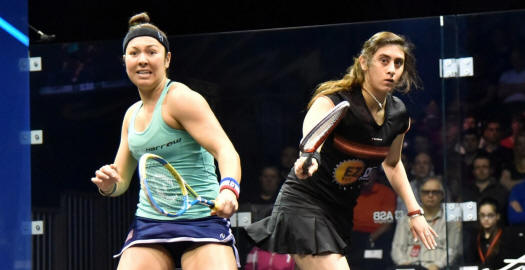 Sherbini first through


Nour El Sherbini became the first semi-finalist after she beat Amanda Sobhy in a repeat of their ToC final earlier this year.

The Egyptian was on top in the first two games, firing in winners as she does, then clawed back from 2-8 down in the third as Sobhy simply hit too many tins.

The American had a couple of game balls but in the end it was Sherbini who took the spoils.

"It's definitely an advantage to win 3/0, the third could have gone either way," she said. "So happy to reach the semis."